If you're looking for a unique and unforgettable experience on your next trip to this beautiful country, then you need to explore some of the most underrated tourist attractions in Egypt.
Egypt is a land of wonders and ancient history, and it is no surprise that it is one of the most popular tourist destinations in the world. However, many people often overlook some of the lesser-known, but equally awe-inspiring,
Tourist attractions that Egypt has to offer. From ancient tombs and temples to incredible natural scenery, there is something for everyone in Egypt. In this blog post, we'll explore some of the underrated tourist attractions in Egypt that you must visit on your next trip to this magical country.
why should you visit Egypt?
Egypt is a truly magical destination with some of the most remarkable sights in the world. With its fascinating history, iconic monuments, stunning deserts, and inviting beaches, Egypt is sure to provide an unforgettable experience. From the impressive pyramids of Giza to the awe-inspiring temple of Abu Simbel, no traveler should pass up the chance to visit this remarkable country.
There are so many amazing places to explore in Egypt, that you can easily spend weeks or even months exploring the sights and sounds of this vibrant country. From Cairo and Alexandria to Luxor and Aswan, each city has its own unique charm and offers something special. From climbing aboard a felucca (traditional boat) on the Nile River to visiting the Valley of the Kings and exploring the markets of Old Cairo, you will not be short of things to see and do while visiting Egypt.
The beaches along the Red Sea coast offer visitors the perfect place to relax and soak up the sun after a busy day of sightseeing. With crystal-clear waters and spectacular coral reefs, snorkeling and diving are particularly popular activities here. And with the bustling city of Hurghada nearby, you'll find plenty of restaurants and nightlife for those looking for more entertainment.
No matter what type of traveler you are, Egypt is sure to have something special for everyone. From ancient ruins to stunning landscapes and world-class attractions, it is easy to see why this country is such a popular destination for travelers all around the world.
(01) VALLEY OF THE KINGS-TOURIST ATTRACTIONS IN EGYPT
One of the most iconic and renowned tourist attractions in Egypt is the Valley of the Kings, located on the west bank of the Nile near Luxor. This ancient site was once the burial ground for pharaohs and their families during the New Kingdom period, with over sixty tombs found here since its discovery in the 19th century.
The tomb of Tutankhamun is one of the most famous ones in the Valley of the Kings, and it is considered to be a major highlight of any tour. The walls of this royal tomb are decorated with vibrant scenes depicting various aspects of the afterlife, including depictions of gods and goddesses from ancient Egyptian mythology.
Visitors can also explore other tombs such as those of Ramesses III, Seti I, and Hatshepsut, as well as temples such as those of Medinet Habu, Ramesseum, and Deir el-Bahari. All of these monuments are incredibly well preserved, providing a fascinating glimpse into Egypt's long and rich history.
A visit to the Valley of the Kings is an absolute must for anyone looking to experience Egypt's unique culture and heritage. Be sure to explore all these different attractions while taking in the amazing views of the Nile River Valley.
Best places hotels near valley of the kings Egypt
(02) BEACHES IN EGYPT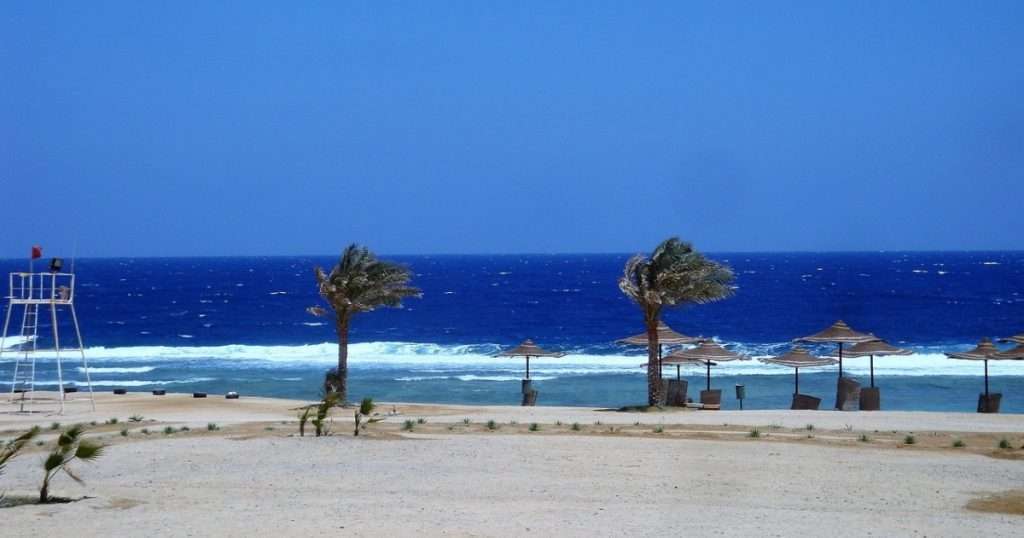 The beaches of Egypt have something for everyone, from vibrant resorts to peaceful coves and everything in between. Whether you're looking for a beach holiday to relax on the sand and soak up the sun, or you're searching for adventure, Egypt has some stunning options.
Sharm El-Sheikh is a popular resort town located at the southern tip of the Sinai Peninsula. It's known for its crystal clear waters and coral reefs and is one of the best places to go snorkeling and scuba diving in the Red Sea. Naama Bay, the main beach of Sharm El-Sheikh, is lined with restaurants and bars, perfect for those looking for a lively atmosphere.
For those seeking a more secluded experience, head to some amazing beaches near the city of Taba. These beaches offers tranquility and a desert landscape, and are great for swimming and sunbathing.
On the Mediterranean Sea, you'll find Hurghada, an increasingly popular resort town with miles of golden sand beaches and crystal-clear water. Hurghada is perfect for those looking to try their hand at water sports like snorkeling, parasailing, and windsurfing.
El Gouna is located just north of Hurghada and features many high-end resorts and a few beach clubs to explore. Relaxing here is easy, as there are plenty of restaurants and cafes where you can grab a bite or sip on a drink while admiring the stunning views.
Egypt's beaches are all beautiful in their own right, but whether you're looking for relaxation or adventure, there's something here for everyone. So book your next beach vacation to Egypt and experience all that it has to offer!
(03) WHITE DESERT-TOURIST ATTRACTIONS IN EGYPT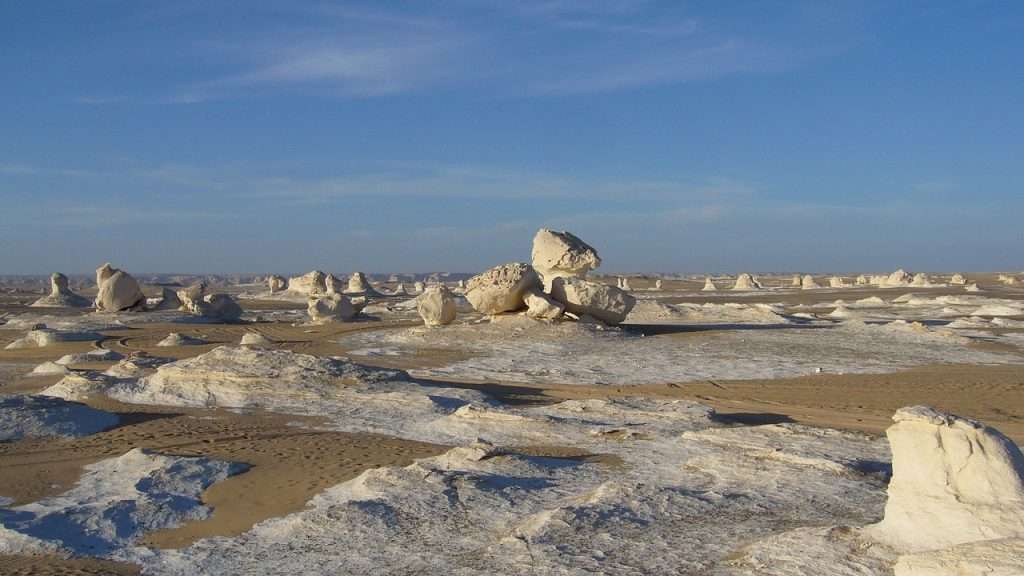 If you're looking for an otherworldly experience, then the White Desert in Egypt is a must-see destination. The landscape of this desert is unlike any other; with its rolling white sands and surreal rock formations that look like something out of a dream. The White Desert has become increasingly popular with tourists due to its unique beauty and the fact that it's one of the few places in the world where you can enjoy a stunning sunrise and sunset.
Located in the Western Desert of Egypt, the White Desert offers activities like camel rides, stargazing, and sandboarding. Tourists can also take part in adventure activities such as trekking, safaris, and jeep tours. With such a wide range of activities to choose from, there's something for everyone.
The White Desert National Park is also home to a variety of wildlife, including gazelles, wolves, foxes, lizards, and more. If you're lucky enough to spot any wildlife during your visit, you'll be able to appreciate the beauty and diversity of the desert environment.
Visiting the White Desert is an unforgettable experience that shouldn't be missed. Whether you're looking for adventure or simply want to relax and take in the scenery, it's sure to be an experience you'll never forget!
AND BY CLICKING HERE, I WILL DIRECT YOU TO A PERFECT ACCOMMODATION NEAR THE LOCATION. 
(04) CAIRO -TOURIST ATTRACTIONS IN EGYPT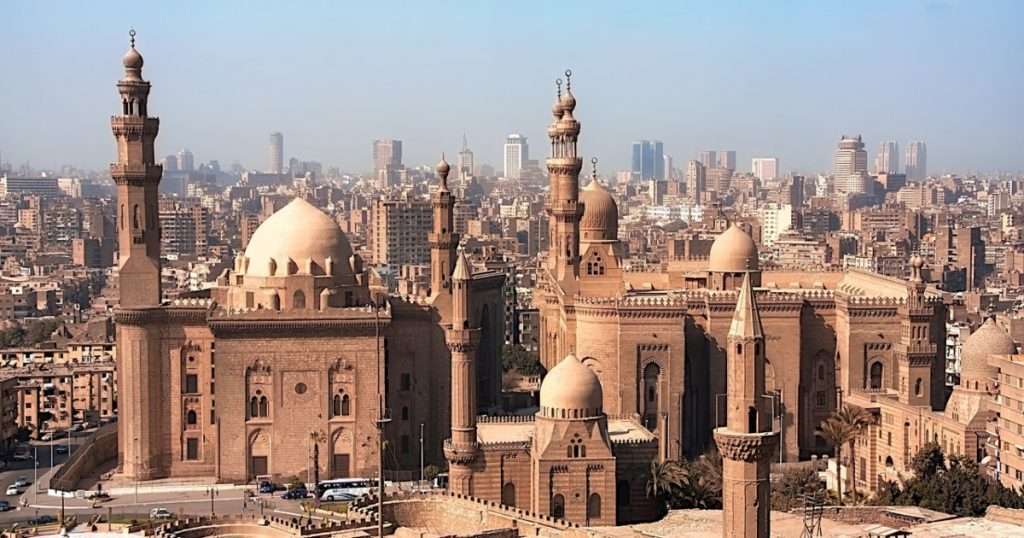 Cairo is the capital of Egypt and one of the most populous cities in Africa. It is a hub for culture, art, history, and adventure. With over 6,000 years of history, there's plenty to explore in this buzzing city.
The most popular attractions in Cairo are the iconic Pyramids of Giza, the Sphinx, the Museum of Egyptian Antiquities, and the Citadel of Salah el-Din. Visitors can also explore the vibrant markets of Khan El-Khalili, wander the streets of Coptic Cairo, and admire the stunning views from Cairo Tower.
Other must-see spots include the 12th-century Al Azhar Mosque, the Hanging Church of Cairo, the Ben Ezra Synagogue, and the Amr Ibn Al-Aas Mosque. For a relaxing break from the hustle and bustle of the city, travelers can take a leisurely cruise down the Nile River.
Be sure to sample some delicious local cuisine while you're there. From traditional street food such as ful medames and koshari to luxurious dining experiences at five-star restaurants, there's something for everyone in Cairo.
AND I RECOMMEND THAT YOU CLICK HERE TO FIND THE BEST ACCOMMODATION NEAR ALL OF THESE TOURIST ATTRACTIONS IN CAIRO. 
(05) NILE RIVER – EGYPT
The Nile River, the longest river in the world, is known as the lifeline of Egypt. Flowing from its source in Ethiopia, it snakes its way through a variety of stunning landscapes before emptying into the Mediterranean Sea. The Nile and its tributaries have been home to a great number of ancient civilizations and are still a major source of irrigation for modern-day Egypt.
Exploring the Nile by boat is one of the most popular tourist activities in Egypt. There are many cruises and tours available, ranging from luxury boats with all-inclusive packages to budget-friendly trips that offer more basic accommodations. Cruises typically visit some of the country's most renowned sites, such as the Valley of the Kings, the Temple of Karnak, and the Great Pyramid of Giza.
The Nile is also a great place to experience some traditional Egyptian culture, with plenty of opportunities to stop along the riverbank and sample local delicacies such as koshary (a spicy dish of lentils, pasta, and rice) or fuul (fava bean dip). Along with sightseeing, you can even take part in activities such as horseback riding, camel rides, birdwatching, or even fishing.
No matter how you choose to explore it, the Nile River offers a unique insight into the history and culture of Egypt. Whether you choose to cruise down it or just admire it from the banks, there's no denying the beauty and charm of this majestic river.
(06) THE EGYPTIAN MUSEUM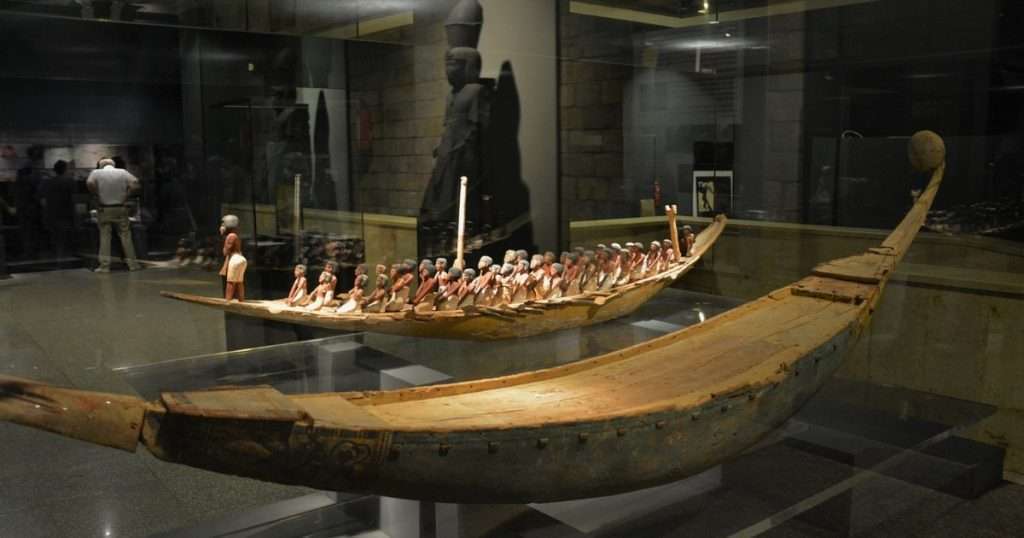 The Egyptian Museum is the most visited museum in Cairo and one of the world's most important repositories of ancient Egyptian artifacts. The museum houses more than 120,000 objects, including some of the world's most famous archaeological finds, such as the funerary mask of Tutankhamun.
The museum is home to a vast collection of antiquities from ancient Egypt, from the Pharaonic era all the way to the early Islamic period. There are four main sections of the museum that house items from different periods in Egyptian history: Pharaonic (3000 BC–300 AD), Graeco-Roman (300 BC–300 AD), Coptic (300–650 AD), and Islamic (650–1517 AD).
The museum also houses an impressive library with books on Egyptian history and culture. It has two floors of galleries displaying artifacts and objects from ancient Egypt, including jewelry, sculptures, papyrus scrolls, mummies, and even boats. The highlight of any visit to the museum is the King Tutankhamun gallery, which contains many of the priceless artifacts discovered in his tomb, such as his death mask, jewelry, furniture, and chariots.
The museum also houses a unique collection of royal mummies discovered in the nineteenth century. The mummies are kept in climate-controlled cases, and visitors can learn more about ancient Egypt's royal families by viewing their preserved remains.
Visiting the Egyptian Museum is an absolute must for anyone interested in discovering more about this fascinating civilization. With its impressive displays and wealth of historical artifacts, it offers a unique insight into the culture and society of ancient Egypt.
(06) KHAN EL -KHALILI
Khan el-Khalili is one of the most underrated tourist attractions in Egypt. Located in the heart of Cairo, this ancient bazaar is a must-visit for anyone looking to experience the country's vibrant culture and history.
The bazaar is home to hundreds of shops and vendors selling traditional Egyptian goods like jewelry, spices, copper and brassware, perfumes, pottery, and carpets. As you stroll through the maze-like passageways, you can witness artisans crafting items with age-old techniques and admire the impressive architecture of the area.
There are also many restaurants and cafés located within the bazaar, serving up traditional Egyptian delicacies as well as international dishes. As you explore the area, you'll also find plenty of stalls serving up freshly made juices, teas, and coffee. .
Khan el-Khalili is a great place to pick up souvenirs for friends and family back home, or even just to soak in the vibrant atmosphere of Cairo. With its unique blend of old and new, it's an experience that you won't forget in a hurry!
NB- TIPS -The Do's and Don'ts of Packing for Your Egypt Vacation
Don't overpack :
When packing for your Egypt vacation, it's important to avoid overpacking. This can lead to a few problems, including paying excess baggage fees and having difficulty transporting your luggage around. You'll also be stuck carrying a heavy load for the duration of your trip, which can be quite uncomfortable.
When deciding what to bring, think about the essential items you will need for the duration of your trip. Ask yourself if the item will make your trip more enjoyable or if it is just extra weight. It may be helpful to pack a few items that are versatile and can serve multiple purposes, such as a pair of shoes that can be dressed up or down depending on the occasion.
Don't pack illegal items :
No matter where you are traveling, it is important to know what items are illegal. If you are planning a vacation in Egypt, it is important to be aware of their laws and restrictions.
Some items that you should never bring to Egypt include: weapons, drugs, pornography, and any items with anti-government slogans or images. Additionally, Egyptian authorities can confiscate any items deemed inappropriate or illegal. These items may include political, religious, or military materials.
It is also important to remember that Egyptian customs officials may search your luggage. Be sure to check any liquids, lotions, perfumes, and other potentially hazardous materials for prohibited substances before packing them.
When visiting Egypt, it is important to be respectful of the country's laws and traditions. It is also important to check with your travel agent or the Egyptian government to make sure that the items you plan to bring are acceptable. By following these guidelines, you can ensure that your vacation in Egypt will be enjoyable and safe.
Don't forget your documents
Before you depart on your Egypt vacation, make sure you have all of your documents in order. This includes your passport and any visas that may be required. It's also a good idea to bring two copies of your passport, one to keep on your person and one that can be left in the hotel safe.
You may also need to provide proof of vaccinations when entering certain countries, so make sure to check that beforehand. Additionally, make sure you have a copy of your driver's license, credit cards, and insurance information, as you may need to present these at some point during your travels. Finally, bring any paperwork related to your trip, such as travel tickets, itineraries, and hotel bookings. This will make going through customs and moving around much easier. 
IF YOU FOUND THIS POST USEFUL, CHECK OUT THIS ONE AS WELL; YOU MIGHT LIKE IT.