The quaint and charming city of Colmar, France is a destination for tourists from all over the world. Located in the Alsace region of France, Colmar is a delightful city full of stunning architecture, colorful streets, and an abundance of attractions. 
Whether you're looking to explore the many museums, take a romantic stroll through the cobbled streets, or simply marvel at the beauty of the city, Colmar has something for everyone. In this blog post, we'll be taking a look at the  best tourist attractions in Colmar, France that you won't want to miss!
Make your visit to Colmar and discover the beauty of this little paradise on earth, with magnificent tourist spots and attractions to pick from.
If you're planning a trip to France, Colmar is an excellent starting point for exploring the Alsace wine region, which is well-known for white wines. Along with exquisite Rieslings, You'll also find this more interesting facts,
Gewurztraminer and Pinot Gris wines, Pinot Noir rosés, and Crémant d'Alsace,
This lovely place known for its well-preserved ancient old town, various museums and much more,
In France's northeast, Colmar lies 42 miles (68 kilometres) south of Strasbourg, 10 miles west of the Rhine River, near the German border, and a few miles east of the Vosges Mountains' foothills. Colmar is quite accessible by train, taking only 30 minutes from Strasbourg, 45 minutes from Basel, and 2 hours from Zürich. There are a couple direct trains from Paris Gare de l'Est to Colmar, as well as those that require a stop in Strasbourg, all of which take roughly 2.5 hours.
How safe is Colmar France?
Not really; obviously, you should be vigilant, but crimes against people are uncommon. The railway station, as in other places, is the worst part, yet it's still not a horrible spot. In certain European countries, violent personal crime is very uncommon; most crimes committed against visitors are minor in nature, such as pickpocketing and scams. just be careful,
You'll be alright if you act like you would in any mid-sized city: don't flash jewelry or cash, don't hang out in sketchy areas, and don't chat up strangers.
The greatest time to visit Colmar ,
Do you want to know when the best time is to visit Colmar? Weather, airfare and hotel costs, and peak travel seasons are all factors to consider. is in the summer, when the weather is warm and the town is full of life. However, the months of May through August are ideal.
The longest days between dawn and sunset in Colmar are normally around July, so plan your vacation around this time if you want to make the most of your daytime activities. Avoid visiting Colmar in July if you want to stay dry; it's the wettest month of the year.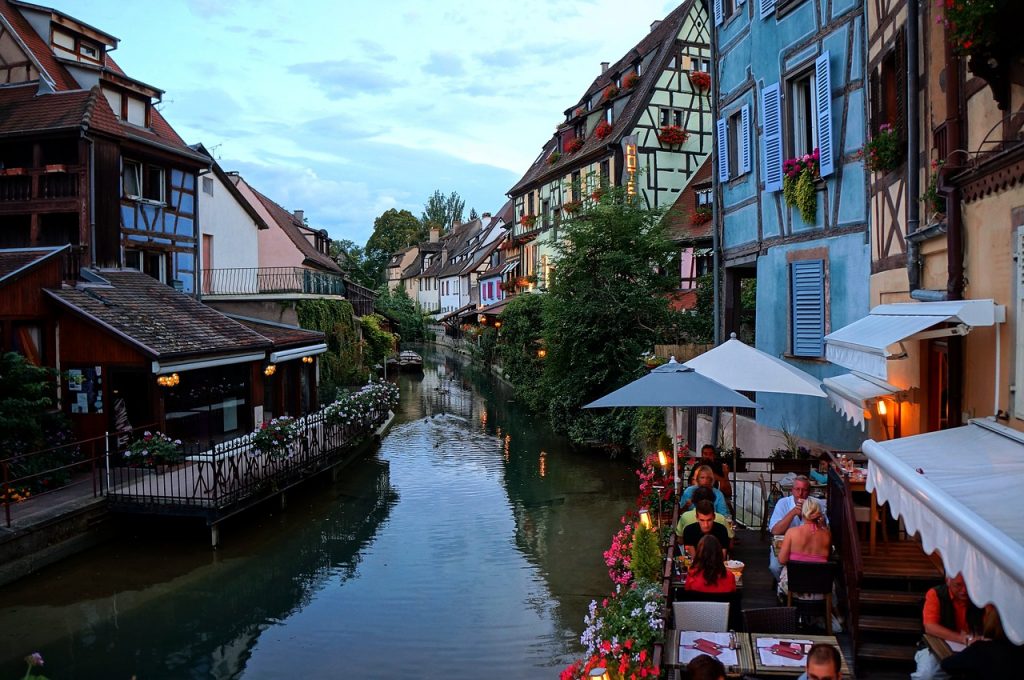 Best things to do in colmar-13 top-rated tourist attractions in colmar france
If you've ever wondered what a medieval Alsatian city may have looked like, Colmar is the place to go. and explore the beauty of this amazing place on earth,
The ancient town has been preserved for hundreds of years and resembles a theme park, with the exception that the timber buildings and palaces are absolutely authentic.
Let's take a look at what I've chosen for you: things to do in Colmar.
Situated in the center of Colmar, La Petite Venise is a must-visit attraction for anyone looking to explore the beauty of Alsace. Translated as "Little Venice,"
La Petite Venise lives up to its name as it offers visitors a peaceful canal lined with colorful half-timbered houses. You can take a leisurely boat ride down the tranquil canal, or simply stroll along and take in the scenery. Either way, it's a great way to experience the French charm that has made Colmar so popular.
As you traverse La Petite Venise, keep an eye out for the old mill and the small bridge that crosses the canal. It's truly a sight to behold!