South Beach Miami is a tropical paradise full of incredible sights and experiences. From the sparkling waters of the Atlantic Ocean to the vibrant street life, there is no shortage of things to do in South Beach Miami. Whether you're looking for a relaxing day at the beach, an adventurous night out,
If you're planning a trip to South Beach, Miami, you're in for a real treat! South Beach is one of the most vibrant and colorful places on earth. From gorgeous white sand beaches to top-notch restaurants and nightlife, South Beach has something for everyone. Whether you're looking to soak up some sun, shop 'til you drop, or take in some culture, there's plenty to do in South Beach.
South Beach, believe it or not, began in the early 1900s as rich farmland, primarily for coconut farming due to the area's ideal climate. Not long after, the Collins Avenue bridge was built, connecting the mainland to the Bay and kicking off the booming development of the SoBe (South Beach) neighborhood.
To help you plan your trip, we've rounded up 10 of the best activities and attractions in South Beach, Miami.
Best Things to do in South Beach Miami
(01) Visit the Art Deco Historic District
The Art Deco Historic District of South Beach Miami is a must-see for any visitor. Located between 5th and 23rd Street, along Ocean Drive, Collins Avenue and Washington Avenue, the district is filled with colorful pastel-hued buildings, Mediterranean Revival and Art Deco style architecture, and historic landmarks.
Spend a day wandering the streets, snapping pictures of the beautifully preserved 1920s and 30s buildings, or take a guided tour for a more in-depth experience. From Ocean Drive to Collins Avenue, you'll find yourself marveling at the beauty of these historic structures. Make sure to keep your eyes peeled for classic neon signs, too! The Art Deco Historic District offers a unique look into Miami's history, and it is well worth a visit.
(02) Go to the beach Miami
No trip to South Beach Miami is incomplete without a visit to the beach. With miles of sandy shoreline, the beaches of South Beach offer something for almost everyone. Whether you're looking to lounge in the sun, go for a swim, or take a walk along the boardwalk, you'll find it here.
The clear blue waters and pristine sand make this one of the best spots to relax and unwind. Just don't forget your sunscreen! 1) Get a shave at Club Barber, one of the most popular destinations on Ocean Drive. Shaving just got a little more sophisticated with today's latest technology: robot barbers cutting hair, beards, and mustaches with straight-edge razor shaves while offering shampoos and facials at their barber chairs.
2) Climb aboard an old-fashioned horse-drawn carriage: Not all attractions need to be high-tech! Take a relaxing ride through Palm Island's neighborhoods on the back of one of our expertly trained horses as they trot along at just the right pace for viewing. 3) Browse through Miami's newest boutique hotels: Boutique hotels are quickly taking over downtown Miami.
(03) Shop on Lincoln Road
If you're looking to shop 'til you drop in South Beach, Miami, you should definitely check out Lincoln Road. This popular shopping destination is home to a variety of stores, restaurants, and other attractions. It's a great place to spend the day window shopping, eating out, and soaking up the local culture.
Lincoln Road is home to a number of fashion boutiques, including luxury brands like Hermes and Yves Saint Laurent. The shops here specialize in both women's and men's apparel, footwear, and accessories. The selection is sure to please even the most discerning fashionista. There are also several retailers offering home goods, electronics, jewelry, books, and more.
In addition to its impressive lineup of shops, Lincoln Road also boasts a wide selection of eateries. From pizza joints to sushi bars, there's something for everyone. Many of the restaurants here offer outdoor seating and live music, which makes for a great atmosphere.
This location is also a popular spot for people-watching. Stroll along the streets and take in the vibrant street art and murals while enjoying the lively atmosphere. There are also several parks located along Lincoln Road where you can enjoy a peaceful break from the hustle and bustle of the city.
Whether you're looking for a new outfit or just want to soak up the atmosphere, Lincoln Road is a must-visit destination in South Beach, Miami.
(04) Ocean Drive
When you think of South Beach, Miami, the first thing that likely comes to mind is its vibrant nightlife. But did you know there's so much more to explore and discover? From sun-drenched beaches and thrilling water sports to eclectic eateries and chic bars, there's something for everyone along Ocean Drive.
Take a stroll down Ocean Drive and explore the street-side clubs and bars where DJs spin a mix of retro and contemporary hits for a taste of classic Miami nightlife.Or, visit Mango's Tropical Cafe and experience an exciting dinner show with Cuban salsa music and lively dancers.
Want to grab a drink with friends or enjoy a romantic sunset? Then head to Nikki Beach Club or Clevelander Bar & Grill and indulge in their selection of frozen cocktails and craft beers. If you're looking for something quieter, try one of the cozy lounges scattered around South Beach and take in the beautiful views of the Atlantic.
Finally, make sure to check out the nearby golf courses, tennis courts, and boat tours. From snorkeling trips to sightseeing cruises, there are plenty of ways to explore Miami's breathtaking coastlines. So make sure to take full advantage of all the activities Ocean Drive has to offer and enjoy an unforgettable night out!
(05) Everglades Safari Park
Visiting the Everglades Safari Park south of Miami is a great way to get close to nature and explore the stunning beauty of South Florida. Located just outside of Miami Beach, this wildlife park is one of the few places in the world where you can spot the American alligator and other native species.
The Everglades Safari Park provides a chance to explore an area filled with unique wildlife, as well as several hiking trails, boardwalks, and observation towers. The park's guided airboat tours are a great way to get up close and personal with the creatures that inhabit the area. During these tours, you'll learn about the plants and animals living in the area, as well as their importance to the local ecosystem.
Visitors can also take advantage of special packages that include birdwatching or camping trips. For those looking for a unique adventure, Everglades Safari Park also offers canoe and kayak rentals, as well as sunset cruises. The park also hosts a variety of educational programs and special events throughout the year.
No matter what your interests, there's something for everyone at Everglades Safari Park, south of Miami. Whether you're interested in getting up close to nature or just taking in the sights, you'll be sure to find an experience that's both entertaining and educational.
(06) Watch the sunrise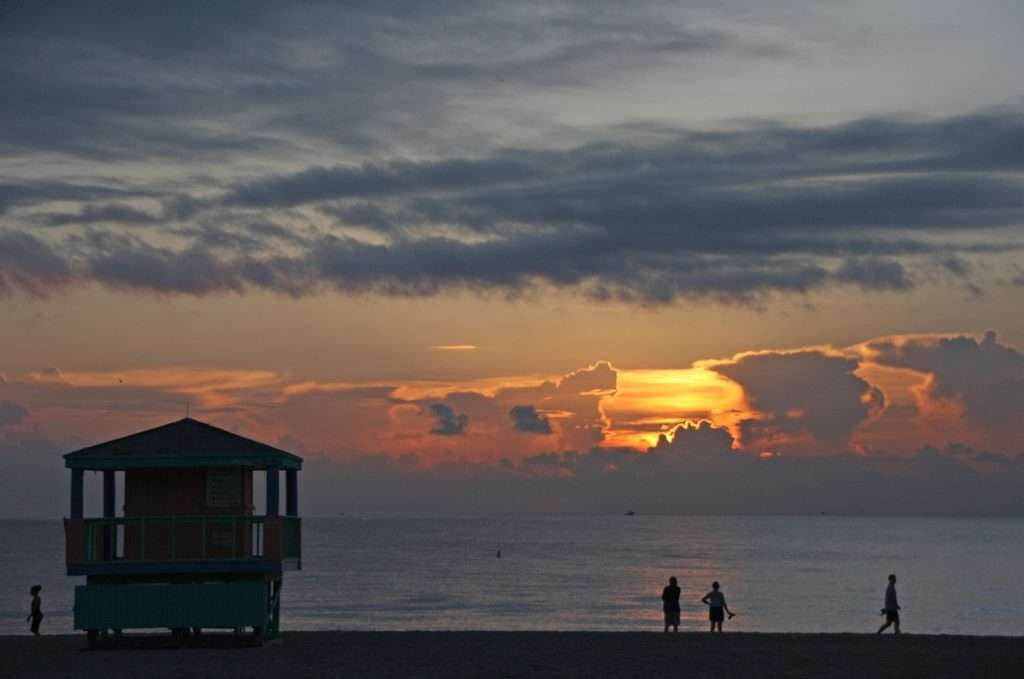 If you're looking for a magical way to start your day in South Beach, Miami, then make sure to watch the sunrise. There's nothing more breathtaking than seeing the sun come up over the ocean. Whether you take a stroll along the beach, head to one of the nearby lookouts, or simply admire the view from your hotel balcony, you'll be in for a memorable experience. Watching the sunrise in South Beach, Miami, is one of those activities that will stay with you forever.
(07) Go on a sightseeing tour
If you're visiting South Beach, Miami, you won't want to miss the opportunity to take a sightseeing tour. From high-end luxury shopping to exploring the Art Deco architecture, there are plenty of things to see and do.
There are many different ways to experience South Beach's sights. You can take a guided tour of the city with a knowledgeable guide who will help you understand the history and culture of the area. For a more interactive experience, you can rent a bike and explore on your own. There are also Segway tours available for those looking for an adrenaline rush.
If you'd rather stay in the air-conditioned comfort of your car, consider taking a drive along Ocean Drive or Collins Avenue. Here, you'll find some of the most iconic sites, such as the Versace Mansion, the botanical gardens, and Lummus Park.
No matter how you decide to explore South Beach, Miami, it's sure to be an unforgettable experience. The vibrant colors and unique architecture are unlike anything else you'll find in Florida, so make sure to take plenty of pictures!
(08) Vizcaya Museum & Gardens
If you're looking for a unique and beautiful place to visit while in South Beach, Miami, look no further.
Then the Vizcaya Museum & Gardens is a must-see. Located on Biscayne Bay in the Coconut Grove neighborhood, the estate is composed of a main house, 10 acres of formal gardens, and a village of historic buildings. The villa was originally built in 1916 as a winter residence for industrialist James Deering and is now open to the public as an outdoor museum.
When visiting Vizcaya, be sure to take some time to stroll through the exquisite gardens, with their intricate pathways and canals, lush tropical foliage, and a variety of colorful flowers. Explore the Italian-style courtyard, complete with its cascading fountain and ornamental statues, or just relax on one of the many benches and soak in the peaceful atmosphere. Inside the grand house, discover works of art from Europe and America from the 15th–19th centuries, as well as original furnishings that still adorn its lavish interiors.
The Vizcaya Museum & Gardens also offers several special events throughout the year, including guided tours, educational programs, and seasonal activities like their holiday light display. There's something for everyone to enjoy at this incredible estate, so make sure you don't miss out on one of South Beach's most remarkable attractions!
(09) Miami City Hall
When you visit South Beach Miami, you should make a stop at the Miami City Hall. Built in 1925 and located in the heart of downtown Miami, this historical building is a great place to learn about the city's history and culture. You can tour the building and admire the beautiful architecture, as well as check out the exhibitions and collections on display.
The staff at the City Hall are always friendly and helpful, making it an enjoyable experience for everyone. The Miami City Hall also provides resources such as tourist information, public services, and more. If you want to find out more about the city, then make sure to include a visit to the City Hall when you visit South Beach Miami.
(10) Take a boat tour
Are you looking for a unique and exciting way to explore South Beach, Miami? Why not take a boat tour? A boat tour of South Beach is the perfect way to get an up-close and personal look at all of the amazing sights that this vibrant city has to offer.
You can choose from a variety of boat tours, ranging from private charters to group tours. Each tour offers something different, so there's sure to be one that fits your needs. Private charters are great for those looking for a romantic outing or a special celebration. Group tours are also available and provide a great way to see the city with family and friends.
On any boat tour of South Beach, you'll get to experience the stunning beauty of the coastline, cruise past historical sites, and take in some of the most iconic landmarks of the city. From star-studded celebrity homes to magnificent art deco architecture, there's something to take in no matter what type of tour you choose. You may even spot some of the local wildlife, such as dolphins, sea turtles, and manatees.
No matter what type of boat tour you decide on, you're sure to have an unforgettable experience while exploring South Beach, Miami.
NB: Miami South Beach has a lot more to offer almost everyone, and there are some other cool things I haven't mentioned yet but will in my next post. Check out this post if you are one of the wonderful people who will enjoy exploring other parts of the world to learn something new HERE,