GET YOUR ADVENTURE ON: THE BEST SAFARI DESTINATIONS IN AFRICA 2023
Are you looking for the best safari destinations in Africa for 2023? Look no further! With its vast array of iconic wildlife, spectacular scenery, and diverse cultures,
Africa is one of the most incredible places to experience an unforgettable safari. From the majestic lions of the Serengeti to the majestic mountain gorillas of Uganda, From the grassy plains of Tanzania to the breathtaking mountains of South Africa,
The continent is home to some of the world's most captivating wildlife. In this post, we'll be highlighting the top safari destinations in Africa for 2023, giving you the chance to explore the continent's amazing beauty and diversity.
RULES FOR AN AFRICAN SAFARI: FOR YOUR SAFETY
1) Respect wildlife: Wildlife should always be respected and never approached too closely. To get the most out of your safari, it's important to observe animals from a distance and to appreciate the beauty of nature without invading their space.
2) Don't litter: When you're on a safari, you will come across some incredible sights and natural wonders. Make sure to keep your surroundings clean and never litter while out in nature.
3) Follow directions: During your safari, it's important to follow the guide's instructions and stay in the group. Safety is always the top priority, and by following the directions of your guide, you can help ensure that everyone stays safe throughout the tour.
4) Respect cultural boundaries: While on safari, be aware of different cultures and their customs. Respect cultural boundaries and never disturb sacred sites or artifacts.
5) Respect wildlife regulations: Wildlife regulations are in place for a reason and must be respected at all times. This includes following speed limits in game reserves, not feeding animals, and not taking animals outside of their natural habitat.
6) Stay alert: Keep your wits about you at all times when on a safari. Be mindful of the dangers that may exist and be aware of any potential risks before entering a game reserve.
7) Listen to the guides: Guides are highly experienced and know the land like the back of their hands. Listen to their advice, as they may provide information on where you can find rare species or even provide tips on how to stay safe while out in the bush.
Following these rules while on safari will help you have an unforgettable experience while respecting nature, wildlife, and culture. With these African safari rules in mind, you'll be able to enjoy your safari with peace of mind.
1) kruger National Park, South Africa- One of The Best Safari Sestinations in Africa 2023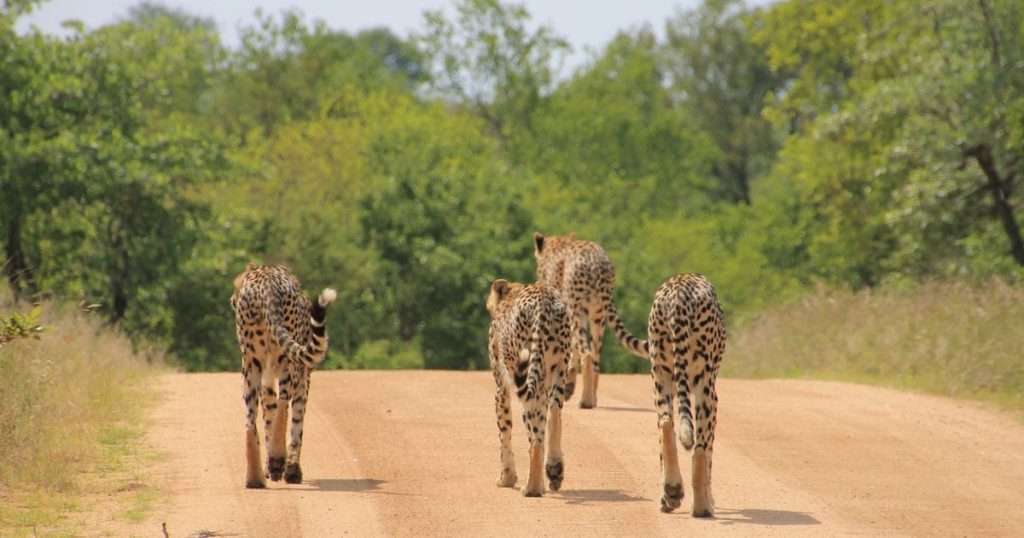 South Africa is home to one of the most beautiful safari destinations in Africa, the Kruger National Park. Located in in the provinces of Limpopo and Mpumalanga, west of the Lebombo Mountains on the Mozambique border.,
This park is home to a variety of wildlife, including lions, elephants, rhinos, and giraffes. The park is also famous for its unique ecosystems, ranging from savannah grasslands to subtropical thickets. There are many safari lodges located within Kruger National Park, offering visitors a luxurious stay while they explore the African bush. This park is also a great spot for bird-watching, as it boasts a large number of species, including kingfishers and bee-eaters.
In addition to Kruger National Park, South Africa has a number of other stunning safari destinations. The Garden Route National Park provides visitors with a picturesque landscape of forests, lakes, and wetlands. Just south of Kruger, the Mpumalanga Province offers a variety of safari options, including the world-famous Blyde River Canyon and Pilgrim's Rest Historic Site. For those looking for something a bit more adventurous, a trip to Kgalagadi Transfrontier Park in the Northern Cape Province offers an amazing experience of desert life. Finally, there are numerous game reserves throughout the country that offer fantastic opportunities for wildlife viewing.
When is the Best time to Visit Kruger National Park ?
The best time to visit Kruger National Park in South Africa is between April and September. This is because during this period the temperatures are pleasant, the days are shorter, and there is less rainfall. During the months of October and November, the weather is hotter and there is more rain. The park is most accessible during this time as well, so if you're looking for a great safari experience, this is the best time to visit.
REMEBER The Kruger National Park is home to some of the most spectacular wildlife in Africa, including lions, elephants, cheetahs, giraffes, and rhinos. With its lush vegetation and vast open plains, Kruger National Park provides an unforgettable safari experience. It's also home to some of the world's most spectacular birdlife, including flamingos, eagles, and ostriches.
The best time to see the wildlife in Kruger National Park is during the dry season, which runs from April to September. During this time, water is scarce, and animals have to concentrate around waterholes. This makes it easier for visitors to spot them. In addition, during this period, the temperature is usually cooler and the days are shorter.
Another great time to visit Kruger National Park is in October and November, when the bushveld is carpeted with wildflowers and birds are abundant. While the temperatures may be higher at this time of year, the game viewing opportunities remain excellent.
No matter when you decide to visit Kruger National Park, you'll be sure to have an unforgettable safari experience. With its incredible diversity of wildlife and stunning landscapes, Kruger National Park is one of Africa's most impressive safari destinations.
2)Masai Mara National Reserve Kenya
Located in southwestern Kenya, Masai Mara National Reserve is one of Africa's most iconic safari destinations. It is in the northern part of the Serengeti and has one of the highest concentrations of wildlife in the world. Its rolling plains are home to vast herds of wildebeest, zebra, gazelles, and other grazing animals. Predators such as lions, cheetahs, and hyenas also inhabit the reserve, providing some of the best game-viewing experiences in Africa.
The best time to visit Masai Mara is during the Great Migration from July to October. During this period, millions of wildebeest and zebra migrate from the Serengeti in search of greener pastures. The annual migration is an incredible spectacle that should not be missed.
Another great time to visit Masai Mara is during the dry season between December and March. This is when the animals are concentrated around the few water sources available, making them easier to spot. This is also the best time to witness predators hunting their prey in action.
Masai Mara well known for its incredible views and its diverse range of wildlife. Masai Mara has something for everyone, whether you want a thrilling game drive or a leisurely hot-air balloon ride over the plains. For an unforgettable safari experience, there's no better destination than the Masai Mara National Reserve in Kenya.
3) Etosha National Park, Namibia-The Best Safari Destinations in Africa 2023
Namibia is one of the top destinations for a safari in Africa. The country is home to a large variety of wildlife, from elephants and lions to cheetahs and zebras. The Etosha National Park is the highlight of any Namibian safari, providing visitors with a glimpse into the African bush. Located in the northern part of the country, the park is an incredible conservation area that houses an abundance of antelopes, giraffes, zebras, and predators such as lions and hyenas. and that makes it one of the best Safari Destinations in Africa 2023,
The best time to visit Etosha National Park is during the dry season, which runs from May to October. This is when animals congregate around the few waterholes in the park, making sightings easier to spot. The park also has a number of lodges and campsites available for visitors, offering accommodations ranging from luxury resorts to more affordable campsites.
Aside from Etosha National Park, Namibia also offers some other great safari options. One of the best is Namib-Naukluft National Park, located near Sossusvlei. Here you can explore the red sand dunes, take a 4×4 adventure through the Namib Desert, and see some incredible wildlife, including jackals, springbok, and even the occasional lion or leopard. There are also several private game reserves in the country, such as ONGAVA GAME RESERVE and PALMWAG CONCESSION. With these reserves, you can get up close with some of Africa's most majestic animals, such as rhinos, elephants, giraffes, and more.
In short, Namibia is a must-visit destination for any safari enthusiast. With its incredible wildlife, stunning landscapes, and great accommodation options, it's no wonder it has become one of the top destinations in Africa. So if you're planning a safari trip in 2023, be sure to add Namibia to your list of destinations!
4) Ngorongoro Conservation Area, Tanzania
Tanzania is a country in East Africa that's home to the famous Serengeti National Park and Kilimanjaro, Africa's highest mountain. Tanzania is a great destination for those looking for an African safari experience, as there are a variety of national parks, game reserves, and wildlife conservation areas to explore.
One of the most popular safari destinations in Tanzania is the Ngorongoro Conservation Area. This area is home to an array of different wildlife species, including lions, elephants, zebras, and wildebeest. The Ngorongoro Crater is an impressive caldera that was created when a giant volcano collapsed thousands of years ago, and the views from the rim are stunning. You can also go on walking safaris here or take a jeep tour.
Lake Manyara National Park is another top safari destination in Tanzania. This park is best known for its large population of hippos, as well as its diverse birdlife. Here you can find flocks of flamingos, pelicans, storks, and more. You can also observe elephants and tree-climbing lions here.
The Serengeti National Park is one of the most iconic wildlife reserves in the world, and it is located in Tanzania. This park is home to an incredible array of wildlife species, including lions, cheetahs, elephants, zebras, gazelles, and more. This park is also home to the annual wildebeest migration, which is one of the greatest wildlife spectacles on earth.
No matter what kind of safari experience you're looking for, Tanzania has something to offer. With its diverse selection of national parks and wildlife reserves, Tanzania is sure to provide an unforgettable African safari experience.
TIP : Tanzania Cultural Tours
Tanzania is home to many unique and fascinating cultures that offer unique and interesting cultural experiences. From the Hadzabe Bushmen of northern Tanzania to the Maasai tribes of the Serengeti, Tanzania is a destination full of cultural diversity. A cultural tour of Tanzania is sure to provide travelers with a lifetime of memories and experiences.
One of the most popular cultural tours in Tanzania is a visit to the Ngorongoro Conservation Area. Here, travelers can learn about the diverse cultures of the Maasai and Hadzabe people. Visitors will get to witness traditional ceremonies and observe their way of life. The spectacular views of the Crater making it a great place to take photos and capture memories.
Another cultural tour of Tanzania includes a visit to the old trading town of Bagamoyo, located on the Swahili Coast. This town was an important trading post for centuries, and today it is a place of both cultural and historical significance. Travelers can explore its architecture, museums, and mosques to gain an understanding of this ancient culture.
Lastly, travelers can also experience the traditional lifestyle of the Maasai tribe by visiting the Maasai Mara National Reserve. Here, visitors can enjoy a guided tour through the reserve, taking in the stunning scenery and learning about the customs and beliefs of this fascinating culture.
No matter what type of cultural experience you are looking for, Tanzania is sure to provide a unique adventure that you won't soon forget. From breathtaking landscapes to fascinating cultures, a cultural tour of Tanzania is sure to provide travelers with a one-of-a-kind experience that they will cherish for years to come.
5) Uganda safari
Uganda is a great choice for an African safari. Located in the center of the continent, it has some of the most varied wildlife, scenery, and cultural experiences on the continent. From the stunning snow-capped Rwenzori Mountains to the lush rainforests of Bwindi Impenetrable National Park, Uganda is a country of contrasts and beauty. and one of The Best Safari Destinations in Africa 2023,
The best way to experience an Uganda safari is by visiting Queen Elizabeth National Park. This game reserve is home to 95 different mammal species, including elephants, hippos, lions, and buffalo. You can explore the park on an open-top 4×4 safari vehicle or take part in a guided walking tour with an expert local guide. While on the game drive, keep an eye out for Uganda's incredible birdlife—there are over 600 species recorded in the park!
If you're looking for an unforgettable experience, make sure to visit the Kibale Forest National Park. This protected area is home to chimpanzees and over 13 other species of primates. You can spend a day with a knowledgeable guide learning about these amazing creatures and observing their behaviors up close.
No matter which park you choose, you'll be guaranteed a memorable adventure. An Uganda safari provides a unique opportunity to observe the diverse flora and fauna of Africa in their natural habitats. It's truly an experience that you won't want to miss.
ND :
When it comes to planning your African safari, the options are truly endless. Whether you're looking for a budget-friendly trip or a luxurious getaway, there's a destination that fits all your needs.
make sure you do your research and book in advance for the best rates and availability. With so many amazing options available, the possibilities are endless when it comes to planning your African safari adventure in 2023!
THANK YOU, AND IF YOU FOUND THIS POST USEFUL, PLEASE LEAVE A COMMENT AND CHECK OUT THIS ONE.