Africa is a land of raw, rugged beauty that has captured the hearts of explorers and travelers for centuries. And what better way to experience this enchanting land than on a safari adventures?
With its vast savannahs, dense forests, and meandering waterways, Africa is home to some of the most diverse wildlife in the world, making it the perfect destination for animal lovers and adventurers alike. From hot-air balloon rides to 4×4 game drives, there are countless ways to explore the wilds of Africa.
You may discover some links in this blog post, and if you decide to buy something, I will receive a small fee at no cost to you.thanks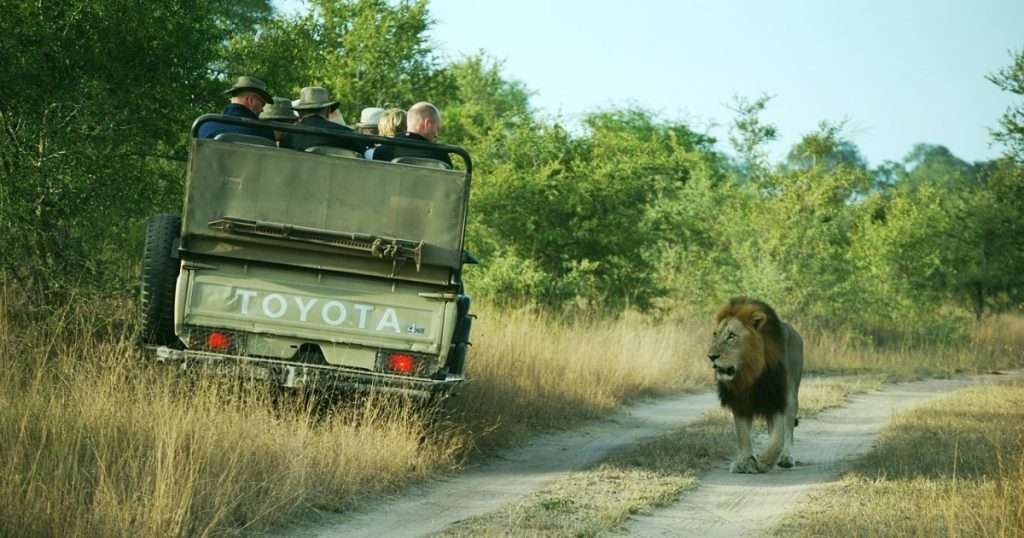 Embarking on an African safari adventure is a bucket list experience for many travelers
In this blog post, we'll be taking you on a journey through some of the best safari adventures this incredible continent has to offer, providing you with insider tips and expert advice to help you plan your dream safari getaway. So, whether you're an intrepid adventurer seeking heart-pumping encounters or simply looking to connect with nature in a way that words can't describe, keep reading to discover the best safari adventures ever!
WHEN IS THE IDEAL TIME TO GO ON AN AFRICAN SAFARI?
The ideal time to go on an African safari varies depending on the destination and the type of animals you want to see. Generally, the dry season is the best time to go on a safari because the lack of rainfall forces animals to congregate around water sources, making them easier to spot.
IN EAST AFRICA: the dry season runs from June to October, making it the ideal time to see the Great Wildebeest Migration in the Serengeti. In Southern Africa, the dry season runs from May to October, and it's the best time to see animals in Kruger National Park, Botswana's Okavango Delta, and Zimbabwe's Hwange National Park.
HOWEVER, the rainy season also has its advantages. It's the time when the landscape turns green, and many baby animals are born. It's also a great time to see migratory birds. So, if you're interested in seeing the full range of Africa's flora and fauna, you may want to consider a trip during the rainy season.
ULTIMATELY, the best time to go on an African safari depends on your interests and priorities. Do your research and consult with a reputable safari operator to help you choose the best time and destination for your safari adventure.
GET UP CLOSE AND PERSONAL WITH AFRICA'S BEST SAFARI ADVENTURES
(01) WHERE IS THE BEST SAFARI EXPERIENCE IN AFRICA?
Africa is home to a diverse range of wildlife, and each country offers its own unique safari experience. However, there are a few destinations that are particularly famous for their exceptional safari adventures.
One of the top safari destinations in Africa is Tanzania's Serengeti National Park. Known for its stunning landscapes and vast array of wildlife, the Serengeti offers visitors a chance to see the Great Migration, where millions of wildebeest and zebras make their way across the plains in search of fresh grass. It's also home to the famous Big Five (lions, elephants, leopards, rhinos, and buffalos), as well as other iconic species such as cheetahs, giraffes, and hyenas.
Another popular destination for safari adventures is South Africa's Kruger National Park. As one of Africa's largest game reserves, the Kruger is renowned for its high density of wildlife and diverse ecosystems. Visitors can choose from a range of activities, including guided game drives, walking safaris, and night drives to see nocturnal animals.
Kenya's Masai Mara National Reserve is also a must-visit destination for safari enthusiasts. Home to the Maasai people and a stunning array of wildlife, the Masai Mara is famous for its annual wildebeest migration and for its big cats, including lions, leopards, and cheetahs. Visitors can also take hot air balloon safaris for a unique perspective on the park's landscapes.
Other notable safari destinations in Africa include Botswana's Okavango Delta, Zambia's South Luangwa National Park, and Zimbabwe's Hwange National Park. No matter where you go, a safari adventure in Africa is an experience of a lifetime that is sure to leave you with unforgettable memories.
(02) CHOOSE YOUR ANIMAL
One of the most exciting things about going on a safari tours in Africa is the opportunity to get up close and personal with some of the world's most incredible wildlife. From majestic lions and sleek leopards to towering giraffes and powerful elephants, the continent is home to an incredible array of animals that are sure to leave you in awe.
When it comes to choosing your animal, it's important to think about what kind of experience you're looking for. If you want to see the "Big Five" – lions, elephants, leopards, buffalo, and rhinos – you'll want to head to one of the many national parks that specialize in this type of safari experience. On the other hand, if you're interested in a more unique or specialized animal encounter, there are plenty of tours and safaris available that focus on everything from birdwatching to primate sightings.
No matter which animal you choose, be sure to do your research ahead of time to find a reputable safari provider and ensure that you're going on an ethical and sustainable wildlife experience.
(03) GO ON A HOT AIR BALLOON SAFARI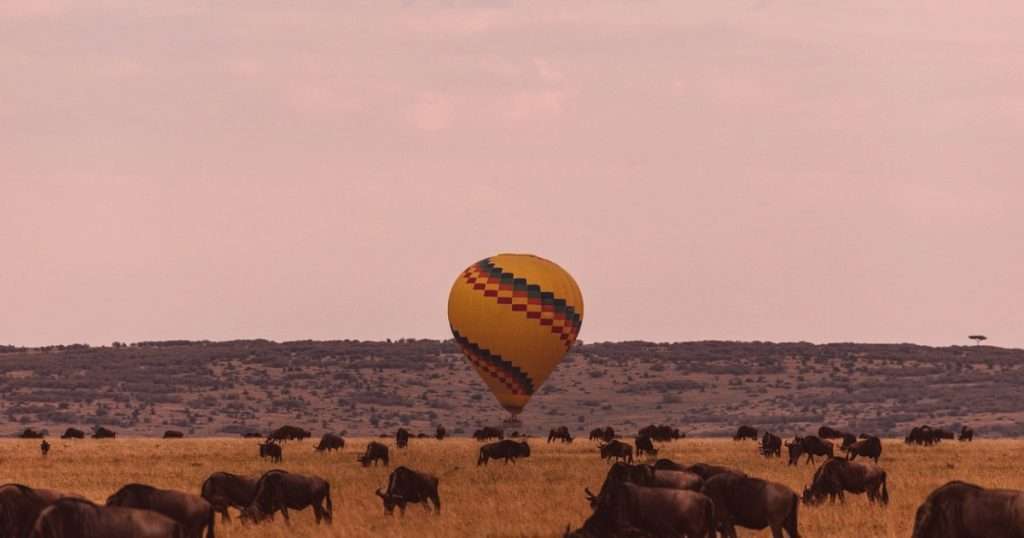 If you're looking for a unique and unforgettable experience on your African safari adventure, consider taking a hot air balloon safari. This activity offers an opportunity to take in breathtaking views of the African plains and wildlife from a completely different perspective.
Imagine soaring over herds of elephants, zebras, and giraffes as they roam the open savannah below. A hot air balloon safari is a peaceful and serene way to observe wildlife in their natural habitat, without disrupting their daily routines.
Many hot air balloon safaris start at dawn, providing you with stunning sunrise views over the savannah. The silence of the balloon also allows you to hear the sounds of the wilderness and truly immerse yourself in the African bush.
Hot air balloon safaris are available in various African countries, including Tanzania, Kenya, South Africa, and Botswana. They can be done as a standalone activity or as part of a larger safari package.
Before booking your hot air balloon safari, make sure to research the safety record and experience of the operator you choose. It's also important to consider the weather conditions during the time of your visit, as some seasons may not be suitable for hot air balloon flights.
Overall, a hot air balloon safari is an unforgettable way to experience the beauty of Africa and its wildlife. It's an activity that is sure to be a highlight of any safari adventure.
(04) TAKE A WALKING SAFARI
For those looking for a truly immersive safari experience, a walking safari is the way to go. This allows you to experience the sights and sounds of Africa on foot, getting up close and personal with the wildlife and environment. Of course, it's important to choose a reputable safari operator with experienced guides to ensure your safety.
Walking safaris typically last anywhere from a few hours to several days, depending on the location and the level of intensity you're looking for. Some of the best locations for walking safaris include Zambia's South Luangwa National Park, Tanzania's Selous Game Reserve, and Botswana's Okavango Delta.
During a walking safari, you can expect to see a wide variety of wildlife, from small creatures like insects and birds to larger animals like elephants and giraffes. Your guide will point out tracks, droppings, and other signs of wildlife activity along the way, and you may even have the opportunity to see predators like lions and leopards.
Walking safaris are a fantastic way to connect with nature and truly immerse yourself in the African wilderness. Whether you're a seasoned safari-goer or a first-timer, this is an experience you won't want to miss.
(05) TAKE A BOAT SAFARI
For those looking to experience the wildlife from a different perspective, a boat safari is the way to go. Many of Africa's national parks offer this type of adventure, which involves floating along rivers and lakes to view animals from a completely unique vantage point.
One of the best places to take a boat safari is in Chobe National Park, located in Botswana. Here, visitors can take a boat tour along the Chobe River, which is home to a wide variety of animals including elephants, hippos, and crocodiles. In addition to these larger animals, birdwatchers will also be delighted with the chance to spot kingfishers, eagles, and herons.
Another popular destination for boat safaris is Lake Nakuru in Kenya. The lake is home to large flocks of pink flamingos, which are stunning to see from a boat. Additionally, visitors can expect to see hippos and rhinos along the shore.
If you're looking for a truly unique boat safari experience, consider taking a traditional dhow boat in Tanzania's Selous Game Reserve. These hand-crafted boats allow you to explore the waterways and view animals without disrupting their natural habitat.
No matter where you choose to take a boat safari, be sure to bring plenty of sunscreen and a camera with a waterproof case. The sights and sounds you'll experience on the water are not to be missed!
(06) DRIVE YOUR OWN SAFARI VEHICLE
And For the ultimate safari adventure, why not take control of your own vehicle? Many parks in Africa allow visitors to drive themselves through the park, offering a unique and intimate experience with the wildlife.
Before setting out on your self-drive safari, make sure to do your research and check what vehicles are allowed in the park. It's also important to be aware of any rules or restrictions in place to ensure the safety of both you and the animals.
One of the best things about driving your own safari vehicle is the freedom it gives you to explore at your own pace. You can stop whenever you like, and spend as long as you want watching a herd of elephants or a pride of lions. Plus, you can take different routes to avoid the crowds and make the most of your time in the park.
Keep in mind that driving your own vehicle requires a certain level of skill and experience, so if you're not confident behind the wheel it might be best to go on a guided tour instead. However, if you're up for the challenge, a self-drive safari adventures is a truly unforgettable experience that's sure to stay with you for a lifetime.
TIPS : THINGS YOU MUST PACK FOR YOUR SAFARI
Going on a safari adventures in Africa requires some planning, especially when it comes to packing. Here are some things you must pack to ensure a comfortable and enjoyable experience:
1. Binoculars – These are essential for spotting wildlife from a distance.
2. Camera – You don't want to miss the opportunity to capture amazing wildlife moments. Make sure to pack extra batteries and memory cards.
3. Comfortable Clothing – Light and breathable clothing is recommended. Don't forget to pack warm clothing for the early morning and evening game drives.
4. Hat and Sunglasses – The African sun can be harsh, so make sure to bring a wide-brimmed hat and sunglasses to protect yourself from the sun.
5. Insect Repellent – Insect bites can ruin your safari experience. Make sure to pack a strong insect repellent.
6. Sunscreen – The African sun is strong, and sunscreen is a must. Make sure to apply it regularly to avoid sunburn.
7. Medications – Don't forget to bring your prescription medications and basic first-aid supplies.
8. Water Bottle – Staying hydrated is crucial in the African heat. Bring a reusable water bottle to stay hydrated throughout your safari.
9. Cash and Credit Cards – Make sure to bring cash and credit cards for tips and souvenirs.
10. Travel Adapter – Africa uses different types of electrical outlets, so make sure to bring a travel adapter to charge your devices.
By packing these essential items, you'll be ready for the ultimate African safari adventure. Enjoy your trip! if this post is useful leave your comments and check out this one The Best Tourist Attractions In South Africa That You Cannot Miss