Are you looking for the best places to visit in South Africa in 2023? Look no further! This blog post will provide an overview of the top destinations to explore in South Africa during your 2023 travels. From the beautiful beaches of Cape Town to the Beautiful Kruger National Park with Africa's Best Safaris Ever vibrant, and the  culture of Johannesburg, there is something for everyone to enjoy in this wonderful country. Discover the beautiful places to visit in South Africa in 2023 and get ready for an unforgettable journey!
FACTS ABOUT THE BEST PLACES TO VISIT IN SOUTH AFRICA IN 2023
South Africa is an incredibly diverse country with a wide array of sights, experiences and culture to explore. This amazing country offers something for everyone, from its stunning landscapes, vibrant cities and unique wildlife. Here are some interesting facts about South Africa that you should know before you Discover The Best places to Visit in South Africa in 2023.
1. South Africa is the southernmost country in the African continent. It is bordered by the Atlantic Ocean to the west and the Indian Ocean to the south.
2. It has nine provinces, each with its own unique culture and history. The two most well-known provinces are Cape Province (Cape Town) and KwaZulu-Natal (Durban).
3. It is home to over 50 million people and 11 official languages. English is the most commonly spoken language but there are also Afrikaans, Xhosa, Zulu and more.
4. The currency used in South Africa is the Rand (ZAR). The exchange rate is currently around 1 US dollar to 14 ZAR. depends with time,
5. South Africa is known for its incredible wildlife, including the Big Five (elephant, buffalo, rhinoceros, leopard and lion). You can find these animals in national parks such as Kruger National Park, one of the largest game reserves in the world.
6. The climate in South Africa varies greatly depending on where you are. In summer months it can get very hot, while winter months can be cool and wet.
7. South Africa has a rich history and culture, with art galleries, museums and monuments throughout the country that are worth exploring.
8. Lastly, South Africa has some of the most beautiful beaches in the world. Whether you want to relax in the sun or explore hidden coves, there is something for everyone.
We hope these facts have given you an insight into what to expect when travelling to South Africa. With so much to see and do, it's no wonder why so many people visit this incredible country every year!.
LET US NOW FIND THE BEST PLACES TO VISIT IN SOUTH AFRICA IN 2023.
(01) CAPE TOWN ONE OF THE BEST PLACES TO VISIT IN SOUTH AFRICA IN 2023
Cape Town is one of the most beautiful cities in South Africa and a must-visit destination for any trip to the country. Located at the southern tip of the continent, Cape Town offers a unique mix of African, Dutch, French and British cultures, with plenty of attractions and activities to explore.
For nature lovers, Cape Town is home to many national parks and reserves, such as Table Mountain National Park, which has breathtaking views over the city and is home to many species of wildlife including baboons, leopards and elands. Other great outdoor activities in Cape Town include exploring the nearby Winelands region, whale watching off the coast and hiking up Lion's Head peak.
History buffs will also love Cape Town, which is filled with historical monuments, such as Robben Island, where Nelson Mandela was imprisoned for 18 years of his 27 prison years. There are also various museums and galleries to explore, including the District Six Museum which explores the history of South Africa's apartheid era.
Shoppers can head to the V&A Waterfront for an array of stores, restaurants and entertainment venues, or take a stroll down Long Street, where you can find art galleries, street performers and a vibrant nightlife scene.
No trip to Cape Town is complete without a visit to Table Mountain, where you can take the cable car up to the summit for spectacular views across the city. From there you can also explore other nearby sights like Camps Bay beach, the Kirstenbosch National Botanical Garden or Clifton Beach.
BEST TIME TO VISIT CAPE TOWN
If you are looking for the best time to visit Cape Town, South Africa, then you're in luck! There isn't a bad time to visit this amazing city as it offers something for everyone. However, the peak season is from November through March, when temperatures are milder and there are a variety of events and festivals to enjoy.
During this time, the city enjoys mild days with temperatures between 12 and 25 degrees Celsius (54-77 degrees Fahrenheit). It's also the best time for outdoor activities such as hiking, biking, and even whale-watching. The sunny days also bring out locals to explore the surrounding beaches and trails.
If you want to experience Cape Town during its peak season, you'll want to avoid visiting from December through February, which is when the city is flooded with tourists. April through October is the ideal time to visit Cape Town if you're looking for fewer crowds and better prices on accommodation and activities.
Whether you're looking for peak season or a quiet time to explore Cape Town, you won't be disappointed. With its stunning beauty, vibrant culture, and exciting activities, it's no wonder why Cape Town is one of South Africa's most popular tourist destinations.
(02) KRUGER NATIONAL PARK IS A MUST-VISIT PLACE. AND ONE OF THE BEST PLACES TO VISIT IN SOUTH AFRICA 2023
Kruger National Park is one of the premier destinations in South Africa for wildlife lovers and adventurers. Situated in the north-eastern corner of South Africa, Kruger is home to an astounding variety of animals, including the Big Five (lion, leopard, elephant, rhino and buffalo) as well as cheetah, hyena, hippo, crocodile and over 500 species of birds.
The park covers 19,485 square kilometres, making it the largest national park in South Africa and one of the largest in Africa. It is divided into 4 different regions which have different climates and vegetation, offering a range of experiences from guided safaris to bush walks and camping. For practical reasons, the Kruger Park is divided into 4 main regions and are: Central region, the Northern region, the Southern region, and the Far Northern region.
Kruger is known for its excellent game viewing opportunities and its incredible landscapes. The vast open plains and woodlands provide spectacular views of the animal kingdom while its numerous rivers, lakes and waterholes provide habitat for an array of wildlife. Kruger offers a chance to witness the Big Five up close as they traverse the plains in search of prey.
Kruger also offers a range of activities as mentioned, such as safari drives, bush walks, night drives, mountain biking and even hot air balloon safaris. There are also a variety of lodges, campsites and facilities to make your stay comfortable. Whether you're looking for a romantic getaway or an adventure packed holiday, Kruger National Park is the perfect destination for a visit in 2023.
WHEN VISITING KRUGAR NATIONAL PARK, HERE ARE SOME OF THE BEST PLACES TO STAY. FIND MORE BY CLICKING THIS LINK
BEST TIME TO VISIT KRUGER NATIONAL PARK
Kruger National Park is one of South Africa's most beloved attractions, offering visitors the opportunity to explore some of Africa's most beautiful landscapes and wildlife. The best time to visit Kruger National Park depends on what kind of experience you're looking for and what activities you plan to participate in.
For those who are more interested in game viewing, the dry winter months (May to August) are the ideal time to visit. During these months, the bush is less thick and the animals concentrate around water sources making it easier to spot them. The cooler temperatures also make it a more pleasant experience.
The hot summer months (October to April) are great if you want to go on safari and experience a more exciting game viewing experience. During this time of year, the bush is thicker, so animals tend to move around more, making them more difficult to spot. The heat can be overwhelming, but it can be a good time for bird watching and taking photos of the landscape.
No matter what time of year you decide to visit Kruger National Park, you'll be sure to have a memorable experience. With its vast array of wildlife and stunning landscapes, Kruger National Park is an unforgettable destination.
(03) HERMANUS IS ONE OF THE BEST PLACES TO VISIT IN SOUTH AFRICA IN 2023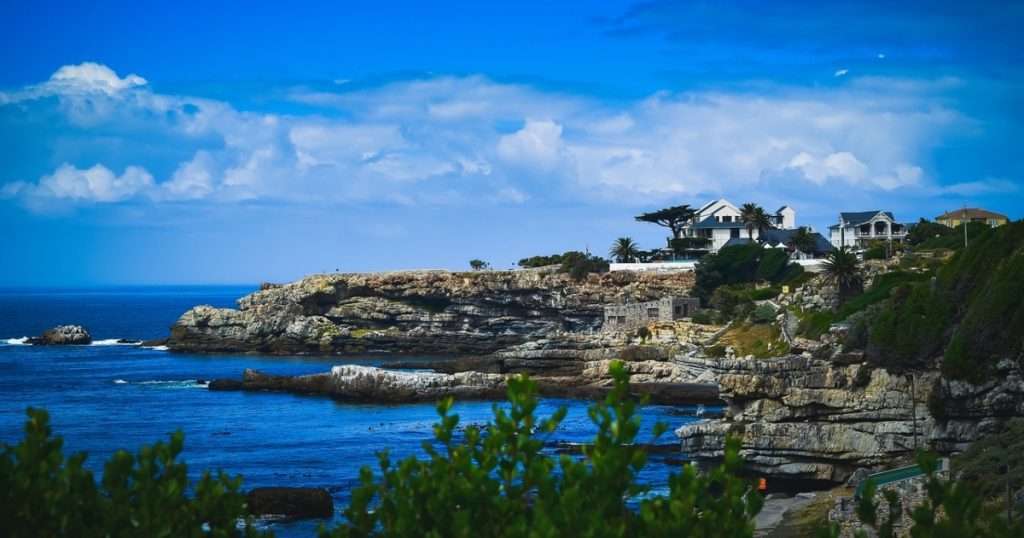 If you're looking for an outdoor adventure, then Hermanus is the place for you. Located on the Cape Whale Coast, this beautiful town is a popular destination for those seeking to experience some of the best whale watching in the world. From June to November each year, visitors can witness the Southern Right whales that migrate from the Antarctic to calve in Walker Bay.
The coastal town of Hermanus also has plenty of activities for visitors to enjoy, including snorkeling and diving, as well as cycling and mountain biking trails. Take a stroll along the coast to experience stunning views of the Atlantic Ocean and its pristine beaches. There are also plenty of restaurants and bars in Hermanus, perfect for relaxing after a day spent exploring the area.
BEST TIME TO VISIT HERMANUS
Hermanus, located on the Western Cape of South Africa, is a stunningly beautiful coastal town that offers some of the most amazing and unforgettable experiences. It is especially known for its whale watching during the months of June to November. The best time to visit Hermanus is during the months of June and July, when the weather is mild and pleasant.
During this time, the sky is clear, allowing visitors to view whales in the ocean. This is also the peak season for whale watching activities, so visitors can expect to be delighted with sightings of Southern Right Whales, Humpback Whales, and Bryde's Whales. Not only that, but visitors can also take advantage of other exciting activities such as fishing, kayaking, swimming, and even shark cage diving.
Apart from whale watching, Hermanus also has plenty of other attractions to offer including excellent restaurants and bars, a buzzing nightlife scene, and beautiful beaches. Additionally, there are several natural and historical sites in the area including the Fernkloof Nature Reserve and the Kleinriver Cheese Factory.
In conclusion, Hermanus is an amazing destination for those who love nature, wildlife and outdoor activities. The best time to visit Hermanus is during the months of June and July when the weather is mild and perfect for whale watching and other outdoor activities. Whether you're looking for a relaxing vacation or an adventure-filled one, Hermanus is sure to satisfy your needs.
4.THE GARDEN ROUTE ANOTHER ON OF THE BEST PLACES TO VISIT IN SOUTH AFRICA IN 2023
The Garden Route of South Africa is a beautiful stretch of coastline that runs from Mossel Bay to the Storms River Mouth. It is one of the most popular tourist destinations in the country, and it has something for everyone. From beautiful beaches to stunning forests, it is the perfect place for an escape.
The Garden Route is known for its temperate climate, which makes it great for outdoor activities like swimming, surfing, sailing, and hiking. There are also plenty of nature reserves where you can spot game and birds. The area is also home to some of South Africa's best golf courses.
The Garden Route has something for all kinds of travelers. From luxury resorts to hostels and camping grounds, there are plenty of options available. There are also great restaurants and cafes, as well as shops selling souvenirs and other items.
The Garden Route is not just a beautiful place; it is also steeped in history. Some of the oldest towns in South Africa are located here, including Mossel Bay and Knysna. It is also home to many cultural activities such as festivals, art galleries, and museums.
Whether you're looking for an active getaway or a relaxing retreat, the Garden Route has something for everyone. From world-class beaches to dense forests, and plenty of activities to choose from,
BEST TIME TO VISIT THE GARDEN ROUTE
The best time to visit The Garden Route is between October and April when the weather is generally warmer and drier. This time period also falls within the spring and summer months, making it the ideal season for outdoor activities such as hiking, cycling, fishing and even surfing.
The fall season (May-September) can also be a great time to visit The Garden Route, but bear in mind that it may be a bit cooler and wetter during this time of year. The summer season (October-April) is typically the best time for beachgoers, with warm days and cooler nights.
No matter what season you choose to visit The Garden Route, there are plenty of activities for everyone to enjoy. Whether you want to explore the area's natural beauty or just relax by the ocean, you're sure to have a wonderful time. So make sure to add The Garden Route to your South African travel itinerary and experience its breathtaking beauty.
Interesting facts about The Garden Route most people don't know
The best places to stay when visiting the Garden Route
The Best Things To Do in the Garden Route
(05) ROBBEN ISLAND IS ALSO ONE OF THE BEST PLACES TO VISIT IN SOUTH AFRICA IN 2023
Robben Island is a famous World Heritage Site off the coast of South Africa. It's a great place to visit for those looking to learn more about the history of South Africa, as it was used as a prison for many political prisoners, including former President Nelson Mandela, during the apartheid era.
The island can be accessed by taking a ferry from the V&A Waterfront in Cape Town. Visitors can take tours of the prison where Mandela and other prisoners were held and learn more about the history of the island, as well as its significance in the struggle against Apartheid.
Robben Island has become an important symbol of the triumph of South Africa's freedom fighters over the country's oppressive regime. The museum on the island is an important place of remembrance, where visitors can take time to reflect on what these freedom fighters went through and gain a better understanding of South African history.
Visiting Robben Island is an incredibly moving experience that allows you to gain perspective on a difficult part of South Africa's past. If you are looking to learn more about the history of this amazing country, then a trip to Robben Island is an absolute must-do.
(06) DURBAN-KWAZULU NATA BEST PLACE TO VISIT IN SOUTH AFRICA IN 2023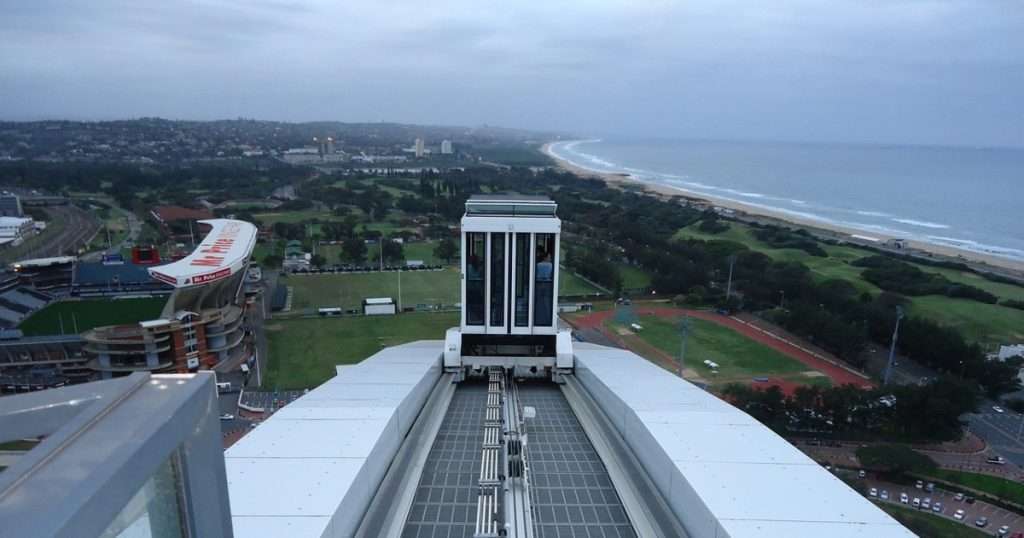 Durban-Kwazulu Nata is a great place to visit in South Africa. Located on the east coast of the country, this bustling city offers visitors a wealth of attractions, including its gorgeous beaches, lush forests and expansive parklands. Durban is home to some of the country's best cultural sites, such as The Durban Botanic Gardens, which features over 2000 plant species, the Durban Art Gallery, and the International Convention Centre, which hosts events from around the world.
The nearby town of Kwazulu Nata has a rich history and heritage that dates back centuries. A must-see for any visitor is the Shakaland Zulu Cultural Village, where you can learn about the fascinating history of this vibrant region. There are also plenty of shops and restaurants in Kwazulu Nata, as well as scenic hiking trails and incredible wildlife.
Whether you're looking for a beach escape or an immersive cultural experience, Durban-Kwazulu Nata has something for everyone. Make sure to add it to your list of must-see destinations when planning your South African adventure!
BEST TIME TO VISIT DURBAN
The best time to visit Durban is from May to August when the weather is cooler and drier. This is also the peak tourist season in the city, so it's important to book accommodation and flights well in advance. The summer months (November to March) can be hot and humid, but this is when the city really comes alive with festivals and events. April and October are good times to visit as the temperatures are moderate and there's less rain.
This beautiful city  has an irresistible vacation vibe, thanks to the idyllic beaches of the Golden Mile, world-class surf spots, and an active Indian community. The latter is responsible for the city's reputation as South Africa's curry capital, making it an appealing destination for foodies as well..
When visiting Durban, bear in mind that it's situated near the Indian Ocean, so there is a risk of storms from October to April. Fortunately, these usually don't last too long, so they don't have a major impact on holiday plans. No matter when you choose to visit Durban, you can look forward to a wide range of attractions, activities and events that make it a great holiday destination.
(07) JOHANNESBURG ONE OF THE BEAUTIFUL PLACE TO VISIT IN SOUTH AFRICA
Johannesburg is a beautiful South Africa's biggest city and the capital of Gauteng province. Nelson Mandela and Desmond Tutu previously lived in the huge Soweto township. It is the African continent's most powerful commercial center. Its infrastructure matches that of leading first world cities.
Is a vibrant and exciting city full of culture and attractions. From the lively markets of Soweto to the iconic Apartheid Museum, there is something for everyone in Johannesburg. There are also a number of great nature parks, such as the Walter Sisulu National Botanical Gardens, the Johannesburg Zoo, and Pilanesberg National Park. For a true taste of the city, take a stroll through the lively streets of the Maboneng Precinct or enjoy some live music at The Orbit Jazz Club. There is so much to explore in Johannesburg, it's sure to be a memorable experience.
Johannesburg is South Africa's bustling center, while Pretoria is the administrative capital; together, they constitute Africa's multi-cultural, multi-lingual superpower. From squatter settlements in Soweto to world-class hotels in Sandton, they are brimming with energy and passion. This is also the starting point for many of the world's largest and greatest game reserves.
Johannesburg is the place to visit if you want to combine big-city culture, shopping, food, and nightlife with outdoor excursions, up-close wildlife encounters, and historical site visits.
Explore caverns and wildlife reserves during the day, then dine at a fashionable café or five-star restaurant at night. Bring an additional, empty suitcase if you're a shopper. There are lots of unusual souvenirs to be found at malls, open-air markets, and sites that combine the two.
BEST TIME TO VISIT JOHANNESBURG
Johannesburg is a wonderful city to visit, with lots of cultural and outdoor activities for all ages. The best time to visit Johannesburg is during the winter months from May to August when temperatures are mild and the weather is sunny and dry.
During this time, you can enjoy outdoor activities such as hikes in the hills, wine-tasting at the local vineyards, and golfing in some of the world's most picturesque courses. If you plan to explore Johannesburg's nightlife, you should consider visiting during the peak summer months between November and February. This is when Johannesburg hosts some of its most popular festivals and events like the Soweto Festival and the annual Joburg Fringe Festival.
No matter what time of year you decide to visit Johannesburg, it's important to be mindful of South Africa's variable weather conditions and take precautions such as packing rain gear and sunscreen.
(08) DRAKENSBERG – KWAZULU-NATAL
The magnificent and extraordinary Drakensberg, also known as the "Dragon Mountains," is one of the best and most interesting places to visit in this beautiful KwaZulu-Natal province and a dream South African holiday destination for almost everyone. and noted that also has the highest peaks in this beautiful country..
The amazing region includes the World Heritage-listed uKhahlamba-Drakensberg Park, which has jaw-dropping beauty with jagged basalt buttresses and San rock art, as well as Royal Natal National Park, which has the magnificent Amphitheatre, a magnificent cliff face and the source of South Africa's main rivers.
In this particular area, the Giant's Castle Game Reserve preserves enormous herds of eland.Dense woods thrive in the valleys, and the region is home to over 800 different varieties of angiosperms, as well as a diverse range of fauna. This is what distinguishes this location and makes it appealing to visitors. . ,
In the summer, the alpine vistas are lush and fruitful, with rushing waterfalls and crystal-clear streams. Snow covers the magnificent summits in winter.
There is a lot more to do and see in the surrounding region. Hiking and riding the beautiful mountain pathways, trout fishing, rock climbing, abseiling, parasailing, and rafting the waters of the fast-flowing rivers all attract visitors.. Hot air balloon rides are an excellent way to take in the scenery.
(09) PENGUIN COLONY, SIMON'S TOWN, WESTERN CAPE
South Africa is home to a wide variety of wildlife, including penguins. Penguins can be found in many places around the country, including colonies in Cape Town, Stony Point Nature Reserve, Boulder's Beach, and False Bay.
The African Penguin is the only species of penguin native to South Africa, and it is also one of the most endangered species in the world. African Penguins inhabit the coasts of Namibia, South Africa, and Mozambique and are typically found in large colonies near the shoreline.
These majestic creatures are a sight to behold and can often be seen swimming in the sea or sunning themselves on the beach. Although they prefer to keep their distance from humans, they can be observed from up close in some nature reserves. These reserves are also great spots to learn more about these adorable creatures and their habitats.
The Stony Point Nature Reserve, located near Hermanus in the Western Cape, is one of the best spots to observe African Penguins in their natural habitat. The reserve protects the breeding grounds of the colony of African Penguins that live there. Visitors to the reserve can observe the birds up close while helping to protect them from harm.
Another great spot to observe African Penguins is at Boulders Beach near Simon's Town in the Western Cape. This beach is also part of a nature reserve and home to a large colony of African Penguins. Visitors here can observe the penguins as they go about their daily activities and marvel at their unique behaviors.
False Bay, near Cape Town, is yet another great spot for penguin-spotting. This bay is home to a large colony of African Penguins, as well as other marine life such as seals and whales. Visitors here can observe the colony from nearby beaches or take a boat trip for a closer look.
Whether you're visiting South Africa to observe African Penguins or any other wildlife, it's important to remember to always respect nature. Respectful behavior around wild animals will ensure that they remain safe and unharmed, and will ensure that future generations can enjoy them too.
(10) HLUHLUWE-IMFOLOZI PARK
Hluhluwe-iMfolozi Park, located in the KwaZulu-Natal province of South Africa, is one of the oldest game reserves in the country. Established in 1895, the park is home to an incredible variety of African wildlife. The park is renowned for its large population of white rhinos and its conservation efforts have helped bring this species back from near extinction.
The park is located in a rugged, hilly area between the towns of Hluhluwe and Mfolozi. It covers 96,000 hectares of land and features a wide range of habitats including savannah, wetlands, woodlands and grasslands. Its diverse ecosystems provide a home for a range of species including the Big 5 (elephant, lion, leopard, buffalo and rhinoceros). Visitors can also spot giraffes, cheetahs, wildebeests, zebras, impalas and numerous bird species.
Hluhluwe-iMfolozi Park is one of the best places to visit in South Africa to explore African wildlife in its natural habitat. A popular activity is a game drive which allows visitors to get up close to the park's incredible wildlife. There are also excellent trails for walking and mountain biking as well as canoe trips on the Mfolozi River. Other activities include night drives and stargazing. For those looking for an unforgettable experience, hot air ballooning is available over the park.
Visitors can stay within the park or in nearby accommodations. Whatever you choose, Hluhluwe-iMfolozi Park is sure to be a memorable experience that you won't forget.