Looking for the ultimate coastal escape? Look no further than Blue Waters Hotel in Durban. Located on the iconic Golden Mile, this luxurious hotel offers stunning views of the Indian Ocean and easy access to the city's best attractions.
With its top-notch amenities, exceptional service, and prime location, it's no wonder that Blue Waters Hotel is considered the best hotel in Durban. Whether you're planning a romantic getaway, a family vacation, or a solo adventure, this hotel has everything you need for an unforgettable coastal experience.
This post contains affiliate links, which means that if you click and buy, I may receive a commission at no additional cost to you. For more information, please visit my disclosure policy.
2 swimming pools
Non-smoking rooms
Room service
Facilities for disabled guests
Private parking
Restaurant
Tea/coffee maker in all rooms
Bar
Free WiFi
Fabulous breakfast
Children's cots (upon request)
24-hour security
Balcony
Languages spoken
English
Read on to discover why Blue Waters Hotel should be your top choice for your next seaside escape.
UNVEILING THE ELEGANCE OF BLUE WATERS HOTEL DURBAN
As you step into the magnificent Blue Waters Hotel in Durban, prepare to be captivated by its sheer elegance. From the moment you enter the grand lobby, adorned with intricate chandeliers and stylish furnishings, you'll be transported to a world of luxury and sophistication.
Every corner of the Hotel exudes an atmosphere of opulence and class. The attention to detail is evident in the tasteful decor and the seamless blend of modern and traditional design elements. The spacious and impeccably decorated rooms offer a haven of tranquility, ensuring a restful stay. Sink into the plush bedding, marvel at the panoramic views of the Indian Ocean, and let the soothing sounds of the waves lull you into a state of pure bliss.
But it's not just the aesthetics that make this Hotel truly special. The hotel prides itself on its impeccable service, with a team of attentive staff ready to cater to your every need. From the moment you check-in, you'll feel like a VIP, with personalized service that goes above and beyond your expectations.
Whether you need assistance with your luggage, recommendations for local attractions, or simply a warm smile, the staff at this Hotel will ensure that your stay is nothing short of extraordinary.
IN-DEPTH REVIEW: ROOM TYPES, AMENITIES, AND SERVICES
When it comes to room types, amenities, and services, Blue Waters Hotel in Durban has thought of everything to ensure your stay is nothing short of extraordinary. From the moment you step into your room, you'll be greeted with spaciousness and impeccable design. The hotel offers a range of room types to suit every traveler's needs, from cozy single rooms to expansive suites with breathtaking ocean views.
Each room is elegantly furnished with modern amenities and comfortable furnishings, providing a luxurious retreat after a day of exploring the coast. The attention to detail is evident, with plush bedding, tasteful decor, and thoughtful touches throughout. Whether you're traveling solo or with a group, Blue Waters Hotel has the perfect room for you.
When it comes to amenities, the hotel leaves no stone unturned. The sparkling swimming pool is the perfect spot to take a refreshing dip and soak up the sun. For those who prefer to relax, the sauna and steam room offer a peaceful retreat. And for those looking to stay active, the fully-equipped fitness center has state-of-the-art equipment to help you stay in shape while enjoying your coastal escape.
But it's not just the amenities that make Blue Waters Hotel exceptional, it's the impeccable service that sets it apart. The attentive staff is always on hand to cater to your every need, whether it's assisting with luggage, providing local recommendations, or arranging transportation. Their warm smiles and genuine hospitality ensure that your stay is nothing short of extraordinary.
When it comes to dining, Blue Waters Hotel offers a range of restaurants to satisfy every palate. From fine dining to casual eateries, each restaurant boasts a unique ambiance and an extensive menu of delectable dishes. Whether you're in the mood for fresh seafood, mouthwatering steaks, or authentic local cuisine, you'll find it all at Blue Waters Hotel.
This hotel has everything you need for an unforgettable experience. Stay tuned as we explore the exceptional cuisine, recreational facilities, customer testimonials, nearby attractions, and why Blue Waters Hotel should be your top choice for your next vacation.
EXPLORING THE EXCEPTIONAL CUISINE AT BLUE WATERS HOTEL
When it comes to culinary delights, Blue Waters Hotel in Durban offers an exceptional dining experience that will satisfy even the most discerning palates. With a range of restaurants to choose from nearby, each boasting a unique ambiance and an extensive menu, this hotel truly has something very special for everyone.
For those craving fine dining, look no further than the elegant Versailles Restaurant. With its opulent decor and exquisite menu, this restaurant sets the stage for a truly memorable dining experience. Indulge in dishes prepared with the finest ingredients, expertly crafted by a team of talented chefs. From succulent seafood to perfectly cooked steaks, every bite at Versailles is a culinary masterpiece.
If you're in the mood for something a little more casual,The charming Florida Lounge offers a relaxed atmosphere with stunning views of the Indian Ocean. Enjoy a light lunch or afternoon tea while soaking in the breathtaking scenery. The menu features a selection of fresh salads, sandwiches, and and a variety of beverages, all made with locally sourced ingredients.
For those seeking an authentic taste of Durban, the Curry Buffet at the Blue Dolphin Restaurant is a must-try. Immerse yourself in the flavors of India with a variety of mouthwatering curries, accompanied by fragrant rice, poppadums, and traditional condiments. This buffet is a feast for the senses and is guaranteed to leave you craving more.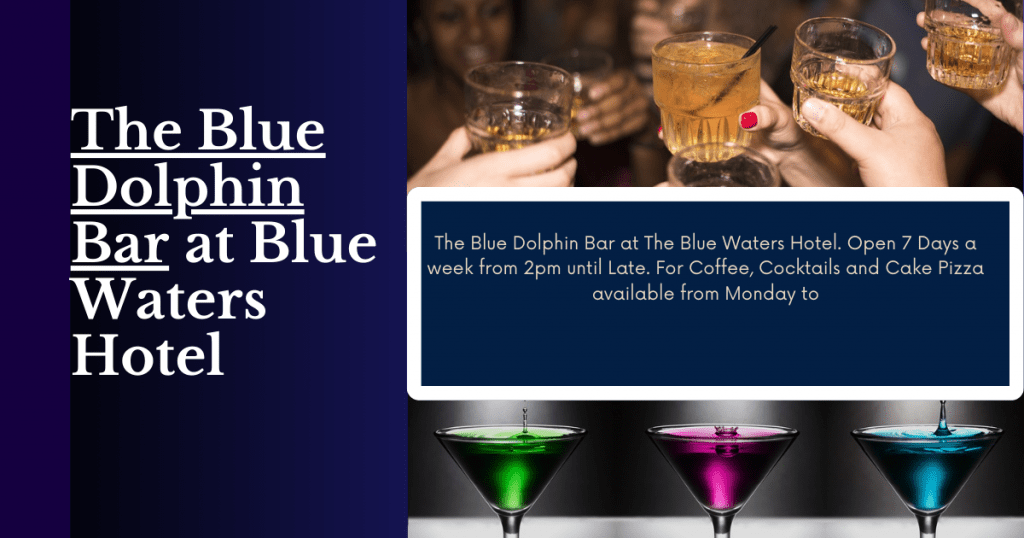 If you're looking for a refreshing drink or a place to unwind after a day of exploring, The Blue Dolphin Bar is the perfect spot. With its vibrant atmosphere and wide selection of cocktails, beers, and wines, this bar is the ideal place to relax and enjoy the company of friends or loved ones.
At Blue Waters Hotel, dining is not just about the food; it's about the entire experience. The exceptional cuisine, paired with impeccable service and breathtaking views, ensures that every meal is a memorable one.
So whether you're a food lover, a connoisseur, or simply looking to indulge in delicious dishes, Blue Waters Hotel is the ultimate culinary destination in Durban.
RECREATIONAL FACILITIES AND ACTIVITIES FOR A PERFECT COASTAL ESCAPE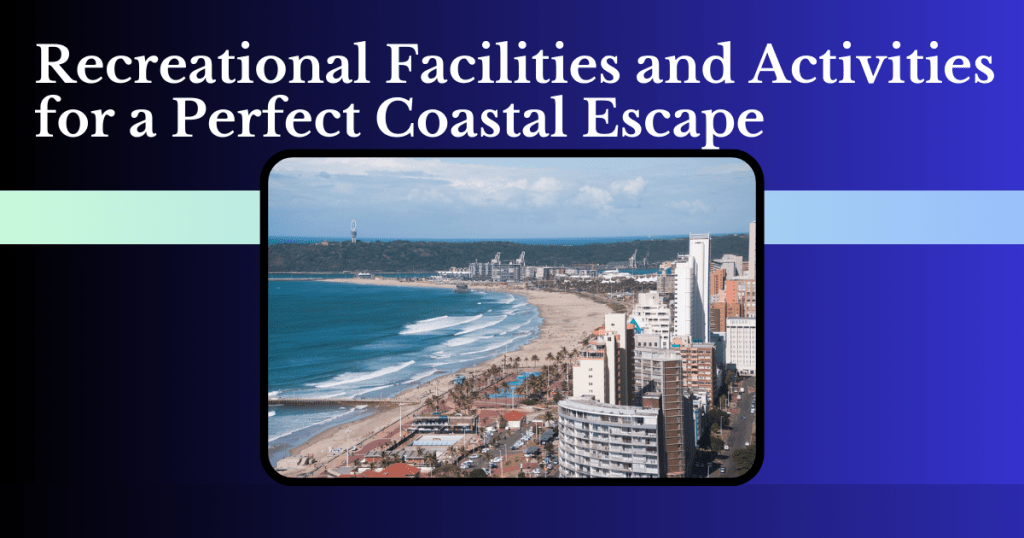 Whether you're looking to relax by the pool, engage in exciting water sports, or explore the vibrant city of Durban, Blue Waters Hotel has an array of recreational facilities and activities to make your coastal escape truly perfect.
For those who want to soak up the sun and take a refreshing dip, the hotel's sparkling swimming pool is the ultimate oasis. Lounge on the comfortable sunbeds and enjoy the warm coastal breeze as you bask in the idyllic surroundings. The poolside bar offers a range of refreshing drinks and snacks, ensuring that you stay hydrated and satisfied throughout your relaxation session.
If you're seeking a bit more adventure, Blue Waters Hotel has you covered. The hotel offers direct access to the pristine Golden Mile beach, where you can partake in thrilling water sports such as surfing, paddle boarding, and jet skiing. Explore the crystal-clear waters of the Indian Ocean and experience the exhilaration of riding the waves. With the hotel's convenient location, you can easily arrange equipment rental and lessons for beginners.
For those looking to explore the city, Blue Waters Hotel is ideally situated near Durban's best attractions. Take a leisurely stroll along the bustling promenade, visit the iconic Moses Mabhida Stadium, or explore the vibrant markets and shops in the city center. The hotel's concierge service can provide you with valuable insights and recommendations to ensure that you make the most of your time in Durban.
After a day of excitement, unwind and pamper yourself at the hotel's spa. Indulge in a rejuvenating massage, unwind in the sauna or steam room, or treat yourself to a luxurious facial. The spa offers a range of treatments designed to relax and rejuvenate your body and mind, providing the perfect end to a day of exploration. all recommendations will get them from the hotel just ask.
Blue Waters Hotel is dedicated to providing its guests with an unforgettable coastal escape. With its range of recreational facilities and activities, you can tailor your experience to suit your preferences, whether you're seeking relaxation, adventure, or a bit of both. Whatever you choose, you can rest assured that your coastal escape will be nothing short of perfect.
CUSTOMER TESTIMONIALS: REAL STORIES FROM SATISFIED GUESTS
Nothing speaks louder about a hotel's quality and service than the words of its satisfied guests. At Blue Waters Hotel in Durban, they take pride in their commitment to providing an unforgettable experience for each and every guest. Don't just take these word for it – here are some real stories from the satisfied guests i met:
(01)
"From the moment we arrived at Blue Waters Hotel, we were blown away by the exceptional service. The staff went above and beyond to make our stay comfortable and memorable. The room was immaculate and the ocean views were breathtaking. We enjoyed every moment of our stay and cannot wait to return." – Sarah and John, Australia
(02)
"As a solo traveler, I felt completely at ease and well taken care of at Blue Waters Hotel. The staff made me feel like part of their family and were always there to assist with any request or question I had. The room was luxurious and had all the amenities I needed. The location was perfect – right on the beach and close to all the attractions. I had an incredible time and would highly recommend Blue Waters Hotel to anyone traveling to Durban." – Michael, USA
(03)
"We chose Blue Waters Hotel for our family vacation, and it was the best decision we made. The hotel has everything you need for a relaxing and enjoyable stay. The kids loved the swimming pool and the beach access. The staff were amazing with the kids and made us feel welcome from the moment we arrived. The rooms were spacious and comfortable, and the food at the restaurants was outstanding. We made memories that will last a lifetime and can't wait to come back next year." – The Johnson Family, South Africa
(04)
"I had the most incredible experience at Blue Waters Hotel. The attention to detail and the level of service exceeded my expectations. The room was beautifully decorated and had a stunning ocean view. The meals at the restaurants were absolutely delicious – I highly recommend trying the curry buffet. The hotel's location was ideal for exploring the city, and the staff were always available to provide recommendations and assistance. I couldn't have asked for a better stay." – Lisa, United Kingdom
target="_blank">
These testimonials are just a glimpse of the many satisfied guests who have experienced the excellence of Blue Waters Hotel. they are committed to providing the highest level of service and creating memories that last a lifetime. Join them for your next coastal escape and discover why Blue Waters Hotel is the top choice for discerning travelers. and thank me later,
Do not wait until the last minute to make your reservation, since the hotel is always and frequently in high demand due to its excellent reputation. The sooner you book your reservation, the better your chances and reasonable procedures.
IF YOU FOUND THIS POST USEFUL, PLEASE LEAVE A COMMENT OR ASK A QUESTION. AND TAKE A LOOK AT THE MOST IMPORTANT THINGS TO PACK WHEN TRAVELING TO SOUTH AFRICA.