Are you looking for the perfect vacation destination that combines breathtaking beaches, exciting nightlife, and a vibrant culture? If so, then Cancun is the ideal destination for you! With its stunning white-sand beaches, crystal-clear waters, and stunning Mayan ruins, Cancun offers something for everyone. But when is the best time to visit Cancun for an unforgettable vacation? Read on to find out what time of year is the most suitable for a trip to Cancun, Mexico.
CANCUN MEXICO FACTS
Cancun is a Mexican paradise, as mentioned earlier with its beautiful beaches, crystal clear waters and vibrant culture. Located in the state of Quintana Roo on the Yucatan Peninsula, it's known as one of the most popular tourist destinations in Mexico. Cancun is home to a wide variety of attractions, from ancient Mayan ruins to stunning underwater reefs. Here are some facts about Cancun Mexico that you should know before planning your trip.
1. The city was founded in 1970 as a modern planned community built around a small fishing village, but was officially recognized in 1974 when Quintana Roo became a Mexican state. It was designed to be a tourist destination with large luxury hotels and resorts.
2. Cancun has two distinct seasons – a dry season from November to April and a rainy season from May to October.
3. with an average annual temperature of 78°F (26°C), which can rise to 95°F (35°C) in summer. The average annual rainfall is 1400 mm.
4. The area was once home to the Mayan civilization and many pre-Columbian ruins are still visible today.
5. Cancun is a popular scuba diving spot due to its numerous underwater caves, coral reefs and cenotes.
6. There are over 30 beaches in the Cancun area and about 11 public beaches in Cancun's Hotel Zone , including Playa del Carmen and Isla Mujeres.
7. English is widely spoken by local businesses in Cancun and most locals can communicate in basic English.
8. There are several theme parks in the area, including Xcaret and Xel-ha.
9. You'll find plenty of shopping options in Cancun, from high-end malls to street markets.
10. It's possible to take day trips to nearby attractions such as Chichen Itza and Coba.
Whether you're looking for pristine beaches, ancient ruins or a party atmosphere, Cancun has something for everyone. Keep these facts in mind when planning your trip and you'll be sure to have an unforgettable experience! by discovering the Best Time to Visit Cancun,
SO, LET'S FIND OUT WHEN IS THE BEST TIME TO VISIT CANCUN FOR A MEMORABLE VACATION.
MARCH AND APRIL – GREAT WEATHER, FEWER CROWDS
Cancun is a fantastic destination for those looking for a warm, sunny getaway. The weather in March and April is perfect for outdoor activities and beach visits. Average temperatures range from 74-80°F (23-27°C) and it is typically sunny, with little to no rain. This makes it an ideal time for sightseeing and swimming in the Caribbean Sea. Plus, since it's considered the "off-season" for tourists, there are fewer crowds and you can enjoy the city and its attractions without too much of a wait.
If you're looking for some adventure, consider visiting during this time of year. Snorkeling and scuba diving are great options when the waters are warm and clear. You can also take part in fun water sports like jet skiing or banana boating. For an even more unique experience, try parasailing and take in stunning views of the Caribbean Sea.
There are also plenty of cultural activities to explore in Cancun. Take a trip to El Meco Archaeological Site or the Mayan Museum of Cancun. Or go shopping at some of the local markets and souvenir shops. No matter what your interests, you're sure to find something to do in Cancun during March and April.
The best part about visiting Cancun during this time of year? The hotels are much more affordable, so you can save some money while enjoying a perfect vacation in paradise.
JUNE – HOT WEATHER, MORE PEOPLE
If you're looking for a warm vacation destination, then Cancun in June is the perfect time to visit. The weather in June can be hot and humid, but with temperatures ranging from 79-87 degrees Fahrenheit (26-31 degrees Celsius) there are plenty of opportunities for sunbathing and swimming. Plus, the days are long with an average of 13 hours of sunlight each day, so there's plenty of time to explore all that Cancun has to offer.
In June, Cancun can become quite crowded with tourists and locals alike flocking to the beach, making it difficult to find a spot on the sand. There may also be more people in the city at night as the bars and clubs come alive.
The best way to beat the crowds in Cancun during June is to get up early and enjoy some of the quieter beaches before they get busy. For those who don't mind sharing their space with others, it's a great time to take part in activities like kayaking, snorkeling, fishing and other water sports.
June is a great month for those who don't mind the heat and want to experience Cancun at its most vibrant. With longer days and hot weather, you'll have plenty of time to enjoy everything this beautiful city has to offer.
JULY AND AUGUST – HOT WEATHER, EVEN MORE PEOPLE & THE BEST TIME TO VISIT CANCUN FOR SOME TOURISTS
For those looking for a classic Cancun beach experience, July and August are the prime months. Temperatures in the summer months can reach up to the mid-90s during the day, so it's important to stay hydrated and take frequent breaks from the sun.
July and August are also the most crowded months to visit Cancun, with many people taking advantage of the warmer weather and longer days for beach activities. If you don't mind the larger crowds, there's still plenty of fun to be had in Cancun during these two months. You can enjoy swimming, boating, snorkeling, parasailing, and other water sports on any of the city's white sandy beaches. You can also spend your days exploring the many nearby Mayan ruins or visiting some of Cancun's lively nightlife venues.
Despite the higher temperatures and crowds in July and August, they're still great months to visit Cancun if you want to get the most out of your vacation. With more time to explore the city's attractions, you can make sure you have an unforgettable time in Cancun.
SEPTEMBER – HOT WEATHER, FEWER PEOPLE
September is a great time to visit Cancun if you're looking for hot weather and fewer crowds. Average temperatures in September range from the mid-80s during the day to the mid-70s at night. This is still a great time to hit the beach, but you may find that it's less crowded than in July or August. You'll also get to experience the start of hurricane season, so be sure to check the weather forecast and stay safe if a storm should come through.
Since it's not peak season, you can often find great deals on hotels and flights. Be sure to do some research and find out which airlines are offering the best deals and which hotels have the amenities you're looking for.
If you're looking for things to do, September is a great time for outdoor activities. There are plenty of eco-tours and boat trips you can take to explore the area's wildlife and stunning scenery. If you prefer something a bit more low-key, there are many spas, shops, and restaurants that make for a great day out. For nightlife, head to The City of Cancun for all kinds of clubs and bars to enjoy,
OCTOBER – GREAT WEATHER, FEWER PEOPLE
October is the perfect time to visit Cancun, Mexico if you're looking for great weather and fewer people. The average temperature in October is between 21°C and 27°C. This makes it the ideal time to explore Cancun and all its amazing sites without being overwhelmed by the heat.
The best part about visiting Cancun in October is that there are fewer tourists than in other months. You will be able to enjoy the beauty of Cancun without the large crowds that usually come with tourist season. From swimming in the Caribbean Sea to visiting Mayan ruins, there are plenty of activities to keep you occupied during your stay.
If you're looking for an unforgettable vacation experience, October is the ideal month to visit Cancun. With perfect weather and fewer people, you can experience the city in a unique way. Plus, with the low prices available in the off-season, you can save money while enjoying all that Cancun has to offer.
DECEMBER THROUGH APRIL-IS THE MOST POPULAR AND THE BEST TIME TO VISIT CANCUN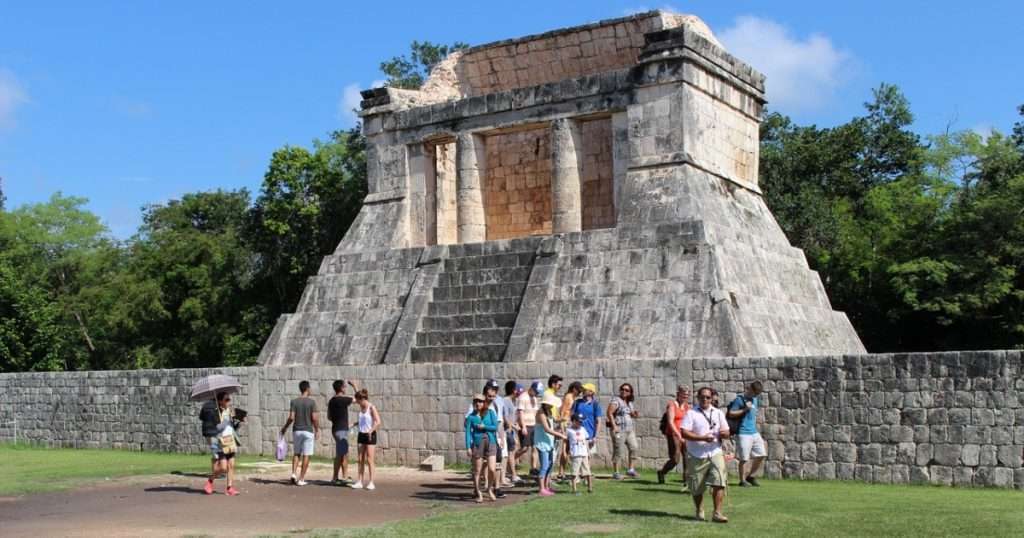 December through April is the most popular time of year to visit Cancun and the Caribbean. During these months, the temperatures are mild and range from 65-80 degrees Fahrenheit (18-26 Celsius). This is an ideal time for sunning and swimming, as the weather is generally sunny with little rain. The temperatures stay warm enough to enjoy the beach without being too hot.
Cancun's main tourist season begins in December and runs through April, so it's important to plan ahead if you want to take advantage of the area's best activities and attractions. Tourist numbers reach their peak in January and February, so prices for accommodations and activities may be more expensive during this period. It is recommended that visitors make reservations early to secure their desired dates and activities.
This is also an ideal time of year to enjoy outdoor activities such as fishing, kayaking, snorkeling, scuba diving, and golfing. There are also numerous nightlife spots that offer live music, DJs, karaoke bars, and more. Plus, there are plenty of restaurants offering up fresh seafood dishes and local delicacies.
Overall, December through April offers a great combination of mild temperatures, lots of things to do, and fewer people than the other months. If you're looking for the perfect time to visit Cancun for an unforgettable vacation, this is it!
TIPS FOR YOU: BEST WHALE-WATCHING DESTINATIONS IN MEXICO
If you're looking for the perfect whale-watching experience, Mexico is a great choice. The country's west coast is home to some of the most active cetacean populations in the world, including humpback whales, gray whales, and more.
The best time to view whales in Mexico is between December and April, when large groups of migrating whales come to the coasts off the Baja California peninsula and other parts of the Pacific coast. During this time, it's easy to spot whales as they come to the surface to breathe and feed.
One of the best places to go whale-watching in Mexico is Magdalena Bay, located in Baja California Sur. This area is renowned for its gray whale population and offers a variety of activities for whale-watchers, such as kayaking, boating, and swimming. You can also find plenty of guided tours that will take you out on a boat and provide experienced guides who can explain what you're seeing.
Another great destination for whale-watching in Mexico is Guadalupe Island, located off the coast of Baja California. This is a prime spot to see blue whales, as well as other species such as fin whales, sei whales, and sperm whales. The area is also home to a large colony of fur seals and sea lions, making it a great place for wildlife viewing as well.
For a truly unforgettable experience, consider visiting the Sea of Cortez, located off the coast of mainland Mexico. This region is known for its abundance of marine life and offers an incredible opportunity to observe whales up close. You can even take part in snorkeling and scuba diving activities here to get even closer to these majestic creatures.
No matter where you choose to go whale-watching in Mexico, you're sure to have an unforgettable experience. With its rich variety of cetacean species and stunning landscapes, Mexico is a perfect destination for anyone looking to observe some of nature's most impressive creatures in their natural habitat.
IF YOU FOUND THIS POST USEFUL, PLEASE LEAVE YOUR COMMENTS OR ANY QUESTIONS. AND TAKE A LOOK AT THIS OTHER POST THAT MIGHT BE USEFUL.