Are you ready to set sail on an unforgettable cruise? Well, if the answer is yes, then don't set sail without these best things to pack for a cruise trip. It's time to start packing and preparing for a journey filled with adventure and relaxation. To help you make the most of your trip, we've compiled a comprehensive list of the best things to pack for a cruise trip.
This cruise packing list contains all the essential items you'll need to have a safe and enjoyable trip, plus a few extras that will make your vacation even more enjoyable. From clothing and toiletries to entertainment and tech gadgets,
You'll be ready to hit the high seas, fully equipped. Read on to discover our top recommendations of the Best Things to Pack For a Cruise Trip,
Reasons Why You Should Travel On A Cruise At Least Once In Your Lifetime.
This post contains affiliate links, which means that if you click and buy, I may receive a commission at no additional cost to you. For more information, please visit my disclosure policy.
There are countless reasons why you should embark on a cruise at least once in your lifetime. Firstly, cruises offer a unique opportunity to explore multiple destinations without the hassle of constant packing and unpacking. You can wake up in a new port every day and immerse yourself in different cultures and experiences.
Secondly, cruises provide a luxurious and all-inclusive experience. From gourmet dining options to top-notch entertainment, you'll be treated like royalty throughout your trip.
Finally, cruising allows you to relax and unwind in a way that no other vacation can. Imagine lounging by the pool, being pampered in the spa, or simply gazing at the endless expanse of the ocean. These are just a few of the many reasons why a cruise should be on your travel bucket list.
I'm a big planner, and I've discovered that having a well-packed bag makes for a far more enjoyable cruise holiday! first and important to be number 1 on your list. highly commanded: Check out this personal first aid kit.
(01) Research Your Cruise and Pack Accordingly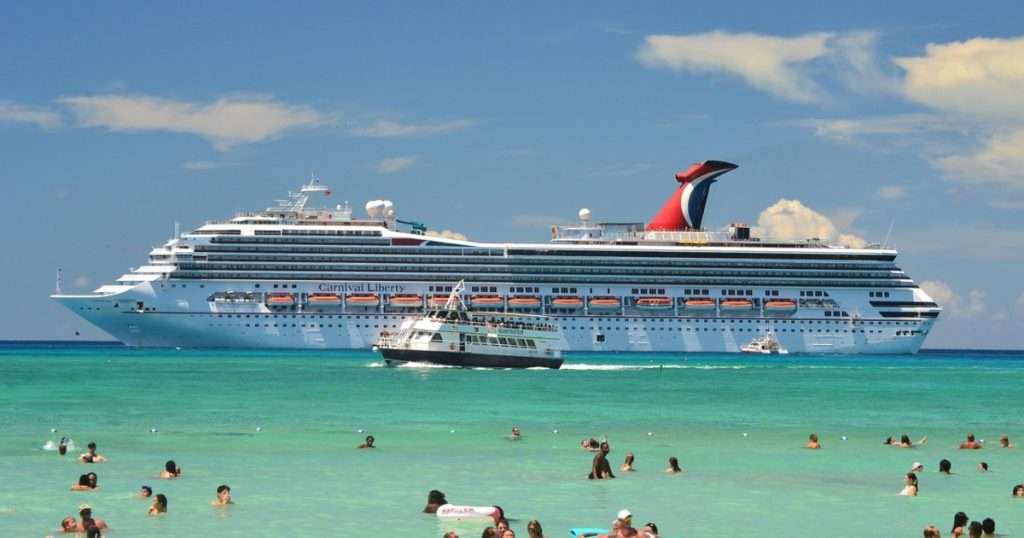 Researching your cruise is a crucial step in ensuring that you pack accordingly for your trip. Each cruise line and itinerary can vary in terms of the destinations visited, onboard activities, and dress codes, so it's essential to gather all the necessary information before you start packing.
Begin by exploring the cruise line's website, commanded: check out Cruise Critic where you can find details about the ship's amenities, dining options, and dress codes. This will give you an idea of the onboard atmosphere and help you plan your outfits accordingly. For example, some cruise lines have formal nights where elegant attire is required, while others have more casual dress codes throughout the trip.
Additionally, research the ports of call you'll be visiting. Take note of the climate, local customs, and any specific activities or excursions you're interested in. This information will help you pack the right clothing, footwear, and accessories for each destination.
(02) Don't Forget Important Documents
When preparing for your cruise, don't forget about the importance of packing all the necessary documents. These documents are essential for a smooth and hassle-free trip, ensuring that you have everything you need to board the ship and navigate your way through different ports of call.
First and foremost, make sure to bring your passport. This is crucial for international cruises, as you'll need it to clear customs and immigration at each port. It's also important to double-check the expiration date on your passport, as some countries require that it be valid for at least six months beyond your departure date. in that case you need a good cover or case is one of the best tools to keep your passport safe no matter where you travel, check out the best highly commanded : Melsbrinna Passport Holder,Passport Holder Card Slots,
In addition to your passport, be sure to bring any necessary visas or other travel documents specific to the countries you'll be visiting as are some of best things to pack for a cruise trips . some destinations may require a tourist visa, so it's essential to research the entry requirements for each port.
Another important document to bring is your cruise ticket or confirmation. This will serve as your proof of reservation and grant you access to the ship. Make sure to print multiple copies of this document, as it may be required at different stages of the boarding process.
Don't forget to pack any medical documents or prescriptions you may need during your trip. It's always a good idea to have a copy of your medical insurance card and any necessary medical information on hand. and if you still don't have one check out International Travel Insurance as is one of the best ever, International travel insurance covers those traveling outside of their home country
(03) Clothing to Pack for Your Cruise Trip
When it comes to the best things to pack for a cruise trip, choosing the right clothing is essential. The key is to bring versatile pieces that can be mixed and matched for various occasions, from exploring the ports of call to enjoying onboard activities.
Start by considering the weather conditions of your cruise destination. If you're heading to a tropical paradise, pack lightweight and breathable clothing like shorts, sundresses, and swimwear. Don't forget a hat and sunglasses for protection from the sun. check out some of my best recommendations from amazon : Best Tropical dress outfit ideas
For cooler destinations, layering is key. Bring lightweight sweaters or cardigans that can be easily worn over t-shirts or blouses. Don't forget a light jacket or raincoat in case of unpredictable weather.
When it comes to formal nights, most cruise lines have dress codes that range from smart casual to formal attire. For formal nights, pack a cocktail dress or a suit for men. On other nights, opt for nice pants or skirts with blouses or collared shirts. check out my recommendations : Smart Casual Dress Code For Women And Men
(04) Toiletries and Personal Items You'll Need
When it comes to toiletries and personal items, it's important to pack the essentials for a comfortable and convenient cruise trip. While many cruise ships provide basic toiletries in the cabins, it's always a good idea to bring your own preferred products. Here are some must-haves to consider:
– Travel-sized shampoo, conditioner, and body wash: These can come in handy, especially if you have specific preferences or sensitivities to certain ingredients. check out my recommendations from Amazon,
Toothbrush, toothpaste, and floss: Maintaining good oral hygiene is essential, so don't forget to pack these essentials. check out what i have selected for you as are some of the Best Things to pack for a cruise trips and stay fresh,
Deodorant: Keep yourself smelling fresh throughout your trip by bringing your preferred deodorant. check out this one,
Sunscreen: Protect your skin from harmful UV rays while lounging by the pool or exploring ports of call. check out The Best Sunscreen for your cruise trip
Moisturizer: Cruises can be dehydrating, so pack a good moisturizer to keep your skin hydrated and nourished. commanded: CeraVe Moisturizing Cream | Body and Face Moisturizer for Dry Skin | Body Cream
Hair styling tools: If you can't live without your hair straightener, curling iron, or blow dryer, make sure to pack them. REVLON One-Step Volumizer Enhanced well commanded. as one of the best things to pack for a cruise trips,
Makeup and cosmetics: Bring your essential makeup items to enhance your look for formal nights or special events.
(05) Electronics and Gadgets You Might Want to Bring
Are you someone who can't imagine going anywhere without your trusty gadgets? If so, you'll want to make sure you have all your electronics and gadgets packed for your cruise trip. While you may want to unplug and disconnect during your vacation, there are some gadgets that can enhance your cruise experience and make your journey even more enjoyable.
First and foremost, don't forget your smartphone or tablet. These devices are incredibly versatile and can serve multiple purposes during your cruise.
From capturing breathtaking photos of the stunning ocean views to keeping up with social media or streaming your favorite shows and movies, your smartphone or tablet will be your go-to entertainment hub.
If you're a music lover, consider bringing a portable bluetooth speakers waterproof. These compact speakers can provide high-quality sound, whether you're relaxing in your cabin or partying by the pool.
For those who want to stay active and track their fitness goals, a fitness tracker or smartwatch can be a valuable companion. These devices can monitor your steps, heart rate, and even provide guided workouts, ensuring you stay on top of your fitness routine while onboard.check out this, commanded : Fitbit Inspire 3 Health & Fitness Tracker with Stress Management, Workout Intensity, Sleep Tracking, 24/7
If you enjoy reading, consider bringing an e-reader. These devices allow you to bring along a library's worth of books without taking up precious luggage space. Whether you prefer a Kindle, Nook, or other e-reader, you'll have access to a wide range of titles to keep you entertained throughout your cruise. check out and get your own one from amazon:
(06) Practical Items That Can Save the Day
While packing for your cruise, it's important to consider the practical items that can save the day and make your trip more comfortable and enjoyable.
These are the things that often go unnoticed until you need them the most. So, to ensure you're fully prepared for any situation that may arise during your cruise adventure, here are some of the best things to pack for a cruise trips and highly recommended.
First and foremost, a travel-sized sewing kit can be a lifesaver. You never know when a button may pop off or a seam may rip, and having a small sewing kit on hand can save you from a wardrobe malfunction. It's a simple item that takes up minimal space but can make a big difference.so get one here.
Another practical item in one of the Best Things to Pack For a Cruise Trip is a power strip or surge protector. With limited electrical outlets in the cabin, having a power strip will allow you to charge multiple devices simultaneously. It's especially useful if you have a lot of electronics or gadgets that need charging. check out some here.
Don't forget to bring a waterproof phone case or pouch. Whether you're lounging by the pool or participating in water-based activities, having a waterproof case will protect your phone from any potential damage. that is why is one of the best things to pack for a cruise trips highly recommended.
A portable phone charger or power bank is another must-have item. It's no fun being stuck with a dead phone battery, especially when you need it to capture those amazing cruise moments or stay connected with loved ones. Having a portable charger ensures you can keep your devices charged on the go. check my recommendation,
A small best flashlight or headlamp is also handy to have, especially if you plan on exploring the ship at night or need to navigate dark hallways or stairwells. It's a simple tool that can provide peace of mind and ensure you stay safe and prepared.
(07) Entertainment and Recreation Items to Pack
Get ready to have a blast on your cruise with our list of entertainment and recreation items to pack. These items will keep you entertained and active during your downtime onboard and in between ports of call.
First, consider bringing a deck of cards or your favorite board game. These classics are perfect for enjoying some friendly competition with your travel companions. You can also bring a portable travel game or puzzle to challenge yourself during your free time.
For water enthusiasts, don't forget to pack snorkeling gear. Many cruise destinations offer opportunities for snorkeling and exploring the underwater world. Having your own gear ensures a perfect fit and lets you dive in whenever you want. chek out
If you enjoy staying active, consider bringing a pair of workout clothes and sneakers. Many cruise ships have gyms and fitness centers where you can break a sweat. You can also pack resistance bands or a jump rope for a quick workout in your cabin. check out what i have selected for you,
(08) Special Occasions or Events? Here's What to Pack
Are you planning a special occasion or event during your cruise? Whether it's a birthday, anniversary, or even a wedding, it's important to pack the right items to make the celebration extra special.
For formal events, be sure to pack elegant attire such as a formal dress or a tuxedo. Don't forget accessories like jewelry, a tie, or a bowtie to complete your formal look. Check out my list of the best things to pack for a cruise trip. In a formal option,
IF YOU FOUND THIS POST USEFUL, PLEASE LEAVE A COMMENT OR ASK A QUESTION. AND TAKE A LOOK AT . What to Pack for a Cruise in 2023 | Top 40 Cruise Essentials