Welcome to the Western Cape, South Africa's most diverse and breathtaking province. From stunning landscapes to vibrant cities, this beautiful region has something very special for every type of traveler, including you. While well-known destinations like Cape Town, Stellenbosch, Hermanus, Franschhoek, Knysna,Plettenberg Bay,Mossel Bay, Paarl,Oudtshoorn,Hout Bay and the Garden Route attract many visitors, there are also plenty of hidden gems waiting to be discovered. In this blog post we will be talking about the best places to visit in western cape South Africa,
Get ready to be amazed and inspired as we uncover the hidden treasures of this beautiful corner of the world.
This post contains affiliate links, which means that if you click and buy, I may receive a commission at no additional cost to you. For more information, please visit my disclosure policy.
As mentioned earlier. This region is a treasure trove of hidden gems, waiting to be discovered. Whether you're seeking thrilling adventures, exploring vineyards and wineries, soaking in the splendor of national parks, or experiencing the thrill of the ocean, the Western Cape has it all.
Immerse yourself in vibrant cultures and rich histories by visiting museums and heritage sites, and don't forget to explore the unmissable spots of Cape Town. The Western Cape truly is a must-visit destination that offers something for every traveler.
The Western Cape province has some of the country's most beautiful sites to visit, as well as some of the best beaches in the world. With ocean views, wonderful restaurants, and cosmopolitan cities, it's no surprise that people from all over the world are flocking to this area. But, before you plan your journey to this province, there are some intriguing facts about the Western Cape that you should be aware of.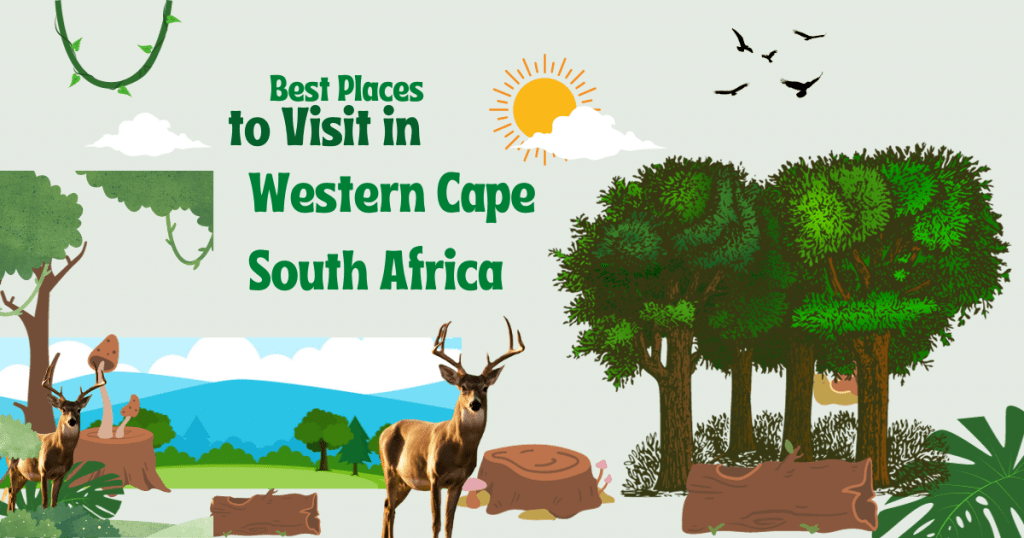 The Western Cape has a total of 30 municipalities. These are grouped by region into 1 metropolitan municipality, 5 rural district municipalities, and 24 local municipalities.The City of Cape Town is the Western Cape's only metropolitan municipality.
Why Western Cape is the most visited province? : The Western Cape (capital: Cape Town) has a heady mix of mountains, vineyards, and oceans that draws millions of visitors each year. Its attractions are more iconic than those of any other province, and as a result, it is the most popular with foreign visitors.
HERE ARE 10 OF BEST THE PLACES TO VISIT IN WESTERN CAPE SOUTH AFRICA, TO GET YOU STARTED ON YOUR VACATION PLANNING!
(01) CAPE TOWN
With several local attractions and venues, the city of Cape Town received 2.6 million international visitors in 2018, with a growth of 11.5% in international arrivals at Cape Town International Airport. with all this, makes it one of the best places to visit in western cape,
With a landscape unlike any other in the world, Cape Town offers forests, beaches, gardens, mountains, oceans, grasslands, nature reserves, winelands, and one of the world's most unique floral biomes.
city and seaport, the legislative capital of South Africa, and the capital of the Western Cape province to visit. The city lies at the northern end of the Cape Peninsula, some 30 miles (50 kilometers) away, at its southernmost boundary, north of the Cape of Good Hope.
Best time to visit cape town : A Cape Town holiday is best during peak summer, from December to February. These hot summer months also coincide with local school holidays, so book your accommodation early if you want to visit over Christmas or New Year. Late April to early June have crisp and clear days, perfect for a hiking trip.
What can the Western Cape offer tourist?
Table Mountain National Park.
Robben Island.
Kirstenbosch Botanical Gardens.
Victoria & Alfred Waterfront.
Cape Point.
Cape Town Beaches.
Karoo National Park.
Cape Floral Kingdom.
Enjoy the splendor of this beautiful city, but be happy and safe at all times.
(02) HERMANUS
Of course, what you see here is what you will see when you visit this charming little town. as one of the most interesting and best places to visit in Western Cape, South Africa.
As a result, Hermanus has established itself as the premier land-based whale-watching location in Africa, if not the world. However, and that make the town to be one of the best places to visit in western cape south africa,
whales aren't the only reason for you to visit this place. but also well known for its gourmet restaurants, lush wine lands, and a diverse range of boutique stores and galleries.
As mentioned earlier, Hermanus is a seaside town in South Africa's Western Cape Province, southeast of Cape Town. It is well-known for its whale-watching opportunities. Volklip Beach and the wide Grotto Beach, which overlooks Walker Bay, are among the beaches. The Historic Harbour Museum is a collection of buildings that includes the old port, a fishermen's hamlet, and the Whale House Museum.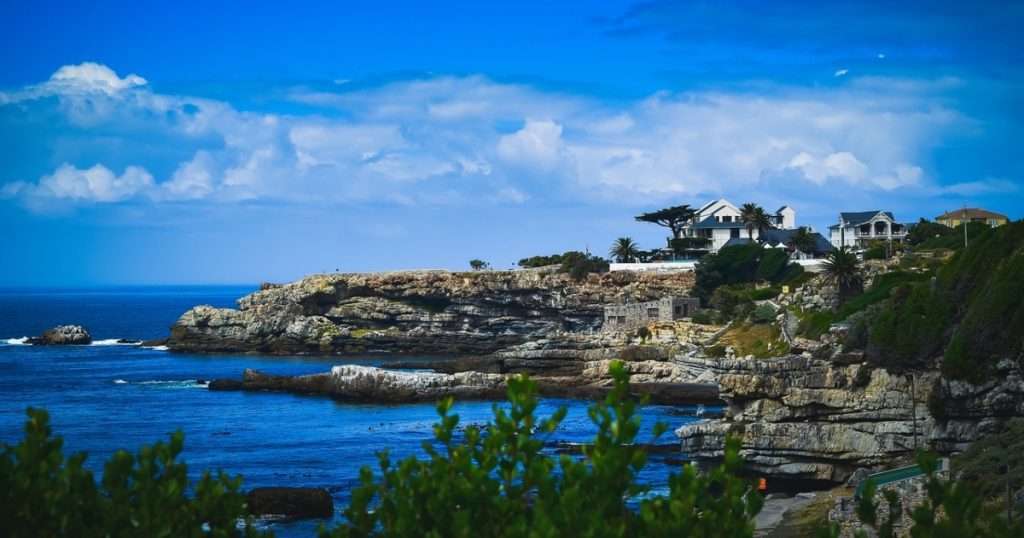 Best time to see whales in Hermanus : Visit between June and October to witness migrating southern right or humpback whales. August through October are the greatest months, with the Hermanus Whale Festival taking place in late September or early October.
(03) STELLENBOSCH
Stellenbosch is a university town in the Western Cape province of South Africa. The Cape Winelands vineyards and the mountainous natural areas of Jonkershoek and Simonsberg surround it. Cafes, boutiques, and art galleries adorn the town's oak-shaded streets. The Cape Dutch architecture reflects South Africa's Dutch colonial past. and one of the best places to visit in western cape south africa,
Stellenbosch should absolutely be on your Cape Town itinerary. Nowadays, Stellenbosch provides visitors with a wonderful mix of stunning wine farms, outdoor activities, exquisite restaurants, and breathtaking landscape. The town is roughly 50 kilometers from Cape Town and may be visited as a day trip.
The town is also popular with wine connoisseurs, academic students, and rural families. Stellenbosch is flanked by the Cape Winelands mountain range and the Jonkershoek River Valley, making it one of the most picturesque and appealing settings in the Cape.
Stellenbosch best time to visit : The months of September through April are ideal for visiting Stellenbosch because this is when several vintages of wine are released. At this time of year, the weather is also warm and dry.
(04) PAARL
Paarl is one of South Africa's oldest settlements, famous for its mountain, or "Paarl Rock." The massive granite rock is created by three circular outcrops that comprise Paarl Mountain and is the world's second largest granite outcrop.
This peaceful location has many popular attractions, including Fairview Winery and Paarl Mountain Nature Reserve, making it well worth a visit. a great place to spend a relaxing vacation alone or with family,
PLACE TO STAY WHEN YOU ARE VISITING THIS PLACE . "An intimate two-bedroom guest home on a functioning fruit orchard in the Paarl Valley." The rooms are well designed, with en-suite bathrooms and French doors leading out onto rolling lawns with an attractive pool. "A delightful stay."
(05) MONTAGU
Montagu is one of the best places to visit in the Western Cape Province and an ideal getaway in the Langeberg region. It is a popular destination thanks to its hot springs, natural scenic beauty, wine valleys, and various attractions to visit and explore. Montagu is located on Route 62, a mere 2-hour drive from the Mother City. (Cape Town),
Things to do in Montagu : You may travel back in time thanks to Montagu's cultural history and commitment to conserve its heritage values. You've come for the easygoing atmosphere, pure air, and friendly locals. Take a big breath and inhale everything. Then begin organizing your trip after discovering the splendor of this location.
(06) IZIKO BO-KAAP MUSEUM
If you are planning a trip to Cape Town, you must include this destination on your itinerary, because returning home without visiting this spot is like visiting a restaurant and leaving without tasting their dish.
The Iziko Bo-Kaap Museum was erected in the mid-eighteenth century and is one of the earliest homes in the Bo-Kaap region. The museum, located in a historic district that became home to many Muslims and freed slaves when slavery was extinguish, displays local Islamic culture and traditions.
This is a tourist attraction area because of the colorful houses. You don't require tickets to get in, it's free and open to public. Just be wary of those people on the streets that offer to look after your car as you go take photos. They are very forceful and persistent. It's a very picture worthy place as the colorful houses makes the area look like a vibrant and lively community.
(07) MOSSEL BAY
Mossel Bay is the Garden Route's adventure capital,and one of the beauteful places to vist in western cape, with over 50 unique adventure experiences. Another ideal location for a vacation alone or with the family,
Heading to a Mossel Bay beach is one of the great ways to spend a day or two—or several! Other worthwhile and interesting activities in Mossel Bay include whale and dolphin watching, a great way to spend a day watching these playful ocean creatures.
Mossel Bay is a lovely harbor town on South Africa's Garden Route in the Western Cape Province. It's famous for its wide Santos Beach and the 19th-century Cape St. Blaize Lighthouse, as well as its bay views.
The Maritime Museum, the Shell Museum, and the botanical gardens are all part of the Bartolomeu Dias Museum Complex. Since the 1500s, the Post Office Tree, a milkwood tree in the complex, has served as a mail collection point.
(08) ROBBEN ISLAND THE BEST PLACE TO VISIT IN WESTERN CAPE SOUTH AFRICA
Robben Island is a South African island in Table Bay, 6.9 kilometers west of the coast of Bloubergstrand, north of Cape Town. is best known for housing Nelson Mandela, South Africa's first democratically elected president, for 18 of his 27 years in prison. Since then, the island has come to represent the triumph of democracy and freedom over oppression.
One of South Africa's must-see destinations, with its own distinct flavor of beauty and intrigue. The bus tour around the island can use a bit of a revamp and more time to stop at the different places to take photos and take in the moment. The prison tour itself is very insightful and educational.
It was converted into a museum and designated a national monument in 1997, and it was designated a World Heritage Site in 1999.
How do you get to Robben Island? Ferries transport visitors to the island. All ferries depart from Nelson Mandela Gateway on Cape Town's V&A Waterfront. Visitors are transported by bus once they arrive on the island. The cost of transportation is in the Robben Island tour price. for more information check the link up,
(09) SIMON'S TOWN- VERY POPULAR AND ONE OF THE BEST PLACES TO VISIT IN WESTERN CAPE SOUTH AFRICA
Simon's Town is well-known for its beautiful beaches, rich history, and African penguin colony. and one of the best places to visit in western cape province you should add to your bucklist,
The historical mile from the train station to Jubilee Square is queue up with charming buildings against a backdrop of mountains with numerous scenic hiking trails.
The top attractions to visit in Simon's Town are:
Boulders Beach Penguin Colony
South African Naval Museum
Foxy Beach
Just Nuisance
Jubilee Square & Jetty, Simon's Town
As a holiday destination, Simon's Town is a popular choice for couples and families who seek laid-back seaside living. Simon's Town is laid-back.
(10) PLETTENBERG BAY ANOTHER ONE OF THE BEST PLACES TO VISIT IN WESTERN CAPE SOUTH AFRICA
What about you and me traveling to these beautiful places? My most recent visit was for four days, and it is an amazing location to be. THE PLETTENBERG,
Apart from beautiful beaches, Plettenberg Bay's attractions center on South African wildlife. The Birds of Eden covers more than two hectares of indigenous forest and is the world's largest free-flight dome. It houses over 3,500 birds from 250 different species.
While Plettenberg Bay is a fantastic destination to visit, it's also an excellent base for a number of day trips. The Garden Route has so many beautiful places to visit.
CONLUSION : Plettenberg Bay, one of the Garden Route's top holiday destinations, is a horseshoe-shaped bay with long, sheltered beaches and stunning views.
If you found this post useful, please check out the Best Beaches In South Africa