Are you looking for the best places to visit in Ticino, Switzerland, for an unforgettable vacation? This place is one of Switzerland's most picturesque regions and a great destination for a holiday. From stunning landscapes to delicious local cuisine, Ticino has something to offer everyone.
Whether you're looking for an exciting adventure or just want to relax and take in the scenery, there are plenty of unmissable places to visit in this beautiful Swiss canton.
In this blog post, we'll take a look at some of the best places to visit in Ticino, from charming towns and quaint villages to breathtaking mountain peaks and clear alpine lakes.
Ticino boasts an impressive array of attractions, including historic castles, picturesque lakes, charming towns, and scenic hiking trails.
DISCOVERING TICINO – WHAT YOU NEED TO KNOW BEFORE YOU GO
Ticino is a picturesque region located in the south of Switzerland. With its warm climate, stunning lakes, charming towns, and delicious cuisine, it's a must-visit destination for any traveler. But before you pack your bags and head off to Ticino, here's what you need to know.
Firstly, Ticino is Italian-speaking, so if you don't speak the language, it's a good idea to brush up on some basic Italian phrases. This will help you communicate with the locals and navigate your way around the region.
Secondly, Ticino has a Mediterranean climate, with warm summers and mild winters. The best time to visit is between May and September when the weather is at its best. If you're planning on visiting during the winter months, be prepared for colder temperatures and fewer activities.
Finally, it's important to note that Ticino is a popular tourist destination, especially during the summer months. To avoid crowds, consider visiting during the shoulder seasons or opting for lesser-known towns and attractions.
Now that you're prepared, it's time to explore all the amazing things Ticino has to offer!
EXPLORING LUGANO – THE CROWN JEWEL OF TICINO
Lugano is often referred to as the crown jewel of Ticino, and for good reason. Nestled between Lake Lugano and the surrounding mountains, this stunning city offers a blend of Italian charm and Swiss sophistication.
Begin your exploration with a stroll along the lake promenade one of the best places to visit in Ticino Switzerland, where you'll be greeted with breathtaking views of the sparkling water and lush hillsides. Visit the Piazza della Riforma, a bustling square filled with elegant boutiques and cafes, before making your way to the historic Cathedral of San Lorenzo.
Don't miss the opportunity to visit the Monte San Salvatore funicular, which offers panoramic views of the city and surrounding landscape. Once at the top, you'll be rewarded with an unforgettable vista of the lake and mountains.
For art enthusiasts, the Hermann Hesse Museum provides insight into the life and works of the renowned German author. And, of course, no visit to Lugano would be complete without sampling some delicious Swiss chocolate at the nearby Alprose Chocolate Factory.
With its beautiful scenery, rich culture, and culinary delights, Lugano truly is a must-visit destination in Ticino.
INDULGING IN SWISS CHOCOLATE AT MAISON CAILLER IN BROC
No visit to Switzerland would be complete without indulging in the country's most famous export – chocolate! And where better to do that than at Maison Cailler in Broc, located in the heart of Ticino.
Maison Cailler is a chocolate lover's paradise, where visitors can learn about the history of Swiss chocolate making and the various steps involved in the chocolate-making process. The tour includes a tasting session of some of the most delicious chocolate creations, from creamy milk chocolate to rich dark chocolate.
But the fun doesn't stop there – visitors can also create their own personalized chocolate bar, complete with their choice of ingredients and toppings.
After satisfying your chocolate cravings, make sure to visit the shop where you can purchase some of the famous Swiss chocolates to take home as a souvenir or gift for loved ones.
Maison Cailler is a perfect stop for families and solo travelers alike, providing a sweet and educational experience in one. So make sure to add this stop to your Ticino itinerary – your taste buds will thank you!
ADMIRING THE BEAUTIFUL BELLINZONA CASTLES
For a dose of medieval charm and history, a visit to the Bellinzona Castles is a must-see in Ticino. These UNESCO World Heritage Sites consist of three castles, Castelgrande, Montebello, and Sasso Corbaro, all located in close proximity to one another in the heart of Bellinzona.
Each castle offers a unique glimpse into the region's past, with Castelgrande being the largest and most impressive of the three. It's also the oldest, with evidence of Roman and early medieval settlements found on its grounds.
The Montebello Castle, located on a hilltop, offers breathtaking views of the town below and the surrounding mountains. Meanwhile, the Sasso Corbaro Castle, located on a separate hill, provides a glimpse into military life in the 15th century.
The Bellinzona Castles are a testament to Ticino's rich history and make for a perfect day trip destination. With plenty of trails, gardens, and panoramic views, this is a must-visit for history and architecture enthusiasts alike. and one of the Best Places To Visit In Ticino Switzerland,
RELAXING IN THE CHARM OF ASCONA AND LOCARNO
Ascona and Locarno are two beautiful towns situated on the northern shore of Lake Maggiore. Known for their warm climate, picturesque squares, and relaxed atmosphere, they are the perfect places to unwind and soak up the Mediterranean vibes.
In Ascona, visitors can wander through the narrow alleys of the old town, enjoy a drink or a gelato at one of the many cafés lining the lakefront, or simply lounge on one of the nearby beaches. For a taste of culture, the town also boasts several museums and galleries, including the Museo d'Arte Moderna and the Museo Epper.
Meanwhile, in Locarno, visitors can explore the medieval old town, marvel at the beautiful Santuario della Madonna del Sasso church perched on a hilltop, or simply relax in the Piazza Grande, which hosts the famous Locarno Film Festival every summer. And if you're in the mood for some outdoor adventure, take a ride on the Centovalli train, which passes through some of the region's most stunning landscapes.
Overall, whether you're seeking relaxation or adventure, Ascona and Locarno offer the perfect blend of both, making them must-see destinations when visiting Ticino.
HIKING THROUGH THE STUNNING VERZASCA VALLEY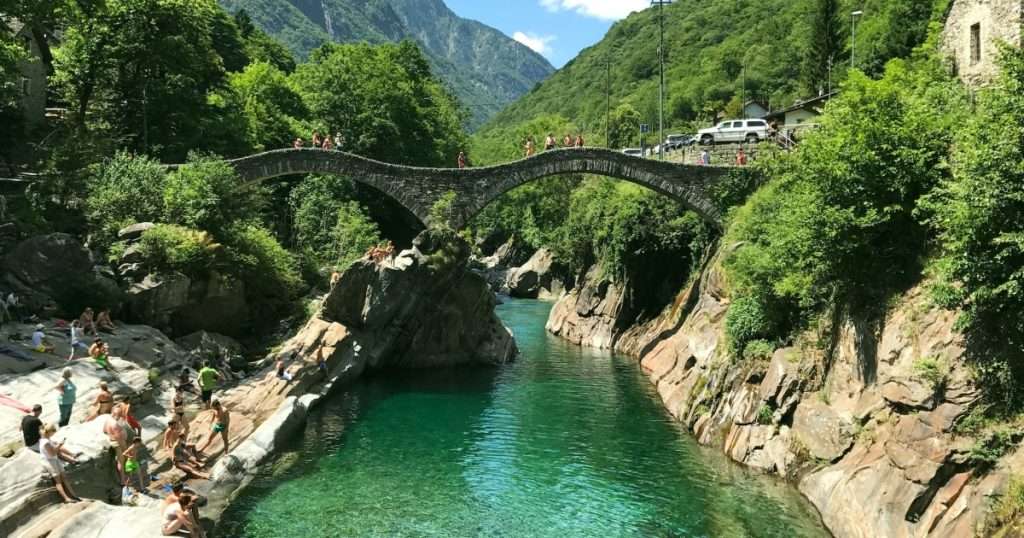 Ticino is known for its breathtaking landscapes, and the Verzasca Valley is a must-visit destination for any nature enthusiast. Located just a few kilometers away from Locarno, this valley is surrounded by steep mountain peaks and crystal-clear water streams.
The hiking trail through the valley offers stunning views of the natural beauty, with picturesque bridges and charming villages along the way. For a truly unforgettable experience, hikers can visit the famous Contra Dam, which was featured in the James Bond movie "Goldeneye."
Hiking in the Verzasca Valley is suitable for both beginners and experienced hikers. For those looking for a challenge, the ascent to the Pizzo di Vogorno offers breathtaking panoramic views of the surrounding peaks.
Make sure to bring comfortable shoes and dress appropriately for the weather. A hike through the Verzasca Valley will not only give you a chance to connect with nature but will also leave you with unforgettable memories of the stunning Swiss landscape.
SAVORING FINE WINES AND CUISINE IN MENDRISIO
Ticino is not only known for its scenic landscapes and historic sites, but also for its exceptional cuisine and wine. If you're a foodie, a trip to Mendrisio is a must. Located just a short distance from Lugano, Mendrisio is home to some of the best wineries and restaurants in Ticino.
Start your gastronomic adventure with a visit to the Valsangiacomo Vini, where you can taste their award-winning wines made from the Merlot grape. For a more hands-on experience, try their "Winemaker for a Day" program, where you can help pick and crush the grapes.
Next, head to Antico Grotto Ticino for lunch or dinner. This traditional Ticinese restaurant serves up mouth-watering dishes like risotto with saffron and ossobuco, paired perfectly with a glass of local red wine. And for dessert, try the sweet and flaky pastries called boccalini, a Mendrisio specialty.
Finish your culinary journey at the Osteria con Alloggio Del Ponte, where the chef sources all his ingredients locally to create innovative and flavorful dishes. Don't miss the slow-cooked veal shank served with a creamy polenta and a glass of their homemade white wine.
Mendrisio truly offers a one-of-a-kind dining experience that will leave you with memories (and tastes) to savor for a lifetime.
BASKING IN THE SUN AND THE SWISS RIVIERA VIBE OF MONTE VERITÀ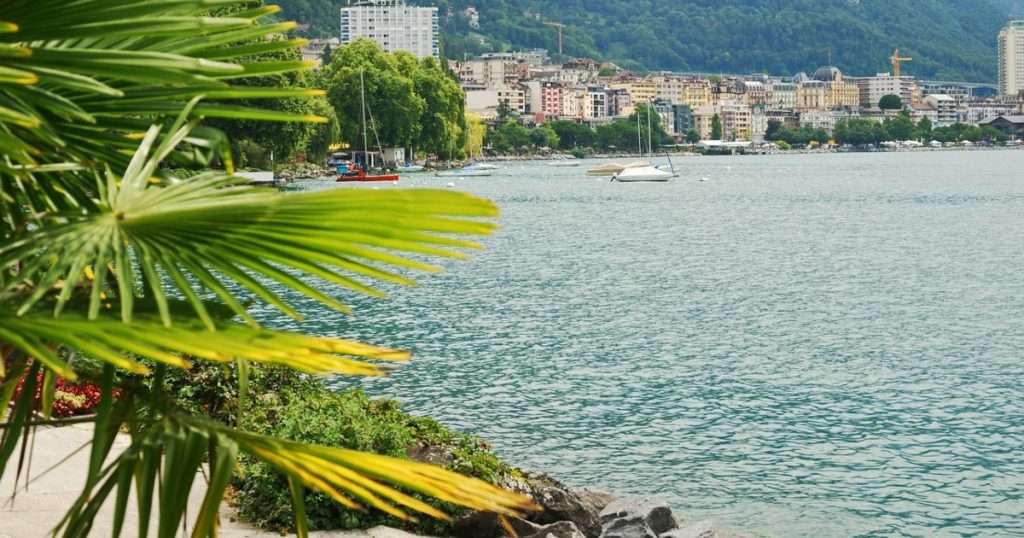 Tucked away in the beautiful town of Ascona lies Monte Verità, a stunning hill that boasts of breath-taking views of the Swiss Riviera.
This place has been known to attract artists, intellectuals and people who seek a peaceful, holistic and creative environment. Visitors to Monte Verità can bask in the sun on the hill, admire the gorgeous gardens and enjoy a range of wellness treatments that rejuvenate the body and mind.
Monte Verità is home to a museum that showcases the history of the hill and its importance in promoting vegetarianism, nudism, and alternative lifestyles in the early 1900s. Today, the hill is known for its unique architecture, spa retreats, and events that attract visitors from all over the world.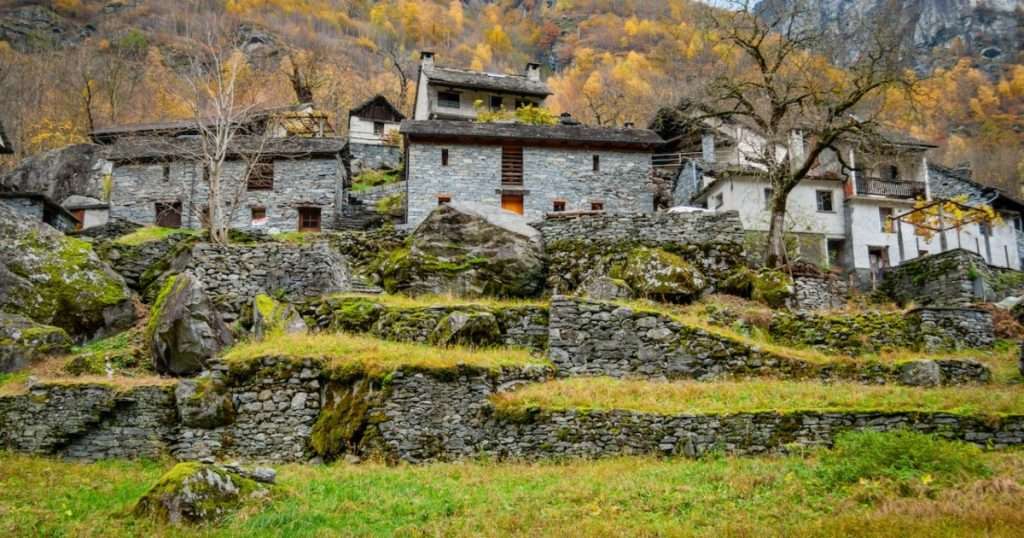 In the summer, Monte Verità comes alive with open-air concerts and festivals. The hill also has several restaurants that offer a wide range of delicious local cuisine.
Whether you're looking to explore the hill's history, indulge in relaxation, or simply take in the stunning scenery, Monte Verità has something for everyone. and rated as one of the Best Places To Visit In Ticino Switzerland,
WITNESSING THE BEAUTY OF LAKE MAGGIORE FROM A BOAT TOUR
A boat tour on Lake Maggiore is an experience that should not be missed while visiting Ticino. This stunning lake is the second largest in Italy and the largest in Switzerland.
With its crystal clear waters, picturesque towns and stunning views of the surrounding mountains, it's easy to see why it's such a popular destination for both locals and tourists alike and from that makes it one of the best places to visit in ticino switzerland,
From the boat, you can admire the lush vegetation, beautiful villas, and charming towns that line the lake's shore. You'll also get a chance to stop off at some of the islands dotted around the lake, such as Isola Bella and Isola Madre. These islands are famous for their beautifully landscaped gardens, palaces and museums, and are a must-visit for anyone interested in history or art.
One of the most popular boat tours on Lake Maggiore is the Centovalli Express, which takes visitors on a scenic journey through the stunning Centovalli region. Whether you're a solo traveler, a couple, or a family, a boat tour on Lake Maggiore is an unforgettable experience that will stay with you long after you've returned home.
IF YOU FOUND THIS BLOG POST INFORMATIVE, PLEASE LEAVE A COMMENT AND VISIT THE BEST TIME TO VISIT SWITZERLAND POST.