With its beautiful stone houses, discover the history and culture of the Maggia Valley in Ticino. Foroglio is one of the most picturesque settlements in the area of Ticino Switzerland .
It's in Switzerland, although it's an Italian-speaking region. Foroglio village is located in the Val Bavona region of Switzerland. In addition, the valley is one of the steepest and most rocky in the whole Alpine area. Foroglio waterfall is one of the most beautiful in Ticino and one of the most well-known in Switzerland! The depth of the water is 110 meters.
If you're in the region, do not forget to take a break and have a picnic in the woods if you can. Alternatively, dine at some of the restaurant close to the waterfall, which is so beautiful. In just a few steps, you can get there from the village parking lot. It's a little town with modest wooden buildings that look as if they were from a novel.
How to get to Foroglio?
There are three options for getting from Foroglio to the Canton of Ticino and vice versa by bus, cab, or vehicle. The bus ride from Canton of Ticino to Foroglio takes around 3h 18m and covers a distance of approximately 63 kilometres.
The Canton of Ticino to Foroglio bus route, operated by Swiss PostAuto and FART, runs from Gerra to Foroglio. Although weekend and holiday timetables might vary, there are typically 28 buses that run regularly.
Best Time to visit Foroglio?
The months of May and June are ideal for this walk. Expect a few showers, but that's what it's like to be a nature lover. since this location is beautiful for those who enjoy nature. However, because we are all different, you may still appreciate the beauty of this place somehow,
When planning a trip, you have the option of going alone or with your family. But this place is great with a group or love ones
Best places to stay in Foroglio?
If you're staying in this type of location, you'll need to stay close to many local and public activities so you can have better access to all the interesting spots. If this is your first visit to Foroglio as a tourist, I recommend that you start here. Foroglio Best places to stay and Without a car, the best way to go from Foroglio to Locarno is to take the line 315 bus, which takes 1 hour and 15 minutes.
If you come early, you will have a greater chance of learning about the finest places to stay.
Best things to do in Foroglio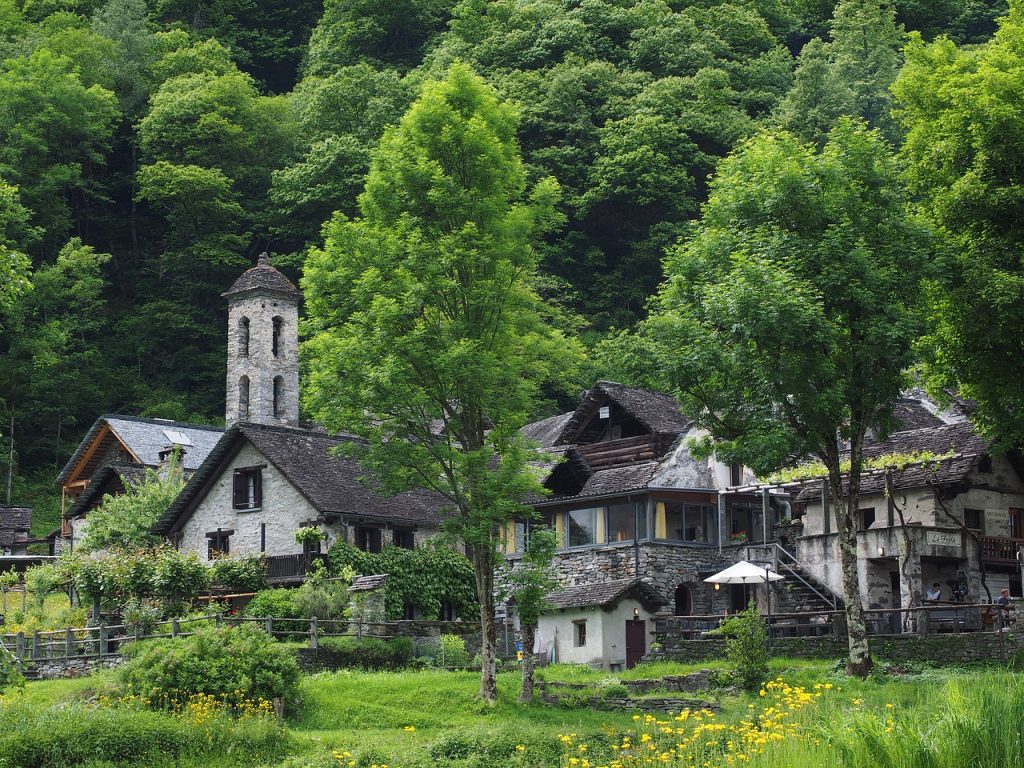 What can you do in Foroglio, Switzerland, is the first question that comes to mind. When you are visiting this place, As I mentioned in the preview, the Foroglio Waterfall is unquestionably the centerpiece of Foroglio.
With a height of 262 feet, the Foroglio Waterfall is a sight to behold, and it is easily accessible by foot or automobile. Also, directly at the foot of the falls is a fantastic restaurant (La Froda—see separate review). A short and simple route leads to the foot of the falls from the restaurant.
To get to the falls, the trip takes a group stroll down the Bavona Valley. This is a short, simple stroll with a little incline. Along the route, you'll pass numerous little 15th-century towns made up of stone cottages with stone roofs, and you'll be able to walk within them. They're still in use today, primarily as holiday houses.
NB : The present village area has undergone numerous stages of development. It was founded in 1374, when the Lavizzara Valley (comunità) disintegrated and its possessions were split. It grew again around the end of the 16th century as a result of a series of agreements with adjacent settlements.
The most incredible sites on the planet to add to your vacation bucket list
Based on our visitor data, Chalet Stella Alpina Hotel & Wellness Spa, The Originals Relais is one of the best choices for your stay, and this 3.5-star hotel includes a full-service spa and complimentary breakfast. The waterfall of Foroglio is 9.1 miles (14.6 kilometers) away.