Are you planning a trip to this lovely African country and wondering where The Best Places to Visit in Morocco, Morocco is an incredible destination for travelers, offering a unique blend of culture, history, and adventure. From the bustling markets of Marrakech to the picturesque coastal towns of Essaouira, there are countless places to explore in this vibrant North African country.
In this blog post, we'll highlight eight of the best places to visit in Morocco, ranging from the legendary city of Fes to the stunning Sahara Desert. Whether you're looking for cultural activities, outdoor adventures, or relaxation, there's something in Morocco for everyone. So read on to find out more about the top places to visit in Morocco!
WHY SHOULD YOU VISIT MOROCCO?
Morocco is a stunningly beautiful country located in North Africa. It offers a wealth of breathtaking sights and exciting activities for any traveler. From the breathtaking mountain ranges to the ancient cities, there's no shortage of things to do and see. Morocco is home to some of the most stunning architecture in the world, with magnificent palaces, castles, and mosques that make up much of its landscape.
Additionally, Morocco has a rich culture and history. You can explore its markets and bazaars, take part in traditional festivals, and visit incredible historical sites. And let's not forget about the food. Moroccan cuisine is world-renowned for its flavorful tagines and flavorful pastries.
Whether you're looking for an adventure or just some peace and quiet, Morocco has something for everyone. If you're ready to explore all this magical country has to offer,
Here are some of the best places to visit: Aït Benhaddou, Chefchaouen, Essaouira, Fes, Marrakech, Meknes, Merzouga, and Ouarzazate. Each destination offers unique experiences and activities sure to delight any traveler. So why wait? Pack your bags and plan your Moroccan adventure today. !
BEST TIME TO VISIT MOROCCO
Morocco is a unique country with its diverse landscapes, from its rugged mountains to its sandy beaches. There's something for everyone in this amazing country, so it's no wonder that travelers flock to Morocco each year. To make the most of your trip, it's important to know when is the best time to visit Morocco.
The best time to visit Morocco depends on what you want out of your trip. The temperatures in Morocco can vary greatly depending on where you're going and the season. Generally speaking, temperatures range from cool to hot, and can be influenced by altitude. The northern coast is cooler than the interior, and the coastal areas of the Sahara desert experience significantly hotter temperatures.
If you're looking for a warm and dry weather, then the best time to visit Morocco is during spring and autumn, which usually falls between March and May and September and November. During these months, temperatures are mild and rainfall is low. This is also the best time to visit major cities like Marrakech or Casablanca.
For those who don't mind slightly warmer temperatures and more rainfall, then summer (June – August) is a great time to visit Morocco. Though temperatures can get quite high in certain areas, there are plenty of activities to keep you busy during these months. From exploring bustling markets to visiting ancient ruins, you'll find plenty of things to do and see during the summer.
Overall, the best time to visit Morocco really depends on what type of experience you're looking for. Whether you want to explore major cities or explore the Sahara desert, there's something for everyone in this beautiful country. Whatever time you choose to go, you'll find something wonderful to experience!
NOW, LET'S FIND THE BEST PLACES TO VISIT IN MOROCCO.
(01) MARRAKESH THE CITY OF LUXURY AND FOURTH LARGEST CITY IN THE KINGDOM OF MOROCCO
One of the most iconic and vibrant cities in Morocco, Marrakech is the perfect destination for anyone looking to experience the culture and charm of this magical country. Known as the "Red City" due to its rich red buildings and structures, Marrakech has something to offer every kind of traveler. From bustling souks filled with colorful textiles and fragrant spices, to museums and galleries full of Moroccan art and artifacts, there is no shortage of activities to explore in this beautiful city.
No trip to Marrakech would be complete without experiencing the Jemaa el-Fnaa, a large square in the city center that comes alive at night with performers, food stalls, magicians, and so much more. During the day, wander through the winding alleys of the Medina – the old part of town – where you can find street food, traditional artisans, and narrow shops selling everything from handmade jewelry to carpets.
Take time to visit some of Marrakech's historical sites such as the Koutoubia Mosque, Bahia Palace, or El Badi Palace. And if you're feeling adventurous, take a journey outside the city walls to explore the surrounding areas of the Atlas Mountains, which provide stunning views and offer opportunities for hiking and camel rides. Whether you're searching for ancient ruins or vibrant bazaars, Marrakech is sure to leave you with unforgettable memories.
(02) ESSAOUIRA ONE OF THE BEST PLACES TO VISIT IN MOROCCO
If you're looking for a seaside town in Morocco, then look no further than Essaouira. This charming fishing port and UNESCO World Heritage Site is located on Morocco's Atlantic coast and is often referred to as the "Windy City" due to its strong trade winds. The city boasts an abundance of tourist attractions and activities, making it a popular destination for travelers from all over the world.
Stroll around the city's historic medina and explore the many shops, art galleries, cafes, and other points of interest. Make sure to take in the scenery of the old city walls and fortified gates, which were built in the 18th century by Sultan Sidi Mohammed Ben Abdallah to protect the town from enemy forces.
Essaouira is also known for its great surfing and kitesurfing spots, with its waters being ideal for both beginners and advanced riders alike. Enjoy the best of beachside culture here, as well as a host of other activities such as yoga, horse riding, bird watching, sailing, and scuba diving. When it comes to culture and art, the city is home to many festivals throughout the year, including the Gnaoua World Music Festival and the Jazz à Essaouira Festival.
As the sun sets, take in the breathtaking views of Essaouira and get ready to enjoy a traditional dinner at one of the city's many seafood restaurants.
Finally, no visit to this beautiful city is complete without stopping by its souks (markets) where you can buy spices, olives, jewelry, ceramics, and other handmade goods.
(03) SAHARA DESERT VAST DESERT REGION DIVIDING MOROCCO AND ALGERIA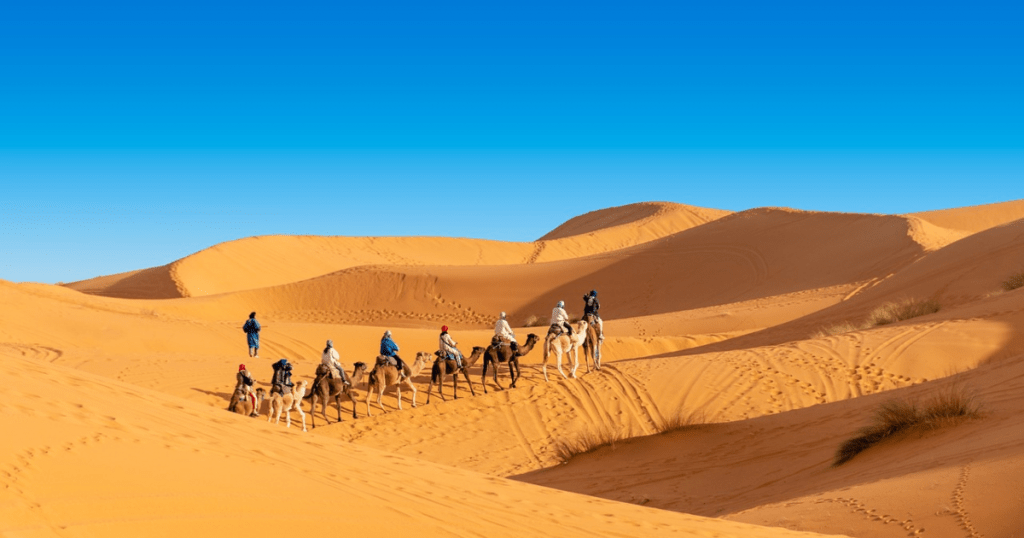 The Sahara Desert is one of the most iconic and largest deserts in the world, covering an area of almost 9 million square kilometers. Stretching across 10 countries, including Morocco, the Sahara is home to some of the most stunning landscapes, ancient ruins, and archaeological sites. The largest desert in Africa, the Sahara is a vast expanse of golden sand dunes, rugged mountain ranges, and mysterious oases. It's a unique destination that every traveler should experience.
Exploring the Sahara Desert is an unforgettable experience. Touring the dunes with a 4×4 or camel-back is a great way to take in the majestic desert landscape. Travelers can also explore the desert on foot or by bike, admiring its ancient monuments, awe-inspiring views, and mesmerizing sunsets. For those looking for a bit of adventure, hiking and camel rides through the desert can make for some exciting experiences.
The Sahara Desert is also home to some interesting wildlife. Look out for gazelles, ostriches, wild donkeys, and Barbary sheep as you explore the golden sands. Visitors should also look out for the ancient Berber villages that dot the desert, often providing a rare insight into traditional Moroccan life.
A visit to the Sahara Desert is definitely a must-see for any traveler visiting Morocco. Whether you choose to explore the dunes on foot, by camel or by car, you won't be disappointed by this unique and remarkable landscape.
(04) FES THE COUNTRY'S CULTURAL CAPITAL
One of the most ancient cities in Morocco, Fes is a city full of fascinating history and culture. Located in the northern part of the country, Fes is home to some of the oldest universities in the world, including Al-Qarawiyyin University, founded in 859. Fes is also known for its beautiful architecture and colorful markets, making it a popular destination for tourists.
The medina of Fes is an amazing sight, with its narrow cobblestone streets and alleys full of mosques, palaces, fountains and other interesting landmarks. From the famous Blue Gate to Bou Inania Madrasa, there are so many things to explore in this ancient city. The souks, or markets, are especially vibrant and full of energy, with shoppers bartering for anything from spices to clothes and furniture.
If you're looking to get away from the hustle and bustle of the city, then Fes is also a great place to visit. Here you can take in the stunning views of the Middle Atlas Mountains or go on hikes through the nearby countryside. You can also visit the beautiful Chellah Necropolis, a former Roman settlement with impressive ruins and monuments.
No matter what your reason for visiting, Fes is an amazing city with something for everyone. So if you're looking for a truly unique experience in Morocco, don't miss out on Fes!
(05) CASABLANCA IS DEFINITELY WORTH A VISIT
One of the most popular tourist destinations in Morocco, Casablanca is the largest city in the country. Here, you'll find the modern Casablanca twin center towers, the beautiful Hassan II Mosque, and a vibrant city center filled with numerous shops and restaurants.
As one of Morocco's leading ports and economic centers, Casablanca is home to a mix of cultures. This blend of people gives the city a unique atmosphere, making it one of the most interesting places to visit in Morocco. When visiting Casablanca, you'll want to make sure you take time to explore the old medina. It's here that you can find traditional craft markets, colorful shops, and tasty Moroccan cuisine.
Casablanca also offers plenty of nightlife options. Whether you prefer lounges, nightclubs, or bars, you won't have any trouble finding what you're looking for. The city is home to some amazing rooftop bars, which provide stunning views of the city.
For those who love shopping, Casablanca is a great destination. Not only are there plenty of high-end stores and boutique shops, but you can also find great bargains at the local markets. If you're looking for souvenirs to bring back home, this is definitely the place to go.
Casablanca is an exciting place to visit, and no trip to Morocco would be complete without experiencing its culture and energy. Make sure you plan your trip accordingly and include Casablanca on your list of must-see destinations.
(06) MERZOUGA A GATEWAY TO ERG CHEBBI AND ONE OF THE BEST PLACES TO VISIT IN MOROCCO
Merzouga is an oasis town located in the Sahara Desert in Morocco, known for its spectacular golden dunes. Located on the eastern edge of the Erg Chebbi, the highest dunes in Morocco, Merzouga is a popular destination for tourists seeking to explore the Sahara desert and its many unique attractions. The most popular activity in Merzouga is a camel trek out to the dunes for a night spent under the stars, or for an unforgettable sunset view over the majestic desert landscape.
The town of Merzouga is also home to several interesting historical sites, including the ruins of a former royal palace and a 100-year-old mosque. There are also markets offering traditional products such as jewelry and handmade crafts. Additionally, there are plenty of hotels, restaurants, and cafes catering to travelers from all walks of life.
Whether you're looking to have an adventure in the desert or just relax and take in the unique beauty of the Moroccan Sahara,
Merzouga is a great destination for any traveler. From camel treks and sandboarding to hiking and historical exploration, there's something to suit all types of visitors in this beautiful oasis town.
Thank you, and if you found this post useful, please leave a comment and I will respond; you are also welcome to read this other post, which may be very useful.