The Dominican Republic is one of the most beautiful and culturally rich countries in the Caribbean. With stunning beaches, majestic mountains, vibrant cities, and a variety of attractions, so you will definitely be aware of the Best Places To Visit in Dominican Republic,
There are so many places to explore in the Dominican Republic. From the capital of Santo Domingo to the colonial city of Puerto Plata, and the beautiful beach towns of Punta Cana and La Romana, the Dominican Republic offers something for everyone. In this blog post, we will explore the best places to visit in the Dominican Republic. Get ready to plan your next adventure!
WHAT IS THE BEST TIME TO VISIT THE DOMINICAN REPUBLIC ? :
You may notice links in this blog post, and if you decide to buy something from them, I will receive a little commission at no additional cost to you.
The best time to visit the Dominican Republic for the best weather is between the months of December and April. When compared to June through October, the weather is less rainy and thus less humid. As a result, there are fewer mosquitoes, making your vacation feel much more comfortable.
SO LETS DISCOVER THESE BEST PLACES TO VISIT IN DOMINICAN REPUBLIC
(01) SANTO DOMINGO CAPITAL OF THE COUNTRY AND ONE OF THE BEST PLACES TO VISIT IN DOMINICAN REPUBLIC
Santo Domingo is the capital of the Dominican Republic and the oldest continuously inhabited European settlement in the Americas. The city, which was founded by Christopher Columbus in 1492, is now a popular tourist destination for its historical sights, tropical beaches and vibrant nightlife.
The colonial zone of Santo Domingo has a number of attractions including the first cathedral in the Americas, Ciudad Colonial, Las Damas street, and Calle El Conde. The Alcazar de Colon is a well-preserved palace built by Diego Columbus, the son of Christopher Columbus. The National Aquarium offers an insight into the aquatic life of the Dominican Republic.
For those looking to relax, Santo Domingo has some great beach destinations including Boca Chica and Juan Dolio. The beaches are lined with bars and restaurants offering delicious Caribbean cuisine.
If you're looking for a more lively nightlife, head to Zona Colonial for the bars and clubs. This area is popular with locals and tourists alike.
Santo Domingo is full of history, culture and fun activities. Whether you're looking to soak up the sun or party the night away, there's something for everyone in this city.
(02) PUERTO PLATA: ANOTHER BEST PLACE TO VISIT IN THE DOMINICAN REPUBLIC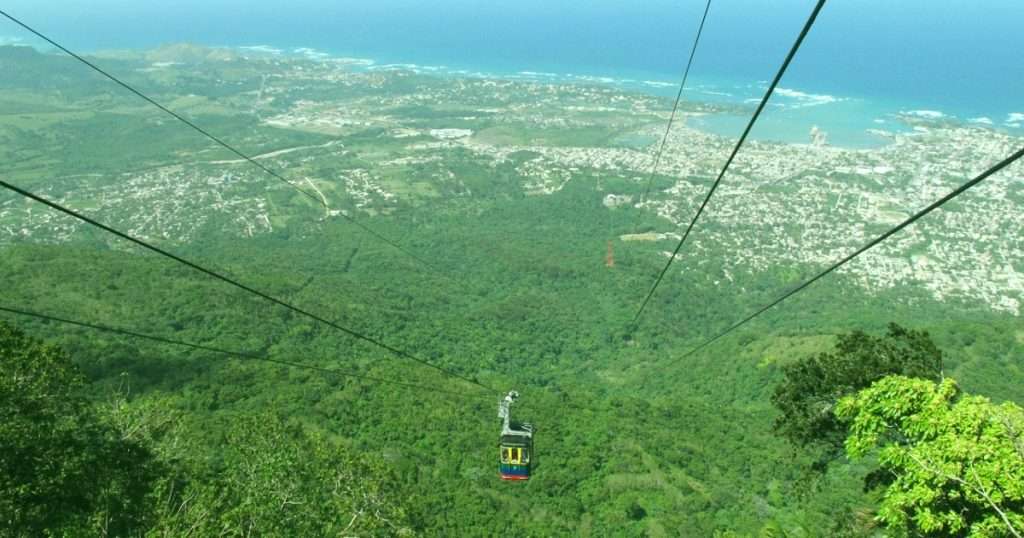 Located on the northern coast of the Dominican Republic, Puerto Plata is a stunning destination with a beautiful landscape and vibrant culture. This region of the Dominican Republic offers something for everyone from beach-goers to adventure seekers. There are plenty of exciting activities to do in the area including surfing, snorkeling, and zip lining.
For those looking for an idyllic beach destination, Puerto Plata offers plenty of options. Playa Dorada and Sosua Beach offer calm waters perfect for swimming, snorkeling, and other beach activities. Or, you can head to Cabarete Beach for some windsurfing or kitesurfing. Nature lovers will appreciate the nearby Damajagua Waterfalls with its cascading pools of crystal-clear water.
Puerto Plata also boasts a variety of cultural attractions such as the Fortaleza San Felipe, a 16th-century fort that offers stunning views of the city and the surrounding mountains. You can also explore the Museum of Amber or take a tour of the local rum distilleries. Don't miss out on the stunning architecture of Puerto Plata, which includes the 19th-century Victorian homes in San Felipe.
With its picture-perfect beaches and vibrant culture, Puerto Plata is one of the most sought-after destinations in the Dominican Republic. Whether you're looking for a relaxing beach holiday or an adventure-filled vacation, you won't be disappointed by this beautiful destination.
(03) PUNTA CANA
In the heart of the Caribbean, Punta Cana is an authentic paradise. With its endless beaches and turquoise waters that bathe its coasts, Punta Cana is a popular choice among the most sought-after Caribbean destinations.
Punta Cana is pure relaxation, and its pleasures come in a variety of forms. Days here may begin on postcard-worthy Macao Beach and end in a cave nightclub.
Spanish is the official language in the country. and as well in Punta Cana as in the rest of the Dominican Republic. The majority of people working in the tourism field understand and speak English. So, learn a few Spanish words; they may come in handy.
Best place to stay in punta cana : The Bavaro area is the best place to stay in Punta Cana because it is the main tourist hub.
Bavaro Beach : One of the best beaches in Punta Cana is Bavaro Beach. This is the most well-known beach in Punta Cana and is regarded as one of the best in the world. There are numerous reasons for this, including white sand the color of flour, thousands of coconut trees, and dazzling turquoise waters.
The top attractions to visit in Punta Cana are:
The top attractions to visit in Punta Cana are:
Bavaro Beach
Macao Beach
Dolphin Island
Hoyo Azul
Hard Rock Casino Punta Cana
(04) LA ROMANA IS ONE THE OF MOST VISITED PLACES IN THE DOMINICAN REPUBLIC,
La Romana is a bustling coastal town in the Dominican Republic, located just east of the capital city of Santo Domingo. With its stunning white sand beaches, vibrant culture, and array of activities, it's no surprise that La Romana has become one of the most popular tourist destinations in the country.
If you're looking for fun in the sun, head to La Romana's many beautiful beaches. There are plenty of beachfront bars and restaurants to choose from, or you can simply relax in the warm Caribbean waters. La Romana is also home to many world-class golf courses and resorts, as well as a variety of excellent shopping centers and casinos.
For a unique cultural experience, be sure to visit Altos de Chavón, a 16th-century Mediterranean-style village perched atop a bluff overlooking the Chavón River. Altos de Chavón boasts an array of art galleries, restaurants, shops, and even a modern amphitheater.
La Romana also offers a great range of water sports activities for the adrenaline junkie. With so many options, from scuba diving to jet skiing, you'll never run out of exciting things to do.
No matter what brings you to La Romana, it's sure to be an unforgettable vacation. With its stunning scenery, wonderful culture, and endless opportunities for entertainment, La Romana is definitely worth a visit!
(05) JARABACOA IS ONE OF THE BEST PLACES FOR ACTIVITIES IN THE DOMINICAN REPUBLIC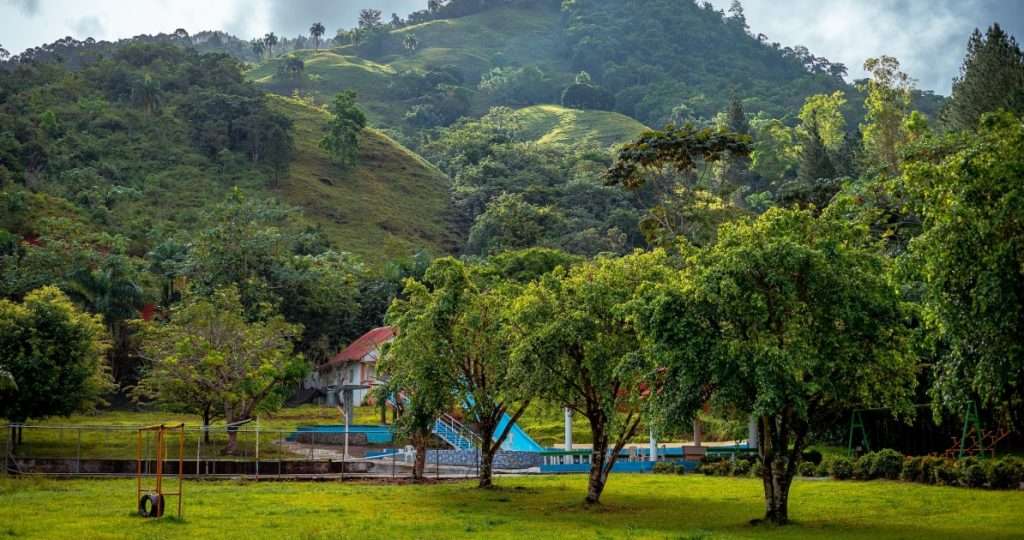 Located in the heart of the Dominican Republic, Jarabacoa is an excellent destination for those looking to get away from it all and enjoy some tranquility. This small mountain town is surrounded by breathtakingly beautiful landscapes, including lush rainforests, dramatic waterfalls, and towering peaks.
In Jarabacoa, you can explore the surrounding natural beauty on foot, or take a ride on horseback for an even more spectacular experience. The area has plenty of attractions for adventurous travelers, such as white-water rafting and mountain biking. In addition, you can visit the local botanical garden, which is home to many rare plants and flowers.
If you're looking for a truly unique experience, consider visiting the nearby Caño de la Ciénaga wetland reserve. This is a great spot for bird-watching, as well as witnessing stunning sunsets over the mountains.
Jarabacoa is also home to some wonderful restaurants and cafes, where you can try traditional Dominican cuisine like chivo guisado (stewed goat) or chicharrón con yucca (fried pork with cassava). You can also find plenty of souvenirs, handicrafts and other unique items in the local markets.
No matter what kind of traveler you are, Jarabacoa offers something for everyone. From outdoor adventures to cultural attractions, this mountain town has something to offer every kind of visitor.
(06) SAMANA
Samana is an area located on the northeastern coast of the Dominican Republic. It is known for its stunning white sand beaches, sparkling turquoise waters, and lush rainforests. Samana offers a variety of activities and attractions, such as whale watching, zip lining, kayaking, fishing, and scuba diving.
The best time to visit Samana is between January and March. During this time, the region is blessed with crystal-clear waters and perfect weather conditions. One of the best spots to visit in Samana is El Valle Waterfall, which is a stunning three-tiered waterfall that cascades over volcanic rocks. At the base of the waterfall, there are plenty of swimming holes and natural pools to cool off in.
If you're looking for a luxurious experience in Samana, then head to Las Galeras, where you can stay in one of its many all-inclusive resorts. Here you can relax by the beach or take part in some of the popular activities like snorkeling, paddle boarding, and horseback riding.
No matter what type of holiday experience you're looking for, Samana has something for everyone. Whether you're looking to enjoy some sun and fun at the beach or explore the local culture and wildlife, you're sure to find something that appeals to your taste in Samana.
IF YOU FOUND THIS POST USEFUL, PLEASE LEAVE A COMMENT OR ASK A QUESTION. AND TAKE A LOOK AT THE MOST IMPORTANT THINGS TO PACK WHEN TRAVELING TO SOUTH AFRICA.