Let's have a look at why this location is so special. Venice, the capital of the Veneto region in northern Italy, is constructed on more than 100 tiny islands in an Adriatic Sea lagoon. It has no highways, only canals surrounded with Renaissance and Gothic palaces, notably the Grand Canal thoroughfare.
This place, often known as the 'City of Canals,' is known for its stunning bridges, gondola rides, atmospheric streets, and carnival celebrations. so if you decide to explore the beauty of this place, you will definitely enjoy,
Venice is not one of Veneto's largest cities, but it is one of the most popular tourist destinations in the country, with a population of roughly 250,000 people. this place was a powerful bastion and a major financial and military center during the Middle Ages and the Italian Renaissance.
Now, this city is a major commercial hub and one of the world's most famous tourist destinations, with attractions such as St. Mark's Basilica and the Grand Canal attracting millions of people each year.
Now Lets explore the best things to do in Venice i have selected for you:
Saint Mark's Basilica
St. Mark's Basilica is the city of Venice's most important religious temple. It is located in Piazza San Marco (St. Mark's Square), near to the Doge's Palace, and has historically served as the city's public and religious heart.
This location is unique. if you take a night walk around the place, you may hear a variety of orchestras playing music created today and hundreds of years ago on the square. Amazing, smart, and magnificent! It's a piece of history as well as a work of art.
St Mark's Basilica is one of the most famous basilicas in the world, not just in Venice. In the year 828, work on this church began. It was built to hold the body of St. Mark, the Apostle, who was brought from Alexandria and proclaimed guardian of Venice. However, you will require assistance.there is so much to take in that it would be daunting.
Coffee, beverages, and servings on St. Mark's Square are all very expensive, while modest bars around the corner serve great food.
Grand Canal
The Grand Canal is known throughout the world for the centuries-old palaces that line both sides of the lake. The majority of them date from the 13th to the 18th centuries, while the Venetian Republic was active.
The views from either side of this long canal, or from a watercraft, are spectacular. if you are visiting this beautiful place, it's a Wonderful place to visit and spend some good quality time with your loved ones,
Venice's heart. The promenade is also an important transportation corridor. There will be a torrent of tourists, as well as several offers to take costly gondola rides. The Canal Grande is a stunning sight.
The one-of-a-kind waterside street with several examples of Italian architecture. Observing these magnificent structures is a wonderful delight.
Rialto Bridge
The bridge was destroyed by fire during Bajamonte Tiepolo's uprising in 1310, and it first collapsed in 1444 under the weight of a multitude gathering to see a boat parade in celebration of the marquis Ferrara's wedding. It was reconstructed as a drawbridge, but in 1524 it fell again.
The canal and adjacent surroundings can be seen from the bridge. It's amazing to photograph, however if you want to photograph the bridge, walk along the streets along the canal's edge. Also, be aware that this location is extremely busy, and finding a nice position can be tough.
A lot of restaurants with great view and delicious food. if you visit this place, i believe that you you will be back again soon or later ..
Doge's Palace
The Doge's Palace is a Venetian Gothic palace that is one of Venice's most famous sights. The old Republic's top ruler, the Doge of Venice, lived in the palace.
The location is fantastic, and to be honest, I believe it is preferable to tour it with a guide, as it will be more comfortable, and this is what I would recommend to anyone interested in seeing the sights. It was built in 1340 and has been enlarged and changed over the ages.
All you have to do is read the information boards, which is more than enough. Visit the prisons; not only will you be able to cross the Bridge of Sighs, but the three levels of prisons are intriguing.
The palace is incredible, and wandering around and trying to understand the history and culture behind it may easily take hours. There are far too many wonderful paintings and sculptures, each with far too many intricacies and stories to tell. It is, in my opinion, a must-see in Venice.
Bridge of Sighs
The Bridge of Sighs, while being a tiny bridge in the context of Venice, is one of the city's most visited buildings and an important historic landmark. was built around 1600
Lord Byron, in his 1812 book Childe Harold's Pilgrimage, mentioned the bridge and translated its name into English: "stand in Venice, on the Bridge of Sighs; a palace and a jail on either hand." The Bridge of Sighs appears to be part of the overall Doge Palace tour often at the moment.
Great place to visit while you are around here, and read up a little on history! The last view the prisoners had before placed in prison!
Murano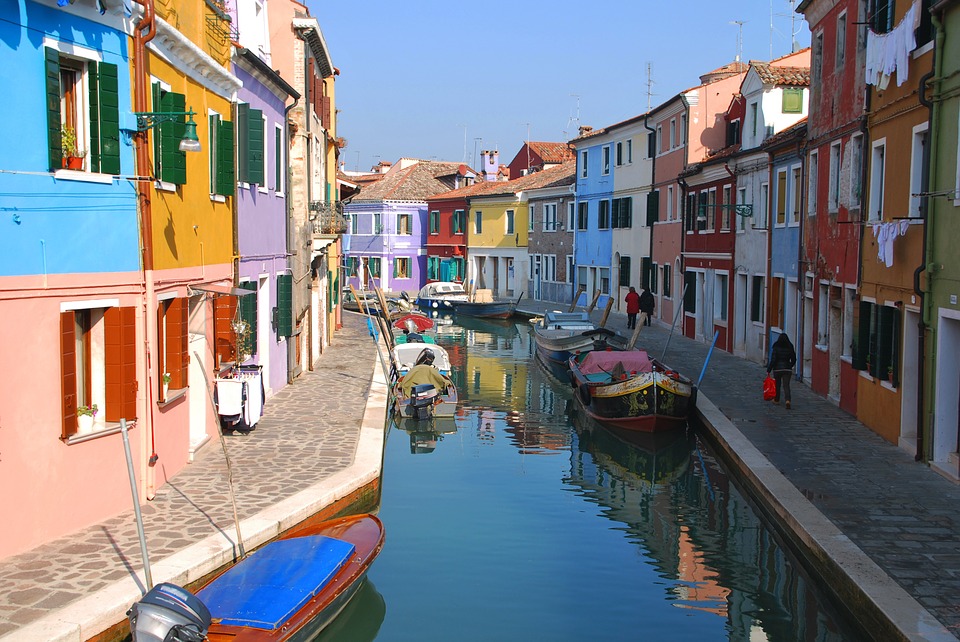 Murano is a group of islands in the Venetian Lagoon in northern Italy that are connected by bridges. It is located 1.5 kilometers (1 mile) north of Venice and measures 1.5 kilometers (1 mile) wide. It has a population of slightly over 5,000 people (2004 figures). It is well-known for its glass production.
Beautiful island with several glassblowing workshops and stores selling locally crafted glass. This is a miniature Venice, but the homes are smaller and the pathways are wider, so you're less likely to get lost. The towering clock tower could be seen from almost everywhere on the island. A great place for a day trip in Venice,
Simply visit the museum and observe the demonstration. Spend some time looking at the lovely glass decorations on display. beautiful place to see.
Torcello Island
Torcello Island, which is much less congested than the major neighborhoods of Venice, is a great place to go if you want to relax.
Torcello is one of the most visited islands in the Venice lagoon, although it is still quite quiet. The magnificent Byzantine mosaics in the seventh-century Cathedral of Santa Maria Dell'Assunta are the major reason for visiting the island.
Torcello is said to be the birthplace of Venice. It was a lovely small town that had been abandoned, yet it brought up memories of the past.It's a peaceful island. A good spot for a short walk and a drink or lunch.
San Giorgio Maggiore
San Giorgio Maggiore is a small island east of Giudecca and south of the major island group in Venice, northern Italy. The island, and particularly the Palladian chapel on it, is a significant landmark.
San Giorgio Maggiore is located between the Grand Canal and the Venice Basin, and may be accessed by Vaporetto or private water taxi. Walk around the tiny port to observe the different boats moored, see the magnificent cathedral and monastery, and climb the campanile for spectacular views of Venice's main metropolis.
Guests will discover a gift store within the Church of San Giorgio Maggiore where monks offer some of the greatest (and most affordable) sparkling wine that can be enjoyed while in Venice.
Basilica di Santa Maria della Salute
This is a stunning piece of architecture that rises from the seas of Venice. Its immensity is mind-blowing! I believe that because it is practically next to St. Mark's Square, the huge lines and people seen elsewhere are not as terrible. With a full moon at night.
This church has a tragic past. It was constructed after Venice had been plagued more than 60 times.