Now that you've found the person of your dreams, the next step in your relationship is to plan an unforgettable honeymoon to help cement your status as blissful newlyweds.
In order to make sure you have the best honeymoon experience possible, we've compiled this list of the 10 most romantic honeymoon destinations in the world. From breathtaking views to luxury resorts, these spots will take you on an exciting journey you'll never forget!
1 – South Africa
South Africa has always been a popular destination for honeymoons, with its diverse landscapes, lovely beaches and wonderful wildlife.
Some of the best destinations for honeymoons here are Cape Town, Durban and Kruger National Park. If you're looking for luxury accommodations, try the Cape Grace Hotel in Cape Town or Southern Sun Hotel in Durban. There's no shortage of things to do on your honeymoon here – from wine tours to safaris!
2 – Paris, France
Paris is home to the world's most romantic cityscape. Couples love falling in love with Parisian culture and cuisine, as well as with each other.
After exploring Paris' historic avenues, couples can treat themselves to a weekend escape at an elegant boutique hotel or a quaint bed-and-breakfast.
If you want to stay close to the center of things, make your reservation at one of the many hotels along the Seine River. When it comes time for dinner, you can't go wrong by booking a table at one of Paris' iconic restaurants like Le Jules Verne or L'Atelier de Joel Robuchon
3 – Bora Bora, French Polynesia
Bora Bora is not only a beautiful place to visit, it's also an incredible honeymoon destination. With its white sand beaches and crystal clear waters,
it's hard to imagine a better location for your next romantic getaway. If you're looking for an adventure-filled honeymoon, you'll love the snorkeling and scuba diving opportunities available here.
And if you want to enjoy some luxurious pampering while on your honeymoon, there are plenty of resorts with massage therapists and world-class spas.
4 – Maldives
The Maldives is a destination for honeymooners who want to get away from it all and find their own private slice of paradise.
The nation has a long list of stunning beaches, many with the most incredible turquoise waters you will ever see. Perfect for relaxing on the sand and gazing out at the glittering Indian Ocean, this is an ideal spot for couples who are looking to escape from it all and truly reconnect.
What makes this archipelago so special is that there are so many different islands to choose from, meaning you can tailor your dream honeymoon to suit your specific needs. Whether you prefer luxury resorts or smaller guesthouses with more rustic charm, the Maldives has something to offer everyone.
5 – Maui, Hawaii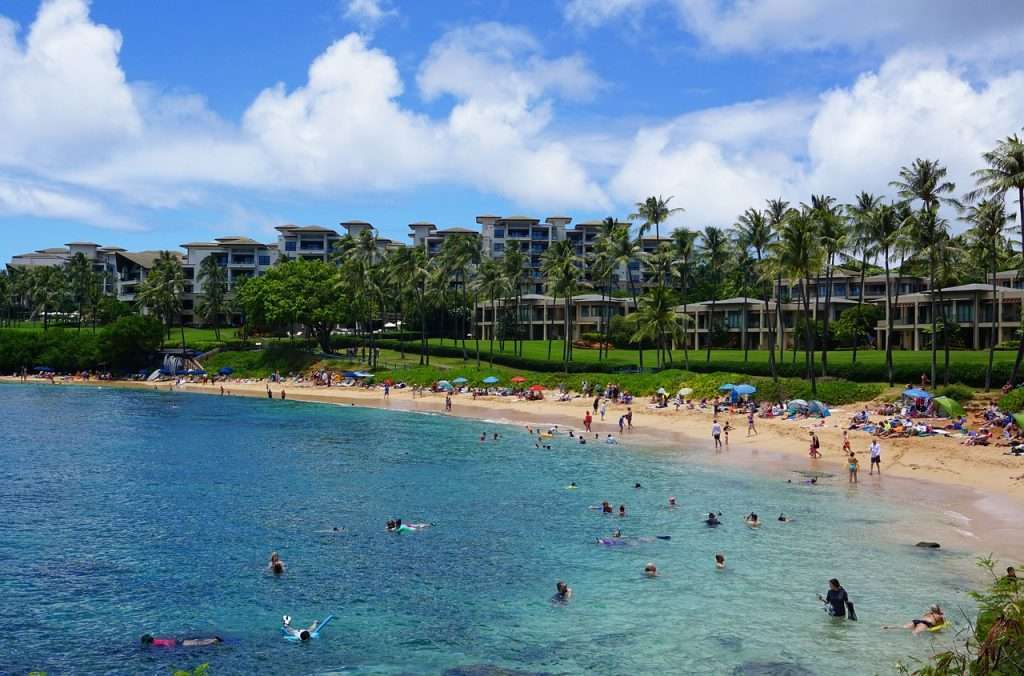 Maui offers something for everyone, from the adventurous to the more laid back. With hikes through lava fields, kayaking with sea turtles, and surfing lessons on beautiful beaches, Maui is an ideal destination for those who love an active honeymoon.
If you're looking for a little more relaxation and romance, then book an over water bungalow suite at one of the many resorts on West Maui or take a scenic helicopter tour to see all of the island's beauty. No matter what you choose to do on your trip to Maui, you won't regret it!
6 – Rome, Italy
The Colosseum, the Pantheon and St. Peter's Basilica are all a short walk away from your hotel, but there are plenty of other things to do too.
Take a guided tour of Rome's Jewish Ghetto or enjoy a leisurely stroll through Villa Borghese Park. Visit the Vatican Museums and admire some of the world's most prized artworks. If you're feeling brave, take a day trip to Naples and explore Mount Vesuvius (the only active volcano on mainland Europe) before heading back to Rome for dinner at one of its many authentic pizzerias.
7 – Grand Cayman Island
Grand Cayman is a very popular honeymoon destination, and not just because it's an island paradise. The entire country of Cayman Islands is a British Overseas Territory, meaning visitors can enjoy the benefits of the Queen's English as well as US Dollars (Cayman Dollars are pegged to US currency).
Grand Cayman has been called the safest place on Earth and you'll have plenty to explore both above and below water.
Since the island is only 21 square miles, it will take you less than an hour to drive from end-to-end. There are many beaches perfect for a romantic stroll or sunset picnic, which means you'll never be too far from some quality time with your partner.
8 – Dubai, UAE
Dubai is one of the most exciting cities in the world. The city has a large amount of modern architecture, including some world-class hotels. There are also plenty of historic sites to explore too, such as Jumeriah Mosque and Dubai Museum.
If you're looking for a relaxing beach getaway, head to Jumeirah Beach Park or if you're craving an adrenaline rush then try out sandboarding at Desert Safari Dubai. If you're into golf, visit Emirates Golf Club with its 18 holes and stunning views.
For more active types, check out Dubai Creek where you can take part in different water sports or just enjoy the scenery on a traditional dhow boat.
9 – New York City (USA)
New York City is a city of lights and excitement. The Statue of Liberty, the Empire State Building, Central Park, and Times Square are just some of the many iconic attractions waiting for you to explore.
There's no shortage of activities or things to do here either – from taking a self-guided tour through Greenwich Village to going on an architectural boat cruise down the Hudson River. And when you're ready for a change of scenery, hop on a ferry and head over to Staten Island for an adventure you won't forget!
10 – San Francisco, California (USA)
San Francisco is the perfect city for a honeymoon. With scenic views of the bay, a bustling metropolis with plenty to do and see, you'll never run out of things to do!
The Golden Gate Bridge is one of the most iconic landmarks in San Francisco, and it's also an excellent place for a photo shoot. Head over to Baker Beach for some peace and quiet, or take a short drive to Muir Woods National Monument and enjoy the nature hike.
If you're more into museums than hikes, then head over to Pier 39, where you can shop till you drop (or until your feet start hurting!) There are tons of restaurants on Pier 39 too – take advantage of this by trying out as many different cuisines as possible!
The majority of newlyweds take a honeymoon. The average couple will spend three times as much money on their honeymoon as they would on an ordinary trip. 40% of honeymooners will stay in the United States, while 60% will fly to another nation.