Fall in Love All Over Again: The 10 Most Romantic Honeymoon Destinations of 2023,
this blog post may contain affiliate links. If you decide to buy anything, I will receive a small commission, but it will not cost you anything. thanks
Are you and your significant other looking for the perfect honeymoon destination for 2023? Look no further! With so many romantic destinations to choose from, it can be hard to pick just one. To make your decision easier, we have compiled a list of the 10 most romantic honeymoon destinations that will make you fall in love all over again. From magical mountain getaways to luxurious beach retreats, there is something for every couple on this list. So read on and start planning the honeymoon of your dreams
Now that you've found the person of your dreams, the next step in your relationship is to plan an unforgettable honeymoon to help cement your status as blissful newlyweds.
In order to make sure you have the best honeymoon experience possible, these spots will take you on an exciting journey you'll never forget!
1 – SOUTH AFRICA
South Africa Romantic Honeymoon Destinations
South Africa is a country filled with beauty, culture, and adventure, making it an ideal destination for a romantic honeymoon. From its gorgeous beaches to its majestic mountain ranges, there is something for every couple in South Africa.
If you're looking for a classic beach honeymoon, consider the stunning Western Cape. This region has some of the best beaches in South Africa, with picturesque sunsets that will be sure to create romantic memories. For a luxurious experience, stay at one of the many boutique hotels or resorts in this area around cape town.
For a honeymoon filled with adventure, head to the Drakensberg mountain range. The area offers an abundance of outdoor activities including mountain biking, hiking, rock climbing, horse riding, and game viewing. Plus, the scenery here is breathtakingly beautiful.
If you're looking for a combination of luxury and wildlife, Book at the Sabi Sand Game Reserve is the place to go. Here you can enjoy upscale lodges and experience close-up encounters with lions, leopards, elephants and more.
Finally, if you're looking to explore the culture and heritage of South Africa with your partner, the Garden Route is an excellent choice. Here you can visit towns along the coast to see Dutch-style homes and artwork, as well as take part in wine-tasting experiences.
No matter what type of honeymoon you're looking for, South Africa has something for you both. With its diverse landscapes and its abundance of activities, it's the perfect destination for a romantic getaway.
The Ultimate Honeymoon Packing List for Couples
Whether you're planning a romantic getaway for two or a tropical adventure, packing for your honeymoon is one of the most important parts of your trip. Whether you're traveling to a sunny beach destination or an exotic city abroad, it's essential to pack the right items so you can make the most of your honeymoon. Here's a comprehensive packing list to make sure you don't forget anything on your romantic getaway:
Clothing: Pack a mix of casual and dressy outfits, including items that can easily be layered. Make sure to bring at least one formal outfit COUPLE in case you want to dress up for a nice dinner or a show. Also include comfortable items like yoga pants, shorts and flip-flops, especially if you're traveling to a beach destination.
Toiletries: Bring all the essentials like toothbrush and toothpaste, shampoo and conditioner, face wash and moisturizer, and any special hair products. Don't forget contact lenses or glasses, sunscreen and insect repellent, and any other products you use daily. BUT IF YOU DON'T HAVE ANY, CHECK HERE TO GET SOME FROM AMAZON.
Footwear: Pack sandals and sneakers, as well as comfortable shoes for exploring cities and walking on trails. And don't forget flip-flops for a poolside or beach day.
Accessories: Pack a hat, sunglasses, a scarf and a few jewelry pieces to complete your look. Also consider bringing a lightweight backpack for day trips and sightseeing.
Entertainment: Bring books, magazines, and a laptop or tablet so you have plenty of entertainment options during downtime. You can also pack board games or cards if you plan to spend some time indoors.
That's all you need for an unforgettable honeymoon! With these items in your suitcase, you can explore the world together, relax in luxury and create lasting memories. and Have a wonderful honeymoon!
2 – Paris, France
Paris, France, is a classic honeymoon destination, and it's easy to see why. With romantic cafes, stunning architecture, incredible art galleries, and its iconic Eiffel Tower, Paris is a dreamy city perfect for celebrating your love together. It's also known for its many parks and gardens, which are ideal for romantic walks or picnics.
One of the best things to do in Paris is to simply wander the streets and take in the sights and sounds of the city. There are endless quaint cafes to sit in and soak up the atmosphere, and plenty of iconic landmarks to admire. The Arc de Triomphe, Notre Dame Cathedral, the Champs-Elysées, and the Louvre Museum are all must-see places during your honeymoon in Paris. .
When it comes to where to stay in Paris, there are so many options for luxury accommodation. Whether you choose a chic boutique hotel or a more traditional style, you're sure to find something that suits your taste. For a truly romantic experience, book a room with a view of the Eiffel Tower, or stay in one of the stunning rooftop suites overlooking the city. BOOK YOUR HOTEL HERE
For a truly unforgettable honeymoon experience in Paris, book an unforgettable dinner cruise along the Seine River. You can enjoy romantic gourmet dining as you watch the sights of Paris go by. Enjoy delicious local cuisine as you sail through some of the most beautiful monuments in Paris.
Paris is an incredibly romantic city and the perfect destination for a honeymoon. With its breathtaking views, amazing cuisine, and wonderful attractions, Paris offers the perfect setting for your dream honeymoon. Book your trip today and experience all that Paris has to offer. the Romantic Honeymoon Destinations ever,
3 – Bora Bora, French Polynesia
Bora Bora, French Polynesia one of the best Romantic Honeymoon Destinations
Bora Bora is not only a beautiful place to visit, it's also an incredible honeymoon destination. With its white sand beaches and crystal clear waters,
When it comes to romantic honeymoons, few places compare to the stunning beauty of Bora Bora. Located in the South Pacific, the island of Bora Bora is an idyllic destination for couples looking to start their lives together in paradise. The island is surrounded by crystal clear lagoons, white sand beaches, and lush jungles – perfect for enjoying some quality time together.
Bora Bora has many resorts that offer luxury accommodations and activities to make the honeymoon experience truly unforgettable. Couples can enjoy romantic sunset cruises, snorkeling trips, and horseback riding on the beach. There are plenty of romantic restaurants offering a variety of cuisines to enjoy. For those seeking adventure, hiking through the lush jungles is always an option.
The resorts offer many amenities to make your stay even more special such as spas, private villas, and world-class dining. Couples can also take advantage of the island's famous sunset views from atop Mount Pahia or enjoy some relaxing time in a private pool. Whether you are looking for adventure, romance, or both, Bora Bora is the perfect destination for your dream honeymoon.
Best place to stay in bora bora for honeymoon
4 – Maldives
The Maldives is a destination for honeymooners who want to get away from it all and find their own private slice of paradise.
The nation has a long list of stunning beaches, many with the most incredible turquoise waters you will ever see. Perfect for relaxing on the sand and gazing out at the glittering Indian Ocean, this is an ideal spot for couples who are looking to escape from it all and truly reconnect.
What makes this archipelago so special is that there are so many different islands to choose from, meaning you can tailor your dream honeymoon to suit your specific needs. Whether you prefer luxury resorts or smaller guesthouses with more rustic charm, the Maldives has something to offer everyone.
5 – Maui, Hawaii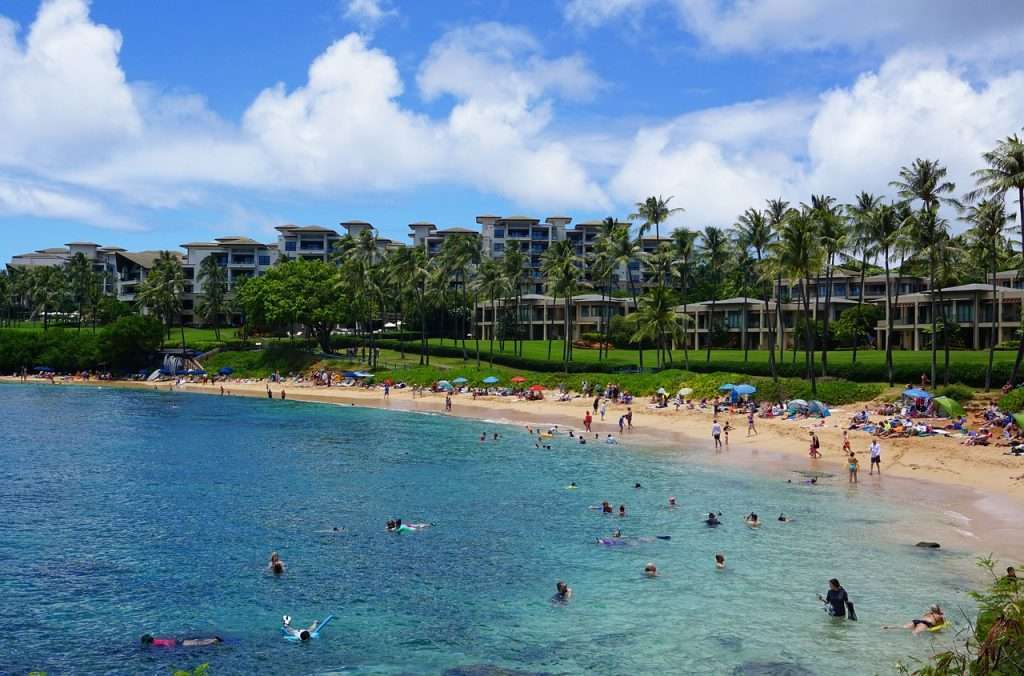 Maui offers something for everyone, from the adventurous to the more laid back. With hikes through lava fields, kayaking with sea turtles, and surfing lessons on beautiful beaches, Maui is an ideal destination for those who love an active honeymoon.
If you're looking for a little more relaxation and romance, then book an over water bungalow suite at one of the many resorts on West Maui or take a scenic helicopter tour to see all of the island's beauty. No matter what you choose to do on your trip to Maui, you won't regret it!
6 – Rome, Italy
The Colosseum, the Pantheon and St. Peter's Basilica are all a short walk away from your hotel, but there are plenty of other things to do too.
Take a guided tour of Rome's Jewish Ghetto or enjoy a leisurely stroll through Villa Borghese Park. Visit the Vatican Museums and admire some of the world's most prized artworks. If you're feeling brave, take a day trip to Naples and explore Mount Vesuvius (the only active volcano on mainland Europe) before heading back to Rome for dinner at one of its many authentic pizzerias.
7 – Grand Cayman Island
Grand Cayman is a very popular honeymoon destination, and not just because it's an island paradise. The entire country of Cayman Islands is a British Overseas Territory, meaning visitors can enjoy the benefits of the Queen's English as well as US Dollars (Cayman Dollars are pegged to US currency).
Grand Cayman has been called the safest place on Earth and you'll have plenty to explore both above and below water.
Since the island is only 21 square miles, it will take you less than an hour to drive from end-to-end. There are many beaches perfect for a romantic stroll or sunset picnic, which means you'll never be too far from some quality time with your partner.
8 – Dubai, UAE
Dubai is one of the most exciting cities in the world. The city has a large amount of modern architecture, including some world-class hotels. There are also plenty of historic sites to explore too, such as Jumeriah Mosque and Dubai Museum.
If you're looking for a relaxing beach getaway, head to Jumeirah Beach Park or if you're craving an adrenaline rush then try out sandboarding at Desert Safari Dubai. If you're into golf, visit Emirates Golf Club with its 18 holes and stunning views.
For more active types, check out Dubai Creek where you can take part in different water sports or just enjoy the scenery on a traditional dhow boat.
9 – New York City (USA)
New York City is a city of lights and excitement. The Statue of Liberty, the Empire State Building, Central Park, and Times Square are just some of the many iconic attractions waiting for you to explore.
There's no shortage of activities or things to do here either – from taking a self-guided tour through Greenwich Village to going on an architectural boat cruise down the Hudson River. And when you're ready for a change of scenery, hop on a ferry and head over to Staten Island for an adventure you won't forget!
10 – San Francisco, California (USA)
San Francisco is the perfect city for a honeymoon. With scenic views of the bay, a bustling metropolis with plenty to do and see, you'll never run out of things to do!
The Golden Gate Bridge is one of the most iconic landmarks in San Francisco, and it's also an excellent place for a photo shoot. Head over to Baker Beach for some peace and quiet, or take a short drive to Muir Woods National Monument and enjoy the nature hike.
If you're more into museums than hikes, then head over to Pier 39, where you can shop till you drop (or until your feet start hurting!) There are tons of restaurants on Pier 39 too – take advantage of this by trying out as many different cuisines as possible!
The majority of newlyweds take a honeymoon. The average couple will spend three times as much money on their honeymoon as they would on an ordinary trip. 40% of honeymooners will stay in the United States, while 60% will fly to another nation.